If you begin each poker game with an ace up your sleeve, you'll play on through morning. If you lose with that ace up your sleeve, maybe poker isn't for you. The Edmonton Oilers begin every offseason team-building conversation with the biggest trump in the deck. If you screw it up, it's on you. That's a fact.
THE ATHLETIC!
Great playoff special! try The Athletic on for size free and see if they enjoy the in-depth, ad-free coverage on the site. Offer is here. There's a 7-day free trial and the cost for an annual subscription is less than one (or two) coffee per month, depending on where you buy your coffee. We have a mountain of good reading to come in the next 30 days at The Athletic Edmonton, including draft coverage, prospect updates and reaction to the deals of summer. Join us, for the Oilers coverage, stay for all of the other brilliant writing on the site.
LRT: This particular quote is utterly terrifying, if it refers to some form of player movement… pic.twitter.com/lzQat90JEM

— Tyler Hupka AKA The Burger Baron Burner Account (@thupka1982) June 5, 2018
The article from whence this came is Terry Jones' item here, please click on the link as it is within my 24-hour rule. I have a top 10 list of possible 'one significant on-ice moves':
Oscar Klefbom is heading to Boston.
The No. 10 overall pick is headed out of town
Justin Faulk is an Oiler!
Milan Lucic asked for a trade.
Ryan Strome is being dealt
Jesse Puljujarvi is being traded.
Ryan O'Reilly, come on down, you're an Oiler!
My God, they've signed Ilya Kovalchuk Lennart Petrell
There's a player named Antus Pontberg and the Oilers have signed him!
Marc Pouliot is coming back to the NHL!
The Condors have signed five players to one-year #AHL deals:

✅Braden Christoffer
✅Evan Polei
✅Logan Day
✅Ryan Van Stralen
✅Marc-Olivier Crevier-Morin

🗞️➡️https://t.co/wLxetyIbPI pic.twitter.com/QsvafrIxhl

— Bakersfield Condors (@Condors) June 5, 2018
The Condors signed five yesterday to AHL deals and there's some nice talent here. Day is an intriguing defenseman, Polei has shown promise and Christoffer hangs around at the end of his entry deal. The other two players would appear to be ECHL regulars eligible for recall this coming season.
CRAIG'S LIST: With the #NHLDraft just over two weeks away, check out @CraigJButton's final player ranking of the season https://t.co/yX9ZgASVIY #TSNHockey #DraftCentre pic.twitter.com/4ePuzGWbvq

— TSN Hockey (@TSNHockey) June 5, 2018
I'm a big fan of Button's list, he delivers a unique and thoughtful list and has the courage of his convictions. If you're an Oilers fan, you might want to have a very close look at the rankings. Here's Edmonton's list and Button's rankings from one year ago.

Edmonton drafts five of Button's top 90 picks, they all have fine seasons and are signed 12 months later. When was the last time the Oilers had the discipline to avoid walkabout through pick No. 146? Long time, if ever. Button had Edmonton's 2016 draft mostly surrounded as well: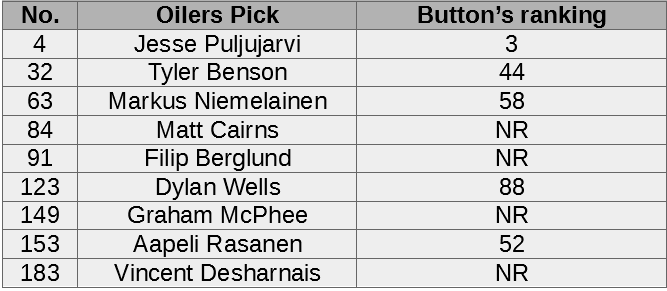 Once again the Oilers grab five of Button's top 90, although in cock-eyed fashion and out of order (with a walkabout pick at No. 84). Perhaps that's part of the discipline Keith Gretzky brings (trust your board, but drafting from second tier leagues should be reserved for the truly gifted until the CHL et cetera have been exhausted) to the group.
ULTIMATE TRUMP CARD
The Jones article suggests we're going to see some action soon, that tells me we can expect news right after the Stanley Cup is over. We've discussed it forever, but the assets Peter Chiarelli could move out without getting someone to waive their NMC (Nuge, Klefbom, Puljujarvi, No. 10 overall) are bad ideas individually and cumulatively.
Trading two years of Jordan Eberle is not the same thing as trading five years of Oscar Klefbom, who is playing under a fabulous contract. If the Oilers go whale hunting, with the current depth chart and prospect pipeline, we'll be talking about being top heavy and dealing Leon Draisaitl one year from now. This team needs value contracts in the $1 to $3 million dollar range, about six of them please and thanks. RFN.
McKenzie says FLA D Alex Petrovic is available. #TheBobcast

— Tyler Max (@akaRCN) June 5, 2018
I bet this is a player of interest for Edmonton. Not sure of the price and Florida is a different team (in terms of what they might be looking for) than they have been in the past, interesting opportunity.
LOWDOWN WITH LOWETIDE
We are live from The Ranch this morning at the TSN1260 Annual Golf Tournament. It's always a blast and we'll give you the flavor of the day from 10-noon. Scheduled to appear:
Bruce McCurdy, Cult of Hockey at the Edmonton Journal.

We'll chat about that Terry Jones item, and about possible targets for summer via trade, free agency and the draft.

Paul Almeida, SSE

. TSN1260's World Cup coverage is just over one week away, Paul will handicap the pools and we'll preview the Saturday round table (a massive World Cup show coming this weekend).

Eric Fawcett, Press Basketball.

The Finals continue this evening, can Lebron will the Cavs to one victory and is it tonight? Plus Raptors coaching and the summer to come.
10-1260 text, @Lowetide on twitter. See you on the radio!