One year ago almost to the day, we were talking about trades. Jordan Eberle and Ryan Strome were front and center, although the actual transaction was two weeks away. My suggested trade that day worried mostly about money, but also addressed goaltending.
To New York:

Jordan Eberle ($6 million times two, then UFA)

To Edmonton:

Ryan Strome ($2.5 million times one, then RFA) and Jaroslav Halak ($4.5 million times one, then UFA).
THE ATHLETIC!
Great playoff special! try The Athletic on for size free and see if they enjoy the in-depth, ad-free coverage on the site. Offer is here. There's a 7-day free trial and the cost for an annual subscription is less than one (or two) coffee per month, depending on where you buy your coffee. We have a mountain of good reading to come in the next 30 days at The Athletic Edmonton, including draft coverage, prospect updates and reaction to the deals of summer. Join us, for the Oilers coverage, stay for all of the other brilliant writing on the site.
From what I've been told the number of teams Lucic would be willing to be moved too is larger than most of us would think.

— Dustin Nielson (@nielsonTSN1260) June 8, 2018
Encouraging information, the larger the pool the better chances of a reasonable return. If Chiarelli can find multiple teams interested and make a deal that gets the team out from under, music! If he has to use No. 10 overall to get it done, that's some crappy music.
PLUGGED IN
Plugged in Community Centre's mission statement is 'see a need, respond' and this is a big day. They are holding their ONLY annual fundraiser and silent auction this evening. It's Pub Night at The Bourbon Room in St. Albert this evening (details here).
Entry to a kick butt door prize

Appetizers

Live local entertainment with Paul Woida and Form 10

Silent Auction with amazing packages and an extraordinary Canvas created through the BEME 2018 attendees, Dawn Taylor, Sasha Wallace and the talented artist Giselle Denis

Skill Testing Activities: Patio Beer Pong, Musical Chairs, and a few fun surprises
I know many of you can't attend, so there's an option to donate here. You can read about some of the people who will benefit here. I thank you for reading.
Stauffer pretty clearly projecting a Klefbom – Barrie trade. Okay then.

— John Barbour (@jbfuzz1) June 7, 2018
Not certain if Bob did or didn't, I didn't hear the segment. I can tell you Barbour is a straight arrow. Tyson Barrie is an interesting player. We all have our favorite ways of evaluating, for me this is a player who should be able to post strong offensive numbers if given mondo power-play time.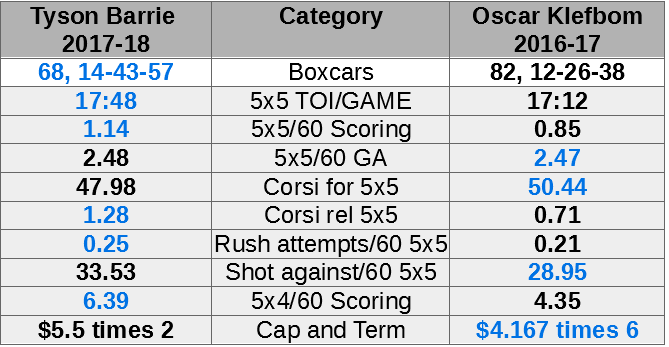 This is a profile of two good defensemen, Barrie had the edge in more categories and Klefbom's contract is a dream baby dream. Oscar wins the possession number, Barrie wins the rel. Defensively, they both need help (that's my read, WG could give you more detail). Both are rock solid on the power play in these years (I ran Oscar healthy 2016-17).
THE END
My Mom loved Elvis. In our house, God was the highest presence, then Jesus, and a few miles down the road stood Elvis. My Mom was a sweet lady, full of life and laughter, and an ability to embellish a little or a lot. It led to some exasperating moments for me, like the time she (when I was about 15) told me he choreographed the entire Jailhouse Rock (song) scene from the movie Jailhouse Rock.
Mom had fallen into a trap we all do sometimes, I guess, making a hero into something more by projecting a skill or moment or trait onto them that does not belong. So it is with Canada, and heart, grit and things that really matter in the game of hockey. Despite what some people will tell you, those things do not stop at the border with the USA, they are capable of appearing in Sweden, Russia, Finland and Switzerland. Germany has grit, holy hell it's right up there with precision.
So, on the day after Alexander Ovechkin won Stanley and Smythe, let's put these two things to bed. Alex Romero created what was probably the first real rock and roll video by choreographing Jailhouse Rock brilliantly, and a Russian with grit, heart, sweat, blood and tears helped push his team to Stanley. Any day bias takes a step back is a good one, let's collectively make it so.
As for Mom, well she has passed and I loved her too much to be mad about such things. It still drives me crazy though, along with her claim that Richard Clayderman was a member of the Beatles, and that Roger Whitaker is part of the Royal Family. Love you Mom, Elvis too.
THE TOP 10
I think we can all agree the first two names off the board will be Dahlin and Svechnikov, but after that it appears to be wide open. Filip Zadina should go in the top five overall, Noah Dobson and Matt Tkachuk are good bets too. After that, Evan Bouchard, Quinn Hughes and Jesperi Kotkaniemi should go quickly. That's eight. Number 9? Oliver Wahlstrom is my guess, leaving Edmonton a group of kids (Smith, Boqvist, Farabee, Hayton) who have high value but are unlikely to break into the tier above. Will Edmonton trade up? They never do.
This is the prism through which I see this year's draft. It is always interesting to get another point of view from someone you respect. Oh look! See what just dropped?
My final top 31 for the 2018 NHL Draft : pic.twitter.com/lKmKmGJSwr

— Simon Boisvert (@simonsnake70) June 8, 2018
Fascinating list from Simon, who you know from his terrific twitter feed and his guest appearances on the Lowdown. I wonder if the names inside his top 10 that do not qualify as universal top 10 picks on all boards (Bokk, Dellandrea, Veleno) are also prominent on Edmonton's list. It's going to be a wild ride.
For the sake of argument, if the Oilers moved Russell and Lucic with minimal money retained, how would you allocate that cap space?

— speeds (@hockeysymposium) June 8, 2018
Interesting question from speeds, my first reaction was 'offer sheet' but that might have been due to speeds asking the question. 🙂 If the Oilers suddenly had $10 million in cap space I'd like to see them add Erik Karlsson but that's not going to happen. James Neal has kind of been my free agent target, but with extra money maybe JvR is possible? I'd like to see them sign a scoring right-winger, a center and a second pairing RHD but don't think you can get all that for $10 million via free agency. Let's face it, Peter Chiarelli is going to have to get himself out of this mess, and Dusty's tweet at the top shines like light down a mine shaft. I think we're all encouraged, but I would caution you to remain mindful of what big deals look like with Chiarelli in Edmonton. Gird your loins.
LOWDOWN WITH LOWETIDE
A fun, busy day is planned and maybe we see some trade activity out of the box. It starts at 10 this morning, TSN1260, scheduled to appear:
Steve Lansky, BigMouthSports.

Another NHL season complete, we'll reflect.

Jay Ball and David Clanachan from FC Edmonton and CPL

. A big big day for FC Edmonton.

Matt Iwanyk, TSN1260

. What can you get in trade for Milan Lucic?

Brian Saipe, Castrol Raceway.

A huge weekend at the track!
10-1260 text, @Lowetide on twitter. See you on the radio!