The Oilers went into last year's draft with seven picks and in dire need of making them count. One year later five of those picks are signed and one of the other selections had a solid year in college. Music! Now. Do it again.
THE ATHLETIC!
Try The Athletic on for size free and see if they enjoy the in-depth, ad-free coverage on the site. Offer is here. There's a 7-day free trial and the cost for an annual subscription is less than one (or two) coffee per month, depending on where you buy your coffee. We have a mountain of good reading to come in the next 30 days at The Athletic Edmonton, including draft coverage, prospect updates and reaction to the deals of summer. Join us, for the Oilers coverage, stay for all of the other brilliant writing on the site.
DRAFT 2018
There have been times when Oilers fans wondered openly what the hell was going on at the draft table containing the Oildrop logo. The year 2007 comes to mind, but there have been others (Blind Alexei Mikhnov, Jesse "can't put on weight" Niinimaki, Rob "banana hammock" Schremp) and on it went for several years.
Now I believe Oilers fans have reached the stage where they would like to see what the scouting staff could do with a full boat at the draft. This year, the club is missing only a fourth-round selection, and has picks at No. 10, 40 and 71. They might not get five men worth signing but three seems possible. Lay that pipe, Oilers, build that system.
BUTTON, LOWETIDE, FUTURE CONSIDERATIONS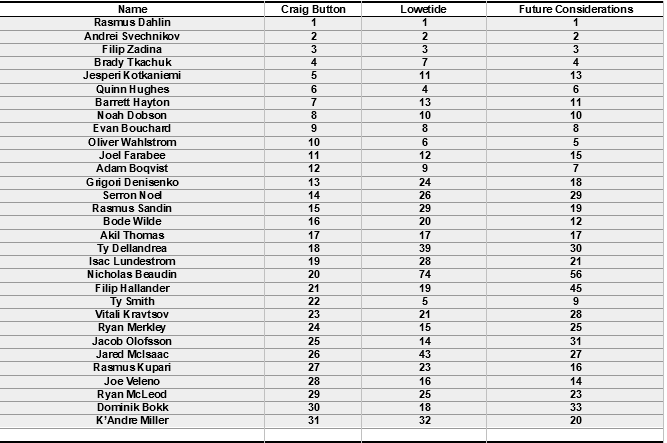 I like to park these side by side around this time of year, we get to see the draft's final stories focus and come into view. Something tells me Boqvist falls and the Oilers pass on him, possible to grab their own wildcard (Bokk? Kravtsov?) or my personal favorite Ty Smith (I have him at No. 5 overall but he could go in the 20's). Button's list often mirrors the Oilers, so we might want to spend more time looking at Barrett Hayton. What Oilers fans really need is for the Rangers to draft out of order, something that could happen. Future Considerations list is here.
LUCIC
Frank Seravalli (last week on the Lowdown) and Elliotte Friedman (31 Thoughts) both stated the Oilers are looking to move Milan Lucic. Seravalli talked about Edmonton adding a sweetener and Friedman mentioned the Oilers "seemed confident there is a fit" which may mean a deal is already in place and they are waiting for the completion of the trade. I'm thinking Lucic and No. 40 for Dion Phaneuf, I don't like where this is going.
Bob McKenzie to Dustin Nielson (TSN1260): "There'd be lots of teams that would roll the dice on Milan Lucic; but again, you literally would have to give him away in some respects to make a really favorable deal." Source (Eric will tweet out interview this morning).
Dion Phaneuf, Bobby Ryan, and don't forget the sweetener plus the Oilers might have to retain. This is beyond perilous, but it isn't grand contemplating status quo either. If there's an opportunity to improve the team without trading away valuable picks and prospects, then make it so. Milan Lucic and Drake Caggiula for Loui Eriksson? The Eriksson deal is a year shorter, and Eriksson might be able to help out in ways (penalty kill, two-way player) that represents a need for the Oilers. This is a difficult transaction.
2018 GOALIE DRAFT LIST
I like to rank goalies for my own purposes but the math I apply (save percentage over as many as three years, holding the starting job, size) are fairly rudimentary. Here are the 10 best goalies by my eye:
Jakub Skarek, Jihlava (Czech). Huge goalie, quality resume.
Oliver Rodrigue, Drummondville (QMJHL). Best NA goalie by consensus.
Lukas Dostal, Brno (Czech). Fabulous numbers over the last two seasons.

Olof Lindbom, Djurgardens (SuperElite).

 Good size, rebound control, strong U18's.

Amir Miftakhov, Irbis Kazan (MHL).

Undersized but brilliant.

Ivan Prosvetov, Youngstown Phantoms (USHL).

Big goalie, gaudy numbers.
Joel Hofer, Swift Current Broncos (WHL). He didn't play much, quality when he did get in games.

Justus Annunen, Karpat (Jr. Sm-Liiga).

Massive goalie, solid season, playoff spike.

Vincent Purpura, Omaha Lancers (USHL).

Big goalie has been consistent.

Alexis Gravel, Halifax Mooseheads (QMJHL).

Talented big man mediocre in draft year.
TY SMITH
Lots of chatter about Ty Smith in the last 24 hours, Bob Stauffer's tweet getting a lot of reaction on twitter and in the comments section. I've seen "if they draft Ty Smith at No. 10, I'm done!" and that's a reflection of the great passion of Oilers fans.
I think it's wise to understand why a shuffle may be taking place at this time. First, NHL teams will have a much better idea about each player in regard to health, injury, and the various testing results will lead them away from some prospects and toward others.
That said, it's unlikely Bob is going to publish the Oilers list, so let's calm ourselves a little. Beyond identifying a worthy player (see above), Stauffer is offering you his insight into a player "in the range" for Edmonton. Some have suggested the intent of the tweet was to send out a message to other NHL teams, while my own belief is Bob was giving you his opinion. I think it's reasonable to expect a late shuffle and Boqvist (and others) may be falling. It happens every year. What you hope for is the fallers are matched or exceeded by risers. It's one of the reasons why I publish my list June 1, the risers and fallers become obvious. Here is my top 10.
LD Rasmus Dahlin, Frolunda (SHL). 
R Andrei Svechnikov, Barrie Colts (OHL). 
L Filip Zadina, Halifax Mooseheads (QMJHL). 
LD Quinn Hughes, Michigan (NCAA). 
LD Ty Smith, Spokane Chiefs (WHL). 
RC Oliver Wahlstrom, U.S. N. D. P. (USHL).
L Brady Tkachuk, Boston University (NCAA).
RD Evan Bouchard, London Knights (OHL). 
RD Adam Boqvist, Brynas (SuperElite). 
RD Noah Dobson, Acadie-Bathurst Titan (QMJHL).