Oilers fans have enjoyed a few interesting news items this spring (Cooper Marody, Mikko Koskinen, new coaching staff) but the next three weeks are going to be like watching a raging river run. Peter Chiarelli says he won't tear it down, but he's an incredibly aggressive executive. What does keep the powder dry mean to PC? Will he slow play summer? Or find a way to acquire a puck mover who makes over $5 million a year? His signature trades always happen in the back half of June, so we are close to the window opening.
THE ATHLETIC!
Give The Athletic as a gift for Father's Day and get a free t-shirt! Offer is here, less than $5 a month and your Dad will love a unique gift. I find myself reading both the hockey (Willis, Dellow, Pronman, et cetera) and the baseball coverage a lot, it's compelling reading and a pure pleasure to visit. I'll be running draft articles for my contribution to The Athletic now through next weekend, come aboard!
New Lowetide: Embracing a two-way mentoring role key for Ryan Strome
Lowetide: Oilers coveted righty defenceman could come in Round Two of the draft
Tyler Dellow: Milan Lucic's transition into rush player wiped out much production
Lowetide: Shopping Milan Lucic for another problem contract.
Tyler Dellow: The value of draft picks and reasonable trades Canadian teams can make
Corey Pronman: 2018 NHL draft board.
Lowetide: Draft 2018: The Oilers and the USHL.
Lowetide: Draft 2018: The Oilers and Russia: A draft tragedy.
Lowetide: Draft 2018: The Oilers and the Republic of Finland
Lowetide: Draft 2018: The Oilers and Sweden.
Lowetide: Draft 2018: The Oilers and the QMJHL.
Lowetide: Draft 2018: Oilers and the WHL.
Lowetide: Draft 2018: Oilers draft history and the OHL
Lowetide: Draft 2018: The Oilers and the NCAA.
Lowetide: Draft 2018: The Oilers at the draft: Overagers.
Lowetide: Draft 2018: Oilers scouting directors: A history.
PROJECTED ROSTER CURRENTLY
Ryan Nugent-Hopkins [24-24-48]—Connor McDavid [41-67-108]—Ty Rattie [5-4-9]

Milan Lucic [10-24-34]

—Leon Draisaitl [25-45-70]—

Drake Caggiula [13-7-20]

Jujhar Khaira [11-10-21]—Ryan Strome [13-21-34]—Jesse Puljujarvi [12-8-20]

Pontus Aberg [2-6-8]—

Brad Malone [0-0-0]

—Zack Kassian [7-12-19]

Oscar Klefbom [5-16-21]—Adam Larsson [4-9-13]

Andrej Sekera [0-8-8]—

Kris Russell [4-17-21]

Darnell Nurse [6-20-26]—Matt Benning [6-15-21]

Cam Talbot [3.02 .908]—Mikko Koskinen [KHL]
This is the assumed lineup if rosters were frozen. We could put Kailer Yamamoto in a right-wing spot, or project Cooper Marody into the opening night lineup (it's possible, and Tyler Benson may see NHL time before the end of the season as well). I've highlighted the 'upgrade areas' in yellow and will admit the Lucic item is new since our last discussion.
I'm a little giddy about these Lucic rumors, but we need to keep a British style stiff upper lip so as not to be disappointed when the trade turns out to be Lucic for a World War Two bomber parked out by Agassiz.
ERIK KARLSSON
Incredibly, it appears he will be moving on this summer, as the Ottawa Senators celebrate 'hold my beer 2018!' in the capital. What would you offer? It would depend on a long-term deal being agreed to (sign and trade?) but if the Oilers are serious Leon Draisaitl, Ryan Nugent-Hopkins, No. 10 overall, Oscar Klefbom, Darnell Nurse, Jesse Puljujarvi and most other items would be on the table. Insanity we're even talking about it.
HOCKEY PROSPECT VS. LOWETIDE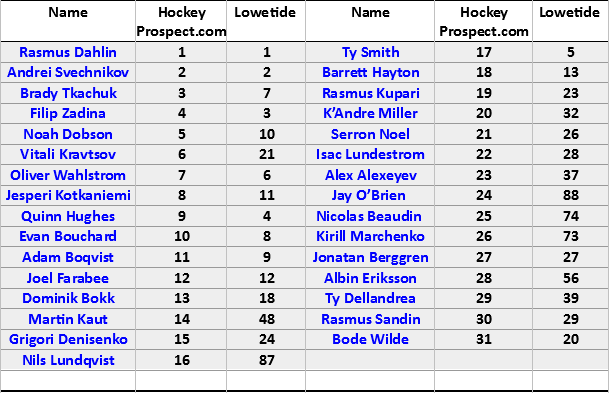 This is always a fun list and gives us a different view of the top 10 overall. If Evan Bouchard falls to No. 10, the Oilers will fly to the stage. Jay O'Brien is a fun name, and Kravtsov is emerging as a top 10 option late in the process. It's one of the reasons I cut off June 1, because you get to see how much changes late in the process (combine, etc).
PROJECTED TOP 10 PICKS, 2018
Buffalo Sabres: Rasmus Dahlin
Carolina Hurricanes: Andrei Svechnikov
Montreal Canadiens: Filip Zadina
Ottawa Senators: Noah Dobson
Arizona Coyotes: Brady Tkachuk
Detroit Red Wings: Oliver Wahlstrom
Vancouver Canucks: Evan Bouchard
Chicago Blackhawks: Quinn Hughes
New York Rangers: Vitali Kravtsov
Edmonton Oilers: Jesperi Kotkaniemi
I can see the draft going just this way, in fact Edmonton may get even more opportunity depending on teams wanting to trade up. It's a wild draft that gets going when Montreal makes their pick.
REDDIT
I will be doing an "AMA" with the folks at Reddit today at 4pm Edmonton time. The previous time they had me do it was a blast, looking forward to it this afternoon. Question: What does AMA stand for? Perhaps I should have asked before agreeing.
SWEETENER
The Lucic item above (don't get too excited!) gets a strong push with the words from Darren Dreger this morning on TSN1260. Speaking to Dan Tencer (filling in for Dustin Nielson), Dreger prefaced his quote by saying "I'm not suggesting that this could happen, I'm using this as a scenario, a possibility":
Darren Dreger:

"Would you be willing in Edmonton to move Milan Lucic, who is still an effective player. Would you be willing to throw in Jesse Puljujarvi to sweeten it if you will, and maybe something else in order to get Noah Hanifan or Justin Faulk. I don't know if either team would be interested." (TSN1260)
Dreger did not talk about this as an active rumor, merely as an example (made certain it should be treated as such several times). That said, it frames my concern perfectly. Using "sweeten the deal" implies another half teaspoon of sugar in order to adjust for taste when in actuality you're trading the entire Tabor Sugar Factory.
And you know what? That trade example fits right in with the 'trades of June' deals by Peter Chiarelli:
June 26, 2015: Dealt selections No. 16 and No. 33 in the 2015 entry draft for Griffin Reinhart.
June 29, 2016: Traded Taylor Hall for Adam Larsson.
June 22, 2017: Traded Jordan Eberle for Ryan Strome.
The Dreger trade example above was grabbed from the ether, from fantasy, from the clear blue sky, and yet Oilers fans have to acknowledge the thrust of the deal fits the rhythm of Chiarelli's three June blockbusters. Peter Chiarelli said he wasn't going to blow it up, but what does that mean, exactly? We wait.