Every morning sunrise to reach your eyes is another gamble won. If you feel like lost, you'll end up found, so amigo, lay them raises down. Matt Cane's free-agent AAV model had Drake Caggiula making $1.3M times two, the young winger landed at $1.5 per year for the next two seasons. Not a huge difference but the Oilers always pay full price plus a little. At the end of the day, with the roster final, there's going to be a $4M player missing. Death by papercut indeed.
THE ATHLETIC!
Give The Athletic as a gift for Father's Day and get a free t-shirt! Offer is here, less than $5 a month and your Dad will love a unique gift. I find myself reading both the hockey (Willis, Dellow, Pronman, et cetera) and the baseball coverage a lot, it's compelling reading and a pure pleasure to visit. I'll be running draft articles for my contribution to The Athletic now through next weekend, come aboard!
CAGGIULA'S PROGRESS

Cagggiula has been remarkably consistent but it's unclear that he's going to have a long career. There's nothing here that suggests Caggiula is going to emerge as 2.00 points-per-60 player at 5-on-5 and honestly he's an older player now (he turns 24 in a week) for a "young NHL player". Via NaturalStatTrick, here are the 5-on-5 offensive numbers for Caggiula with difference centers this past season.
Caggiula with McDavid 2017-18:

2.05 (3-2-5 in 146:16 minutes)

Caggiula with RNH 2017-18:

1.25 (1-1-2 in 96:22 minutes)

Caggiula with Strome 2017-18:

0.87 (1-2-3 in 206:49 minutes)

Caggiula with Draisaitl 2017-18:

0.66 (2-0-2 in 183:37 minutes)

Caggiula with Letestu 2017-18:

0.00 (0-0-0 in 89:52 minutes)
He is not strong in possession, the only center he flourished with is the guy who hammers the league every game. The Strome line is his most likely destination and that's not a strong number. Caggiula got a good contract, good for him and I hope he scores 20. The real problem is the Oilers re-signed Caggiula instead of finding the next Andreas Johnsson, who has a much better chance to move the needle in the NHL. Everyone makes bets that don't thrive. Very few general managers double down.
PROJECTED ROSTER AT THIS TIME (WITH CAP)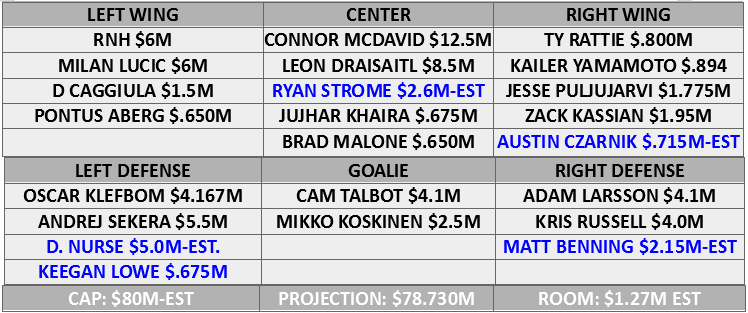 This includes Benoit Pouliot's buyout number and I am using Matt Cane's numbers here. The signing of Caggiula is about $200,000 more than the estimate, Edmonton is going to have to make a trade in order to add anyone significant during the offseason. I would bridge Nurse. I placed Yamamoto here, maybe the team waits until July 10 and signs the best available lagging veteran or pursues the next Ty Rattie. My bet? We're about to see at least one trade, probably two.
Pierre Lebrun sheds more light on the Milan Lucic situation here, it looks like this will be a hockey trade or no trade at all. Applause. Adding a sweetener to a Lucic deal is noxious in the highest.
NHL Draft-centric edition of the @TSNHockey #Bobcast now available. https://t.co/2vO88RPKUI

— Bob McKenzie (@TSNBobMcKenzie) June 14, 2018
Fascinating Bobcast this week, a lot on the draft. If anything, the top 10 is more fluid now than it was before the combine, possibly good news for the Oilers. Jesperi Kotkaniemi and Barrett Hayton are apparently moving up with Filip Zadina and others falling. Music! Heather Marginet posted some interesting thoughts from the podcast, looks like the first nine names off the board are anyone's guess.
TYLER BENSON
I mention this every so often and always get the same feedback. Tyler Benson, as things stand currently, has an excellent chance of getting into NHL games this winter. Here's the latest 50-man, with Benson's current slot on the depth chart.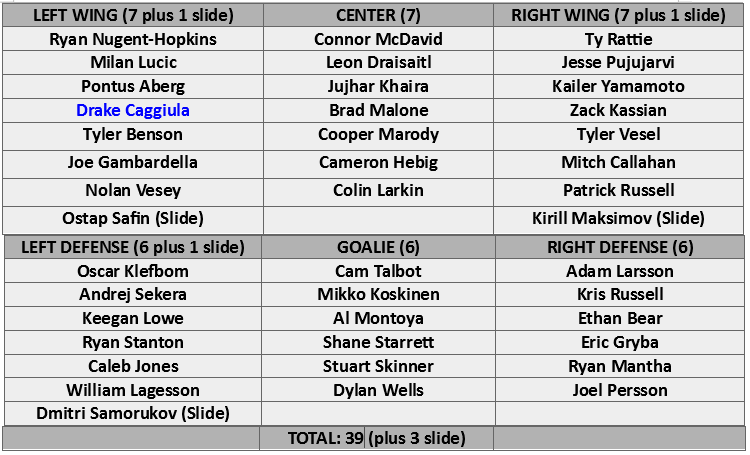 Benson is an injury or a slump away from recall, with only a few other options (Joe Gambardella, Cooper Marody, Patrick Russell) standing in the way. There will be more names added to this group, but Benson (and Kailer Yamamoto) don't have a strong group to overcome. The pipeline needs strong candidates on the wings. Schnell.
OILERS FA LIST
G Nick Ellis RFA. Oilers have a full boat, but could deal Montoya and sign Ellis.
G Laurent Brossoit UFA. It's a good bet he's going to make like Lionel Richie and sail on down the line.
LD Darnell Nurse RFA. A bridge deal likely part of the conversation.
RD Matt Benning RFA. A shorter term seems likely, Benning has settled in as a solid defender.
LD Yohann Auvitu UFA. Reportedly heading back to Europe, there's an NHL player here.
RD Mark Fayne UFA. He's done with the Oilers, we'll see if he catches on with another team.
LD Keegan Lowe UFA. I think he might return on a two-way deal.
LD Dillon Simpson UFA. Same spot as Lowe, likely room for only one.
LD Joey Laleggia UFA. He'll sign with an NHL team that sees him as a defenseman. Maybe Vancouver.
LD Ben Betker RFA. Likely part of a substantial "Leftorium" haircut this summer.
RC Ryan Strome RFA. Several options for this player, including a trade.
RC Kyle Platzer RFA. I don't think he's shown enough in his entry deal.
LC Grayson Downing UFA. Quiet free agent signing.
L Mike Cammalleri UFA. I liked his contribution but the Oilers need more speed.
L Drake Caggiula RFA. Likely gets a short-term deal.
L Braden Christoffer RFA. Unlikely to return.
R Anton Slepyshev RFA. KHL rumors (and a trade) suggest he's headed for the Motherland.
R Iiro Pakarinen RFA. Also the subject of Russia rumors.
R Patrick Russell. RFA. I think there's a chance he gets another deal.
R Brian Ferlin UFA. Barely got on the ice.