This is a massive week for the Edmonton Oilers. They'll find out the cap limit early in the week, continue to pursue trade options and on Friday and Saturday draft six new prospects. It looks like trades will build this roster from where it is today, and we'll find out if Peter Chiarelli's statement that he wouldn't blow it up holds true. After weeks of hurry up and wait, prepare for the most explosive week of summer.
THE ATHLETIC!
Give The Athletic as a gift for Father's Day and get a free t-shirt! Offer is here, less than $5 a month and your Dad will love a unique gift. I find myself reading both the hockey (Willis, Dellow, Pronman, et cetera) and the baseball coverage a lot, it's compelling reading and a pure pleasure to visit. I'll be running draft articles for my contribution to The Athletic now through next weekend, come aboard!
New Lowetide:

The WHL draft pool 2018: Where are the forwards? (will link)
Lowetide: Can the Oilers repeat the 2017 draft haul?
Lowetide: Embracing a two-way mentoring role key for Ryan Strome
Lowetide: Oilers coveted righty defenceman could come in Round Two of the draft
Tyler Dellow: Milan Lucic's transition into rush player wiped out much production
Lowetide: Shopping Milan Lucic for another problem contract.
Tyler Dellow: The value of draft picks and reasonable trades Canadian teams can make
Corey Pronman: 2018 NHL draft board.
Lowetide: Draft 2018: The Oilers and the USHL.
Lowetide: Draft 2018: The Oilers and Russia: A draft tragedy.
Lowetide: Draft 2018: The Oilers and the Republic of Finland
Lowetide: Draft 2018: The Oilers and Sweden.
Lowetide: Draft 2018: The Oilers and the QMJHL.
Lowetide: Draft 2018: Oilers and the WHL.
Lowetide: Draft 2018: Oilers draft history and the OHL
Lowetide: Draft 2018: The Oilers and the NCAA.
Lowetide: Draft 2018: The Oilers at the draft: Overagers.
Lowetide: Draft 2018: Oilers scouting directors: A history.
WORKING ROSTER 2018-19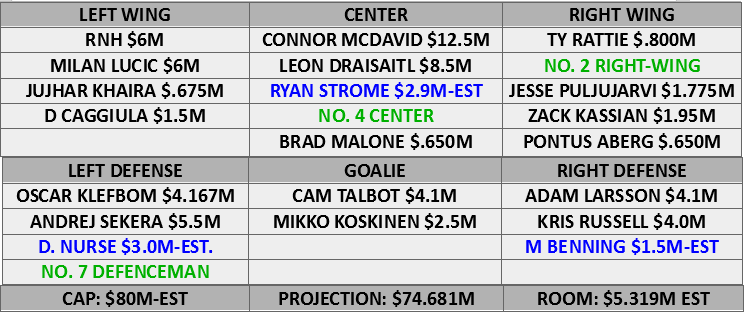 Thomas Vanek seems to be the consensus among readers and listeners I interact with, let's say he comes in at $2.7 million times one. The No. 7 defenseman can be Keegan Lowe, that's $675,000 next season. The No. 4 center has to come in at (assuming a $1 million cap cushion) $1 million or less next year, possibly meaning Jujhar Khaira moves to No. 4 center and Pontus Aberg or Drake Caggiula play on the Strome line. This team needs some dynamic additions, but we need to remember the biggest boost might be Jesse Puljujarvi, age 20. If he blossoms, a lot falls into place. Ditto Kailer Yamamoto.
HAPPY FATHER'S DAY
Father's Day begins with me reading up on Costa Rica and Serbia. World Cup Soccer allows me a chance to spend a few minutes reminding myself about things I learned in school. You'd be amazed how little time I've spent on Costa Rica since 1976. I don't know how much you know about Costa Rica, but it's an interesting story and far afar looks like a nation with its act together.
We're all fine, the family is progressing as it should. This spring, my daughter told me that, while she and her brother love the dog, they don't consider it to be the 'third child' and maybe me and Mom could refrain from acting like that was true. I'm just glad the dog wasn't in the room to hear it.
Enjoy your day, men. And if you're lucky enough to have a living, breathing Father (even if he isn't your biological Dad, you know who your Father is) then you hug the stuffing out of him today and I mean it.
PULJUJARVI'S PROGRESS AND FUTURE
For Oilers fans, any of the three 'Draft +3' seasons would be a dream. JP won't post those numbers with Ryan Strome, but there are other options and this is the young man's time to push up the depth chart. A quick reminder about Puljujarvi's performance a year ago with each center:
With Leon Draisaitl:

2.37 in 101 minutes (1-3-4)

With Connor McDavid:

1.87 in 257 minutes (5-3-8)

With Ryan Strome:

1.26 in 238 minutes (3-2-5)

With Ryan Nugent-Hopkins:

0.51 in 117 minutes (1-0-1)

With Mark Letestu:

0.00 in 57 minutes (0-0-0)
QUESTION FROM MEL
Mel:

 You talk a lot about finding value, often mentioning guys like Austin Czarnik or Nick Petan. I just saw Matthew Peca on the list of UFAs over at Capfriendly. He's going into his 25 year old season and has produced well in the A, while getting a few cups of tea with a very strong Tampa team. What are your thoughts on him as a depth fit for the Oilers? He could battle guys like Marody and Malone for call up minutes and at the very least be a good AHL center for the kids to develop with.
Mel's point is well taken, and with Edmonton's need for penalty killers on the No. 4 line he might be a quality addition for low dollars. The Hockey News says "has solid playmaking ability and two-way acumen at lower levels. Can be a factor on special teams" and that dovetails nicely with roster needs. As Mel mentioned, he's 25 so there's lots of track left. His player card at NST is impressive but in very few minutes.
SAM BENNETT
I was asked over at The Athletic about a Ryan Strome for Sam Bennett trade, and my initial reaction was 'that's a pretty interesting trade idea.' Bennett has a contract for the coming year, just under two million dollars, and he scored at a similar rate to Strome a year ago. He got nothing done with Curtis Lazar and Mikael Backlund, but other than that scored pretty well for Calgary. I like Strome's handedness and do think he'll have a better year in 2018-19 now that he is in a defined role but Sam Bennett is an interesting option for Edmonton.