A pre-draft inventory of the Edmonton Oilers organization shows great depth at center at the NHL level and something resembling depth on defense across the NHL and AHL clubs. Everywhere else is either a slight weakness or a glaring hole badly in need of repair. This week, management gets another opportunity at team building.
THE ATHLETIC!
Give The Athletic as a gift or get it yourself and join the fun! Offer is here, less than $5 a month and your Dad will love a unique gift. I find myself reading both the hockey (Willis, Dellow, Pronman, et cetera) and the baseball coverage a lot, it's compelling reading and a pure pleasure to visit. I'll be running draft articles for my contribution to The Athletic now through next weekend, come aboard!
New Lowetide: The WHL draft pool 2018: Where are the forwards?
Lowetide: Can the Oilers repeat the 2017 draft haul?
Lowetide: Embracing a two-way mentoring role key for Ryan Strome
Lowetide: Oilers coveted righty defenceman could come in Round Two of the draft
Tyler Dellow: Milan Lucic's transition into rush player wiped out much production
Lowetide: Shopping Milan Lucic for another problem contract.
Tyler Dellow: The value of draft picks and reasonable trades Canadian teams can make
Corey Pronman: 2018 NHL draft board.
Lowetide: Draft 2018: The Oilers and the USHL.
Lowetide: Draft 2018: The Oilers and Russia: A draft tragedy.
Lowetide: Draft 2018: The Oilers and the Republic of Finland
Lowetide: Draft 2018: The Oilers and Sweden.
Lowetide: Draft 2018: The Oilers and the QMJHL.
Lowetide: Draft 2018: Oilers and the WHL.
Lowetide: Draft 2018: Oilers draft history and the OHL
Lowetide: Draft 2018: The Oilers and the NCAA.
Lowetide: Draft 2018: The Oilers at the draft: Overagers.
Lowetide: Draft 2018: Oilers scouting directors: A history.
PROJECTED ROSTER/CAP 2018-19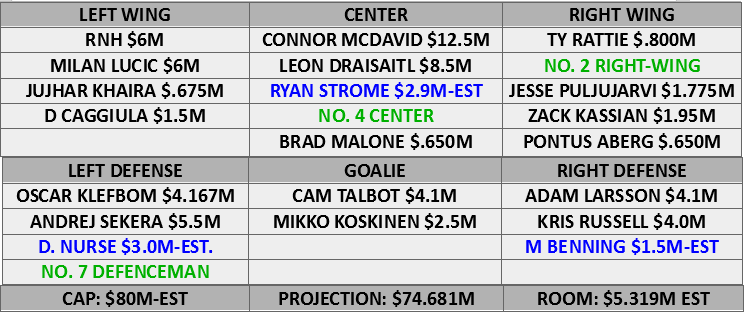 This is the chart I'll use as we see the team add (and subtract) NHL players, it's a moving target but we may see only two or three changes based on actual need (we're going to see more than three changes). I've included all Oilers save Al Montoya, and have moved the 'tweeners' like Kailer Yamamoto on the Bakersfield list below.
CURRENT CONDORS ROSTER
Center: Cooper Marody, Cameron Hebig, Colin Larkin
Left Wing: Tyler Benson, Joe Gambardella, Nolan Vesey, Ostap Safin
Right Wing: 

Kailer Yamamoto, Tyler Vesel, Mitch Callahan 

Left Defense: Keegan Lowe, Ryan Stanton, Caleb Jones, William Lagesson
Right Defense: Ethan Bear, Eric Gryba, Ryan Mantha
Goal: Shane Starrett, Dylan Wells, Stuart Skinner
This is the Condors' roster without AHL contracts, purely the prospects. I've been thinking about ways to get Edmonton's top minor league team on a level close to or equal with Winnipeg's, Tampa Bay's and Toronto's as quickly as possible. I count 11 legit prospects flourishing on the Manitoba Moose roster for 2017-18, whereas the Condors who pushed numbered fewer than five. How can management add talent to the group in Bakersfield before the fall?
Drafting overagers who can turn pro immediately

. I'd name Adam Mascherin, Sean Durzi and goalie Veini Vehvilainen, as well as Jesperi Kotkaniemi if he's still on the board at No. 10 overall.
The Oilers have to aggressively close the gap, grabbing talent that is available and can compete at the AHL level immediately is a worthwhile endeavor. The club will be losing some outer marker potential but the road for a guy like Mascherin isn't going to be as long as someone who turned 18 this spring. Edmonton needs production rfn.
 MCKENZIE'S LIST
Bob McKenzie's final list comes out today, it's a big day for draft nerds like me. McKenzie produces the draft's most important list, because it's the industry standard, the professional consensus. Here's how the Oilers drafted alongside BM's list a year ago, with some other lists thrown in.

Always a blast to see these lists come out, but this season there's not much agreement after the first two or three names. I'm very much looking forward to the release of the list, we'll talk to Steve Kournianos from The Draft Analyst at 10:40 Edmonton time this morning about the coming weekend. His list reflected the Oilers thinking very well, as did McKenzie and Button.
TRADING NO. 10 OVERALL
If Peter Chiarelli does trade the pick, I think there are two possible scenarios: first, as part of a package for a difference maker. The pick would have to be included with other pieces (including high value and high salary) to fetch that big piece.
The other scenario involves repeating the Griffin Reinhart trade, only this time with a better target. Trading No. 10 in a strong draft (I think the late surge by Kotkaniemi, Dobson, Hayton and Kravtsov is helping the Oilers currently) could mean getting a player who is farther along while still under control. I use Alex DeBrincat as an example but it's very unlikely Chicago trades such a fantastic talent at the beginning of his career for a chance at something similar.
Put simply, the club needs another entry contract that brings extreme value and they need it now. It's folly to expect Edmonton to find another CMD entry deal (two MVP-calibre seasons in three years=impossible to duplicate), but what about names like Brandon Montour, Daniel Sprong, Jack Roslovic, Timo Meier? It might have to be a bigger deal, and the Oilers might not get 100 cents on the dollar, but finding a RHD like Montour or a finisher for Leon like Meier who can be plugged in this fall and be part of the McDavid cluster would be a perfect fit.
LOWDOWN WITH LOWETIDE
A busy morning, anything breaks we'll have it and it's going to be a blast. 10 this morning, TSN1260, scheduled to appear:
Pierre Lebrun, TSN and The Athletic. A massive week for Canada's NHL teams, culminating at the draft on the weekend.
Steve Kournianos, The Draft Analyst. The projected top 10 is changing by the hour, Steve will help us make sense of things.
Jason Gregor, TSN1260. Oilers in a position to grab a fine prospect Friday night. Will they trade the pick?
10-1260 text, @Lowetide on twitter. See you on the radio!