We enter draft weekend 2018 with every possible outcome under the hockey rainbow in play. The first-round pick is available, trading up or down is possible and standing pat at No. 10 overall is the obvious move. I always prefer to make the pick, but the RHD itch is one this organization is hellbent on scratching. The pipeline may have to wait even longer to reach completion.
THE ATHLETIC!
Give The Athletic as a gift or get it yourself and join the fun! Offer is here, less than $5 a month and your Dad will love a unique gift. I find myself reading both the hockey (Willis, Dellow, Pronman, et cetera) and the baseball coverage a lot, it's compelling reading and a pure pleasure to visit. I'll be running draft articles for my contribution to The Athletic now through next weekend, come aboard!
THE FILTER
I use NHLE as a strong guiding light. I also use scouting reports from trusted sources and publications. I punish average to poor foot speed liberally. My list rewards offense heavily, and the most gifted offensive players will be at the top. Players with a range of skills usually do well, but there is a fine line between a two-way player and a checking future (Allan McShane, Linus Nyman would have been higher on this list a few years ago). The list does not give high numbers to players who have a lot of their value tied up in the defensive side of the game. Goalies are graded (almost exclusively) by save percentage, although success over more than one season has terrific value. It is very rare for me to rank a defenseman No. 1 overall. Last time? Victor Hedman, 2009.
TOP 120, 2018
LD Rasmus Dahlin, Frolunda (SHL). Impact player. Complete. Franchise. Ready.
R Andrei Svechnikov, Barrie Colts (OHL). Major talent. 40 goals in 44 OHL games.
L Filip Zadina, Halifax Mooseheads (QMJHL). Size, shooter, speed, skill.
LD Quinn Hughes, Michigan (NCAA). Fast as lightning, smooth. Elite passer.
LD Ty Smith, Spokane Chiefs (WHL). I wrote about him here. A fine talent. Prototype.
RC Oliver Wahlstrom, U.S. N. D. P. (USHL). Huge talent, emerging. Sensational release.
L Brady Tkachuk, Boston University (NCAA). Rugged power winger with two-way skills.
RD Evan Bouchard, London Knights (OHL). Big numbers, intelligent two-way D.
RD Adam Boqvist, Brynas (SuperElite). Brilliant puck mover, chaos defense.
RD Noah Dobson, Acadie-Bathurst Titan (QMJHL). Two-way defenseman who has a big shot.
LC Jesperi Kotkaniemi, Assat (Sm-Liiga). Smart, very skilled and he's 6.02, 190.
L Joel Farabee, U.S. N. D. P. (USHL). Speedy winger with legit skill, chance machine.
LC Barrett Hayton, SSM Greyhounds (OHL). Great skater, great shot. Complete skills.
LC Jacob Olofsson, Timra (Allsvenskan). Two-way center with skill, he's an emerging player.
RD Ryan Merkley, Guelph Storm (OHL). Ridiculous offensive package. One dimensional.
LC Joe Veleno, Saint-John Sea Dogs (QMJHL). Good size and speed, creative center.
RC Akil Thomas, Niagara Ice Dogs (OHL). Undersized center with all of the tools, playmaker.
R Dominik Bokk, Vajxo Lakers (SuperElite). Elusive skater and a fine stickhandler. First-person shooter.
LC Filip Hallander, Timra (Allsvenskan). Big, fast forward is an excellent puck transporter.
RD Bode Wilde, U.S. N. D. P. (USHL). Has size, skill, speed, plus can shoot the puck. Chaos.
R Vitali Kravtsov, Traktor (KHL). Terrific skill, impressive KHL playoff.
RD Calen Addison, Lethbridge Hurricanes (WHL). Creative player, a two-way defender.
RC Rasmus Kupari, Karpat (Sm-Liiga). Skilled center, offense is the big selling point.
L Grigori Denisenko, Yaroslavl (MHL). High-end skill and he's a puck wizard. Great one-timer.
LC Ryan McLeod, Mississauga Steelheads (OHL). Size, speed, skill. One of the oldest players in draft.
R Serron Noel, Oshawa Generals (OHL). Big PF with improving speed, he's an August 2000 birth date.
R Jonatan Berggren, Skelleftea (SuperElite). Fearless two-way W, closed like a demon.
L Isac Lundestrom, Lulea (SHL). He is a burner, probably a little shy offensively.
LD Rasmus Sandin, SSM Greyhounds (OHL). Smart, undersized skill defenseman.
RC Cam Hillis, Guelph Storm (OHL). He's a burner, has skill, came a long way in one calendar year.
LC Allan McShane, Oshawa Generals (OHL). A wide range of skills, McShane is an excellent passer.
LD K'Andre Miller, U.S. N. D. P. (USHL). Big defender who can skate and has a big shot.
W Samuel Fagemo, Frolunda (SuperElite). Quick release, great shot.

R Jesse Ylonen, Espoo United (Mestis)

. Tall, thin skill winger who is both shooter and playmaker.
LC Linus Nyman, Kingston Frontenacs (OHL). Strong two-way C with impressive offense.

RD Jett Woo, Moose Jaw Warriors (WHL)

. A fine two-way prospect. Good skater, smart.
LD Alex Alexeyev, Red Deer Rebels (WHL). Big man, calm feet, has skill. (6.03, 190).
LC Phillipp Kurashev, Quebec Remparts (QMJHL). Intelligent two-way center.
RC Ty Dellandrea, Flint Firebirds (OHL). Skill center plays a rugged style. Wild card.
G Jakub Skarek, Jihlava (Czech). Huge goalie, quality resume.
LC Alexander Khovanov, Moncton Wildcats (QMJHL).Unreal skill, inconsistent.
LC Nathan Dunkley, London Knights (OHL). Impressive young player with offensive ability.
LD Jared McIssac, Halifax Mooseheads (QMJHL). Powerful skater, emerging offense.
L Jake Wise, U.S.N.D.T.P. (USHL). A burner with emerging offense, two-way potential.
RD Sean Durzi, Owen Sound Attack (OHL). Puck mover, could be fantastic value.
L Cole Fonstadt, Prince Albert Raiders (WHL). Good hands, skilled.
LC Liam Foudy, London Knights (OHL). Skill center. Speed merchant.
L Martin Kaut, Pardubice (Czech). Big, strong, excellent skater. Offense unclear.
LC Blake McLaughlin, Chicago Steel (USHL). Undersized skill player. Rising.
LC Benoit-Olivier Groulx, Halifax Mooseheads (QMJHL). Two-way C with some skill.
LD Filip Kral, Spokane Chiefs (WHL). Smart puck moving defender.

L Adam Mascherin, Kitchener Rangers (OHL).

 Re-entry, great skill, small.
LC Jack McBain, Toronto Jr. Canadians (OJHL). Two-way C with size and skill.
L Jakob Lauko, Chomutov (Czech). Skilled winger with good speed. Offense a mystery.
LC Milos Roman, Vancouver Giants (WHL). A smart player in all areas of the ice.
L Albin Eriksson, Skelleftea (SHL). Big winger, plus speed, promising offense.
LC Matej Pekar, Muskegon Lumberjacks (USHL). Playmaking Czech in USHL.
LD Jonathan Tychonick, Penticton Vees (BCJHL). Puck mover, creative, chaos.

L Alex Steeves, Dubuque (USHL)

. Smaller winger, speedy, physical.
G Oliver Rodrigue, Drummondville (QMJHL). Best NA goalie by consensus.

R Aidan Dudas, Owen Sound Attack (OHL).

 Small, very skilled forward.
RC Semyon Der-Arguchintsev, Peterborough Petes (OHL). Playmaking center, growing buzz.
L Gabriel Fortier, Baie Comeau (QMJHL). Speedy winger with skill.
RD Axel Andersson, Djurgardens (SuperElite). Speedy blue with skill.
RC Kyle Topping, Kelowna Rockets (WHL). Impressive even-strength offense.
LC Jack Drury, Waterloo Blackhawks (USHL). Chris' boy, smart and skilled. (USAToday).
R Vladislav Kotkov, Chicoutimi Sagueneens (QMJHL). Big, mobile offensive winger.
LD Mattias Samuelsson, U.S.N.D.T.P. (USHL). Shutdown skills, some offense.
LC David Gustafsson, HV71 (SHL). Two-way C with emerging offense.
RC Ivan Morozov, Mamonty Yugry (MHL). Solid two-way C, offense improving.
G Lukas Dostal, Brno (Czech). Fabulous numbers over the last two seasons.
L Sampo Ranta, Sioux City Musketeers (USHL). Skill winger with speed and a plus shot.

L Kirill Marchenko, Mamonty Yugry (MHL).

 Size, skill, spiking.
LD Nicolas Beaudin, Drummondville (QMJHL). Impressive puck mover, speed a concern.
R Niklas Nordgren, HIFK (Sm-Liiga). Undersized, skilled, ripped up U18's.
R Riley Sutter, Everett Silvertips (WHL). A gritty winger with skill.
L Justin Almeida, Moose Jaw Warriors (WHL). Good speed, two way ability, spiked offensively.

L Anderson MacDonald, Moncton Wildcats (QMJHL)

. Big W is talented scorer.
RC Ryan O'Reilly, Madison Capitals (USHL). Power forward with skill.
L Cedric Desruisseaux, Drummondville (QMJHL). Small, skilled.
R Kody Clark, Ottawa 67's (OHL). Rambunctious PF with some skill.
L Johnny Gruden, U.S.N.D.T.P. (USHL). Good speed, two way acumen.
L Jack Randl, Omaha Lancers (USHL). Impressive scorer. Zero buzz.
RD Mac Hollowell, SSM (OHL). Undersized puck mover can skate.
R Pavel Gogolev, Peterborough (OHL). 30 goals in world's best junior league.
R Arttu Nevasaari, Karpat (Jr. Sm-Liiga). Top-end skill.
RD Nils Lundkvist, Lulea (SHL). Speed and can pass plus transport the puck.
RC Jay O'Brien, U.S.N.D.T.P. (USHL). Skilled, undersized.
LD Justin Bergeron, Rouyn-Noranda (QMJHL). M-A Bergeron 2.0.
L Jan Jenik, Benatky (Cze-2). Solid two-way prospect, size, skill.
R Yegor Sokolov, Cape Breton (QMJHL). Skilled power forward with good numbers.
LC Lukas Wernblom, MODO (SuperElite). Small, skilled, needs better results.
RD Jacob Bernard-Docker, Okotoks Oilers (AJHL). Great tools, unsure of offense.
R Dmitri Zavgorodny, Rimouski Oceanic (QMJHL). Small, effective goal scorer.
LD Scott Perunovich, Minnesota-Duluth (NCAA). Late developing, great passer.

LD Adam McCormick, Cape Breton (QMJHL)

. Smart D, excellent skater.
C-R Blade Jenkins, Saginaw Spirit (OHL). Scorer with size, better on the wing.

LD Danila Galenyuk, St. Petersburg (KHL).

 Strong two-way D, good skater.

LC Jason Willms, Barrie Colts (OHL).

 Two-way C, 1999.

RD Alec Regula, London Knights (OHL).

 Big two-way D with good mobility.
LD Marc Del Gaizo, Muskegon (USHL). Impressive skill defender.
L Oliver Okuliar, Dukla Trencin (Slovakia U20). Skilled, big U18's.
L Nikolai Kovalenko, Lokomotiv (MHL). Andrei's boy. He's a train.
RC Tyler Madden, Tri-City Storm (USHL). Speedy center
L Karel Plasek, Brno (Czech). Skill winger with a plus shot.
LC Matthew Struthers, North Bay Battalion (OHL). Big two-way C.
LC Riley Stotts, Calgary Hitmen (WHL). Found his offense with the Hitmen.
L Gavin Hain, U.S.N.D.P (USHL). Intelligent player, terrific skater.
L Ryan Chykowski, Medicine Hat Tigers (WHL). Throwback W, good shot.
L Paul Cotter, Lincoln Stars (USHL). Impressive athlete plus skills.
RC Chase Wouters, Saskatoon Blades (WHL). Nice range of skills.
L Hudson Elynuik, Spokane Chiefs (WHL). Smart, skilled, huge. Re-entry.
LC Curtis Douglas, Windsor Spitfires (OHL). Giant center with skill.
LD Adam Ginning, Linkoping (SHL). Big D, good speed, shutdown type.
RD Ondrej Buchtela, Pirati Chomutov (Cze U20). Puck mover, good speed.
RD Ty Emberson, U.S.N.D.P (USHL). Intelligent two-way player.

G Olof Lindbom, Djurgardens (SuperElite)

. Good size, rebound control, strong U18's.
R Kirill Nizhnikov, Sudbury Wolves (OHL). Volume shooter, could spike.
RC Oscar Back, Farjestad (SHL). Strong start to U18 has him on the radar.
L Michal Kvasnica, Ocelari Trinec (Czech). Smart two-way winger.
FINAL MOCK
First Round—No. 10 overall—LD Ty Smith, Spokane Chiefs (WHL). My list is mostly about numbers and Ty Smith's numbers are exceptional. He plays in an excellent league, anticipates the play well, can cover or carry and is an excellent passer. His one weakness is his size but he's made for this NHL. I talked to a scout who said "new age defender with a very high ceiling in today's game."  I don't know if the Oilers will take him, or even own this pick when it is time to use it, but Ty Smith's math is undeniable.
Second Round—No. 40 overall—LC Jacob Olofsson, Timra (Allsvenskan). I have him No. 14 but he should be available in the second round.

Swedish Poster: 

The 6'2 center had a great year in allsvenskan, by no means a speedster but moves ok, needs to improve his first few steps but changes directions well and has ok top speed once going. Playmaking C but can finish as well, has that ability to just control shifts, more smart than overly creative, makes the right play but not necessarily the genius one. Great puckhandling. Good defensively as well, even when playing against men, pretty complete player tbh. Shot his team to the SHL with the deciding goal in the Allsvenskan playoffs. Will get picked in the first round, very good bet to become a good NHL C down the line but needs to get quicker and more dynamic to be a #1/2C imo. Looked faster at the end of the year than he did at the start so that's a good sign.
Third Round—No. 71 overall—L Johnny Gruden, U.S.N.D.T.P. (USHL). He's skilled, works hard, aggressive, can check like a demon. Several posters have pushed him forward this spring (now summer) but the truth is Gruden is among six or seven USHL kids who the Oilers would be strong on at this number.
Fifth Round—No. 133 overall—LC Riley Stotts, Calgary Hitmen (WHL). Terrific skater who found the range offensively after a trade to the Hitmen. Skilled player who is a little under the radar (similar to Kirill Maksimov a year ago).
Sixth Round—No. 164 overall—R Samuel Fagemo, Frolunda (SuperElite). 

Swedish Poster: 

This quick winger plays for Frölunda, he has a really good wrister, has scored well in the U20 League, quick first few steps but his top speed is just ok to good, Pretty skilled with the puck and has that jack in the box ability of goalscorers to just show up in the right spot. Plays with intensity but I think a guy with his skill should be making plays more consistently. He's also really frustrating at times, not very smart with the puck, has a tendency to just skate right into opponents and lose the puck, has flashes of creativity but there's a little too much straight lines and junior decision making that won't fly at a higher level. He got into two SHL games this season, according to his coach he could've gotten a few more games but they wanted him to stay in juniors to develop his offensive game instead of getting used as a grinder in the SHL which is probably smart, if devloped right there's enough of a skillset to make him a player but he could also end up as nothing more than an SHL journey man and bottom sixer if he can't work out the glitches in his game. I think Fagemo is a worthwhile pick in the back half of the draft since there is a good set of skills and also enough intensity and grit to play him in different roles if he can't play higher in the line up.
Seventh Round—No. 195 overall—L Paul Cotter, Lincoln Stars (USHL). I have been spending a lot of time staring at the USHL numbers this year, the league is at a tipping point now (or maybe earlier). The OHL and WHL are the strongest Canadian leagues, the USHL's talent base this year is going to rival them at the draft and maybe five years down the road. Big forward, has a nice range of skills and he's skilled. I have him at No. 110, he could go much higher. The USHL is going to run over this draft. Pretty sure.
TODAY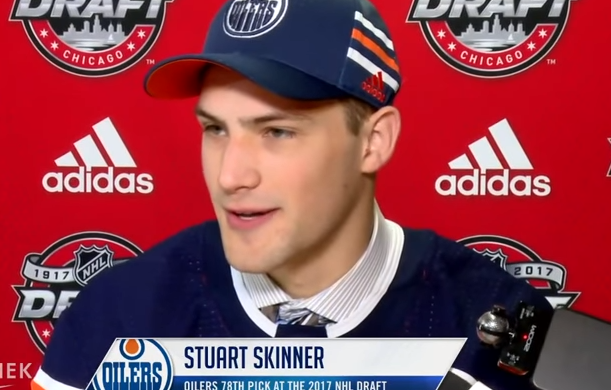 I think the pick at No. 10 may be dealt today. I'll guess No. 10 and Jesse Puljujarvi and or a LHD for Colton Parayko.
I'll be on with Guy Flaming for TSN 1260's draft coverage beginning at 5:30 this afternoon.
Sam Cosentino has a sixth sense about the draft. His final mock is interesting.
I have given my opinion since January (here and at The Athletic): Peter Chiarelli's best course of action is to keep his powder dry. Wait. A strong deal will come to the Oilers but it might not be this summer. Value needs to attach itself to players, giving the general manager some torque when dealing for needed talent. Edmonton isn't here yet.
Peter Chiarelli's best course of action could cost him his job. The temptation to make a trade today, using the No. 10 overall selection, must be enormous. If he can get Colton Parayko for a reasonable price (I don't know what that might look like) I think Oilers fans will give the general manager his due. In a way, Chiarelli's late June deals in the past three summers, along with the unrest in the fanbase, may have created a 'trade wall' that won't allow PC to make another withering deal. That may sound a little farcical, but the theory does hold some water if you factor in the owner.
Daryl Katz benefits to the tune of $300,000 with the Eric Gryba buyout. Financially that's not much money for an NHL owner to worry about and yet the buyout proceeded. There's really no other benefit. This is beyond curious.
The Oilers and Rogers Place should be a money maker for a century but winning is a part of that scenario. I don't know how many suites come due next summer and I don't know how many season ticket holders walked this summer. The Gryba buyout is either an owner demanding a counterproductive move in a fit of pique, a manager who doesn't know the cap implications, or something far more worrisome. These are the reasonable options in my opinion.
PROJECTED ROSTER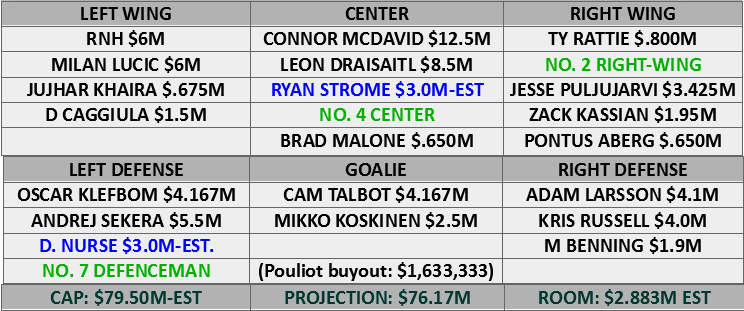 Nurse is a bridge, Yamamoto makes this team without a throw, Keegan Lowe or similar No. 7 blue and maybe Brad Malone is your No. 4 C.
LOWDOWN WITH LOWETIDE
We are at the finish line, draft tonight! I'll be part of the TSN1260 coverage beginning at 5:30. At 10 this morning on TSN1260, we'll have a final look and update any trades. Scheduled to appear:
Steve Lansky, Big Mouth Sports.

Taylor Hall MVP, draft coverage as a television event.

Bryan Brant, Roster Point Hockey.

When should young players begin promoting themselves to enlarge the footprint of their brand in the hockey industry?

Frank Seravalli, TSN.

Hall's MVP, draft day.
10-1260 text, @Lowetide on twitter.