The Oilers traded Raffi Torres for Gilbert Brule on July 1, 2008. It was one of those "we'll trade an actual NHL player for a guy who was a lottery pick and has taken a little time to develop" kinds of deals, it usually works out as a substantial loss (NHL teams don't trade their lottery picks three years after drafting them if things are looking up). Brule scored 17 goals and 37 points in 2009-10 under Pat Quinn (I wrote "has a nice release and can find lanes and he has some jam despite his size another smaller player"). He was one of the better possession forwards (46.48 Corsi for 5×5, but 2.00 Corsi Rel) and he was 22. Gilbert Brule was fewer than 80 games from the end of his NHL career.
THE ATHLETIC!
Give The Athletic as a gift or get it yourself and join the fun! Offer is here, less than $5 a month! I find myself reading both the hockey (Willis, Dellow, Pronman, et cetera) and the baseball coverage a lot, it's a pure pleasure to visit. We'll sell you the whole seat, but you'll only need the edge.
ABERG VS. CAGGIULA

Aberg and Caggiula will be part of the 'early audition' group of Oilers wingers this fall. The club needs to find eight men and true to play alongside

Connor McDavid,  Leon Draisaitl, Ryan Strome

and (probably)

Jujhar Khaira

.
The 'first eight' group is likely to include

Nuge—Rattie, Lucic—Yamamoto, Caggiula—Puljujarvi

and

Aberg—Kassian

.
I think we're about to see another winter of auditions on the wing, and it may envelope the season. Lack of scoring beyond the McDavid line may be the chief cause of the Oilers losing touch with the pack, thus inviting the organization to audition farmhands.
Rumors of Jason Chimera being signed probably doesn't offer much in the way of roadblocks for the youngsters on the farm. I'm a Chimera fan, and his long career was easily predicted (foot speed for days) but the things that made him viable are finally leaving him.
Players who might receive playing time on the wings this year are all free agents signed by the organization beginning July 1 (they have lots of room on the 50-man), plus names like Cooper Marody, Tyler Benson, Patrick Russell, Joe Gambardella, Tyler Vesel, Cameron Hebig and Nolan Vesey.
Opening night 2009-10 Brule played on a line with Andrew Cogliano and Dustin Penner (it would have been the No. 2 line behind JF Jacques—Shawn Horcoff—Ales Hemsky). The following year, 2010-11, he would play with Magnus Paajarvi and Andrew Cogliano, a member of a line that would eventually get lost in the flood. A year later, Linus Omark was in Brule's spot.
As things stand now, ladies and men, I suspect we can make a prediction: This 2018-19 campaign is going to see a lot of auditions for wingers on the second, third and fourth line. The organization can land some NHL wingers in free agency, as the current depth chart is not satisfactory. There's very little money, so astute signings are required. A fascinating thread the needle summer awaits Peter Chiarelli.
50-MAN LIST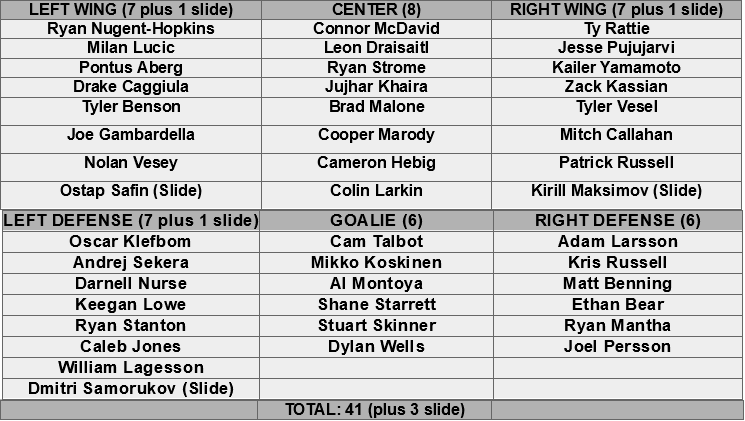 Brule's first opening night was 2009-10, the right wing depth chart was Ales Hemsky—Gilbert Brule—Ryan Stone—Zack Stortini. The following year, it was Hemsky—Jordan Eberle—Brule—Steve MacIntyre. In 2011-12, right wing opening night featured Eberle—Hemsky—Magnus Paajarvi and Ryan Jones. Next season? Eberle—Hemsky—Hartikainen—Petrell.
How many of those RW depth charts are better than the current alignment? Tough to say, as Yamamoto and Puljujarvi may have significant careers ahead of them. Right now, it feels like a year of auditions (after a season of auditions) on the wing is ahead.
LOWDOWN WITH LOWETIDE
At 10 this morning, looong weekend ahead, summer is right there! We'll celebrate with two top drawer guests, TSN1260.
Jeff Krushell, Krush Performance

. Turning pro and making the next steps after the draft.

Rob Vollman, ESPN and NHL.com.

The best mid-level free agents for teams on a budget.
10-1260 text, @Lowetide on twitter. See you on the radio!