As the Edmonton Oilers arrive at the doors of free agency July 1, I am generally pleased with how things have rolled out so far this offseason. Peter Chiarelli kept his powder dry right to the edge of free agency, can he continue? The draft went well, the prospects have progressed, there should be some free-agent bargains by July 6-10. It's a different summer, but that's not a bad thing.
The future. Yamamoto->Bouchard 🚨 pic.twitter.com/OW8ha1TIUp

— Adam (@OilersAdam) June 29, 2018
Complete highlights here.
THE ATHLETIC!
Give The Athletic as a gift or get it yourself and join the fun! Offer is here, less than $5 a month! I find myself reading both the hockey (Willis, Dellow, Pronman, et cetera) and the baseball coverage a lot, it's a pure pleasure to visit. We'll sell you the whole seat, but you'll only need the edge.
Heard there could be some interest from Edmonton in signing Blake Comeau on Tuesday

— Adrian Dater (@adater) June 28, 2018
FREE AGENT WINGERS

These names have been reported (Jason Gregor had Comeau yesterday afternoon, as did Adrian Dater, don't know who was first) and I threw Jesse Puljujarvi in for fun. I'm a big fan of adding players in their mid-20s, so Rieder and Czarnik are my picks from this group. Matt Calvert (not included here) is also a strong option.
PROJECTED ROSTER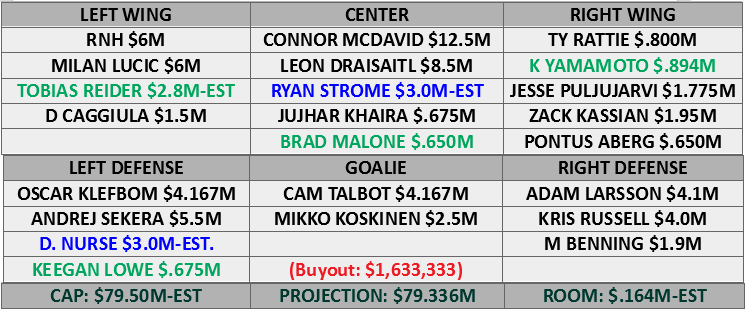 My nominees for penalty killers: Connor McDavid, Jujhar Khaira, Tobias Rieder, Leon Draisaitl, Zack Kassian, Nuge. Some sweet day 97 and 29 won't PK, giving them more torque for the shift after the penalty kill, but the bottom six forwards need help.
I was looking around for free agent scorers on the wing after adding Rieder, but Kailer Yamamoto has a strong chance to make it and his bonus numbers are minimal.
I haven't added Evan Bouchard to the mix. Yet.
#BillyMooresCup: Evan Bouchard is so calm, moves the puck smooth, 1G,2A in a 4-2 game (some D issues). Other most notable: Yamamoto great stickwork (3 pts), McLeod is FAST (2 pts), Benson had moments. Marody looked pro-ready but looked tweener-ish. McPhee surprised me. #Oilers

— Brennan Klak (@nhlupdate) June 29, 2018
Oilers management has to be pleased with the performance of feature kids from the last two draft classes. Kailer Yamamoto was the offensive star, with Evan Bouchard displaying calm feet and scoring with a howitzer. Kirill Maksimov is the best sniper in the system, he's showing all the signs of being a draft steal from 2017. Stuart Skinner performed well, the big man will need a strong training camp in order to move up the depth chart (he could start in the WHL, ECHL or play in the AHL next season). Ryan McLeod impressed, George McPhee impressed (Pronman liked him before his draft day). We'll see you in September, men. I couldn't make the game, but Klak came through with an outstanding complete player summary.
Per a source, the Bruins have expressed interest in a trade for young Tampa Bay RFA D-man Slater Koekkoek. I don't expect those two rivals to actually make a deal, but the Edmonton Oilers are a strong contender if/when he's dealt

— Joe Haggerty (@HackswithHaggs) June 29, 2018
Boxcars: 35gp, 4-4-8

Corsi for 5×5: 48.53

Corsi Rel 5×5: -3.55

5×5 points per 60: 1.14

5×4 points per 60: nil
Koekkoek is a bigger defenseman and a fabulous skater, with some offensive ability. His numbers since turning pro don't suggest a difference maker in terms of scoring but he's an attractive asset at age 24.
Some rumblings #Oilers have deal in place to move Lucic. We shall see

— Andy Strickland (@andystrickland) June 28, 2018
Strickland went on to say that it would probably be after July 1, when a considerable bonus will have been paid out by Edmonton. I wonder if the Oilers are going to get much relief (cap) from a deal, seems to me we're looking at retaining dollars or taking on a contract similar in scope. Someone suggested Patrik Berglund yesterday, that's an interesting idea. For me, the rule that says a general manager is more likely to be stubborn on his own recruits applies here.
Still think the Oilers should target Jan Kovar in free agency. Was highly productive in the KHL and should come cheap. Worth a shot IMO.

— Mark Bowie (@bowiepuck) June 29, 2018
Don't discount a 'Laredo' option, something out of left field. Kovar would represent something similar to signing Mikko Koskinen.
LOWDOWN WITH LOWETIDE
A fun morning as we kickstart the long weekend together. TSN1260, beginning at 10:
Steve Lansky, BigMouthSports.

If Tavares chooses Toronto, does the rest of Canada separate?

Paul Almeida, SSE.

World Cup on to the next phase and it's insane!

Frank Seravalli, TSN.

Free agency, trades, Tavares, the eve of crazy.
10-1260 text, @Lowetide on twitter.