As we enter free agency, the Oilers are handcuffed by cap constraints. Many fans view this as a negative but if you look closely, most of the truly exceptional deals are for well less than $2 million a year. After two years of spending big in free agency, followed by one year at the dollar store, Edmonton is approaching this season's UFA pool with care and caution. This is a good thing.
THE ATHLETIC!
Give The Athletic as a gift or get it yourself and join the fun! Offer is here, less than $5 a month! I find myself reading both the hockey (Willis, Dellow, Pronman, et cetera) and the baseball coverage a lot, it's a pure pleasure to visit. We'll sell you the whole seat, but you'll only need the edge.
BRODZIAK AN OILER?

I don't now that Comeau is going to be in the Oilers range, and Puljujarvi is already on the roster, but the other three men should be in Edmonton's wheelhouse. Brodziak's zone starts for the season (206 offensive, 283 neutral, 461 defensive) suggests a Brodziak fourth line might be able to manage a lot of the chores. Mark Letestu's numbers (157, 146, 201) were far less extreme. He played a lot with Scottie Upshall and Patrik Berglund. I wrote briefly about Brodziak here. I wote about Brodziak, Jason Chimera and Austin Czarnik here.
The Oilers shouldn't have traded Brodziak, he was outplaying Marc Pouliot based on the information available at the time (post is here).
I'm no expert at sussing this stuff out, but it looks to me like they had somewhat similar seasons in terms of offense. 5×5/60 is very close, and their GF/GA ON is also close. The difference is that Pouliot did it with below average help and Brodziak did it (based on Desjardins and eyeball) with guys who would need a day's drive to get to below average. This would also account for the bad Corsi (you try dragging these people all over the ice) compared to Pouliot. Brodziak is superior in terms of faceoff skills, and although it didn't show in the pim's I think most people would agree that Brodziak played a more gritty style. There's little to suggest he's going to be significantly more expensive than Pouliot in 09-10. I think Brodziak is a better fit for the Tambellini template.
KEEP YOUR POWDER DRY
Back in February, I wrote an item for The Athletic called The Oilers badly need a long, boring, uneventful yet effective summer. It appears we are there. In the article I detailed needs and solutions, including McDavid's shooter, a right-handed puck mover for the second pairing, a third-line centre who can penalty kill and perhaps play some right wing, a backup goaltender, Maroon's replacement and a penalty-killing forward as primary items.
As we reach free agency, the actual list has changed a little and a couple of the issues have been addressed if not resolved. Here is my current Chiarelli needs list:
A scoring winger capable of sliding up and down the depth chart as required (Rattie insurance and a finisher for Leon's line).
A two-way forward who can provide veteran presence on the third or fourth line.
A second-pairing defender (patience may require this solution arrives later, and it might be Matt Benning until Evan Bouchard is ready).
A backup goalie (Mikko Koskinen).
The right winger could be Austin Czarnik or Anthony Duclair (he can play RW) but I don't think it's Rocco Grimaldi (who has posted some impressive scoring totals in the AHL). Brandon Pirri would be an astute hire for that spot. The two-way forward may well be Brodziak, but you could also include Jason Chimera and others.
CHIARELLI'S ASSET LIST
Milan Lucic

.  No idea what the market might be, suspect he goes after July 1.

Zack Kassian

. He's likely in a few conversations.
2019 first-round pick. It would have lots of value.

Oscar Klefbom

. The OEL signing has him moving down my list (from No. 1).

Jesse Puljujarvi

. He's vulnerable, suspect they'll regret dealing the big man.
Ryan Strome. Oilers may want to reset that third line.

Andrej Sekera.

 Injury unknown likely keeps him here.
Kris Russell. NMC probably keeps him here.
Cam Talbot. I don't believe it but his name is out there.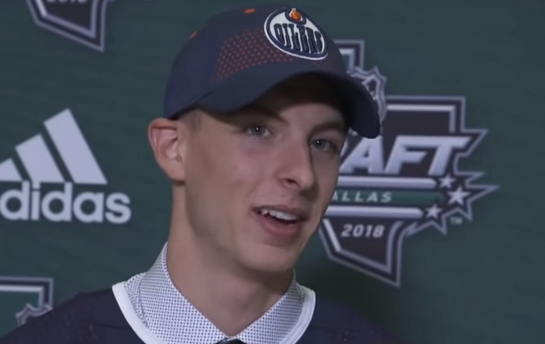 OLIVIER RODRIGUE
Red Line Report:

 Between the pipes, Olivier Rodrigue is a guy we could see enticing a club looking for a goaltender to groom. He impressed us with outstanding reflexes and flexibility around the crease, combined with strong technique and an utter unwillingness to give up on plays.

McKeens

: Although somewhat undersized by modern goaltender standards, Rodrigue is a mobile netminder who gets from post to post in a flash, has promising recovery ability and generally is a calm presence between the pipes.

International Scouting Services:

 A natural goalie. Willing to challenge shooters one-on-one. Very quick feet and movement. Able to track, and reposition very well. Positioning is very strong.
Corey Pronman, The Athletic: Rodrigue is a very calm goalie in between the pipes. He's very smart, always seems to find a way to square up pucks and tracks pucks quite well. His quickness is OK, more average than above-average. (The Athletic)
OTTEN ON THE OHL KIDS
On Evan Bouchard:

 His 87 points were the most for a first time draft eligible defender since Ryan Ellis put up 89 in his. His ability to start the breakout is his best asset, with his vision off the rush and his booming point shot a close 2nd and 3rd. Bouchard just has unreal vision from the defensive end and pinpoint accuracy with his stretch passes. When he's on the ice, the Knights can go from being under attack in the defensive end to a 3 on 1 within a matter of seconds thanks to Bouchard's ability to get the puck out. Source

On Ryan McLeod: 

McLeod has size, speed, and skill; the three S's. His speed is a big factor off the rush and his skill with the puck allows him to make moves at top speed that creates even more space for himself or his linemates. His playmaking ability and vision with the puck are definitely strengths. On the powerplay, he's a major threat because of this. But the consistency with which he uses his size is a tad concerning for me. He can be kept to the perimeter 5 on 5, and at times he struggles with his board play to extend possession.
Brock will join me on Saturday Sports Extra at 2:20 this afternoon, we'll discuss Bouchard, McLeod plus Kirill Maksimov and Dmitri Samorukov (Dylan Wells if we have a chance). Brock's nuanced explanation of Bouchard's skating is worth the price of admission.
Doug Weight traded to the St Louis Blues by the Edmonton Oilers for Jochen Hecht & Marty Reasoner on June 30 2001.#stlblues pic.twitter.com/S1nPvgnDp7

— STL Blues History (@STLBlueshistory) June 30, 2018
The possibility exists so we might as well talk about it. The Western Conference, and specifically the Pacific Division, are primed to add free agents to their roster in the next 48 hours. Tavares in San Jose, Erik Karlsson in Vegas, Arizona is apparently in pursuit of JVR. Edmonton? Not a player.
I'll suggest to you that it is best. The Oilers have their Aces and Kings, even the Jacks and 10's but badly need value contracts that will deliver quality ROI. You make your bets, small ones, and work very much as a farmer. Success comes from the tall tree from Finland finding a place in the sun to grow, in the young American Yamamoto proving he can flourish in today's NHL, Rattie, Czarnik, Pirri. The Bouchard selection proves the way is through procurement of youth, same as it ever was. Bill Torrey is missed, but his lessons are clear. It is time to plan the garden, plant the garden, and later, see what grows.
Chance the gardener:

 In the garden, growth has it seasons. First comes spring and summer, but then we have fall and winter. And then we get spring and summer again.