A year ago the Edmonton Oilers had an unusual July 1, signing Ty Rattie, Ryan Stanton, Mitch Callahan, Keegan Lowe, Eddie Pasquale, Brian Ferlin and Grayson Downing. We spent the day discussing the Condors roster. Today offers a little more excitement, Kyle Brodziak appears to be coming home, but it will be a different experience compared to the days of Sekera and Lucic.
THE ATHLETIC!
Give The Athletic as a gift or get it yourself and join the fun! Offer is here, less than $5 a month! I find myself reading both the hockey (Willis, Dellow, Pronman, et cetera) and the baseball coverage a lot, it's a pure pleasure to visit. We'll sell you the whole seat, but you'll only need the edge.
CENTER
Connor McDavid

Leon Draisaitl

Ryan Strome
Rumored pickup Kyle Brodziak would be a solid fit. His signing would allow Jujhar Khaira (listed as LW) to slide over to left wing and give Brad Malone the 13F position. Cooper Marody is the most interesting of the AHL group, Cameron Hebig may end up playing right wing but has time at pivot on his resume. Colin Larkin is another graduating college player, his specialty is the defensive side of the game. One more free agent to keep in mind: Matthew Peca.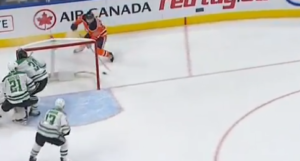 LEFT WING
Ryan Nugent-Hopkins

Milan Lucic

Jujhar Khaira

Drake Caggiula
Anthony Duclair and Daniel Carr are the free agents I've identified as being worth the investment. Edmonton has four roster options here, but Caggiula can play right wing and both he and Khaira are still working on establishing themselves (either man could lose his job in-season). Tyler Benson turns pro this fall, I believe the Oilers may fast track him if he performs well and some of the NHL hires struggle. Joe Gambardella and Nolan Vesey are the other notable Condors, long shots both for NHL games in 2018-19.
RIGHT WING
Ty Rattie

Jesse Puljujarvi

Pontus Aberg

Zack Kassian
Kailer Yamamoto is the biggest wild card on right wing, he could do everything from play 82 games in Edmonton to 68 games in Bakersfield. If the Oilers don't address this position before fall, bet on the former. My free agents are Tobias Rieder and Tomas Jurco plus I'll throw in Zack Mitchell because his 5×5 primary points are intriguing. Bob Stauffer mentioned Lance Bouma, that's more of a fourth line option. The top Bakersfield option might be Patrick Russell, but in reality Yamamoto is the only top flight right wing prospect in the minors.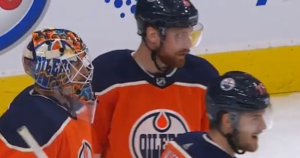 LEFT DEFENSE
Oscar Klefbom

Darnell Nurse

Andrej Sekera
Brandon Davidson is my choice for free agent at this position, although his numbers were not strong one year ago. Thomas Hickey will be too pricey and I'm not sure he has a strength, but who knows in this free agent market. Keegan Lowe is the likely first recall, Ryan Stanton is another veteran in the minors.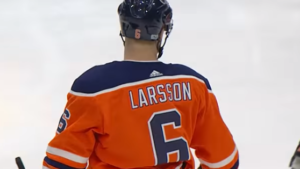 RIGHT DEFENSE
Adam Larsson

Kris Russell

Matt Benning
Ethan Bear is the top RHD in Bakersfield, chances are he'll play in the NHL this season. Although unsigned at this time, Evan Bouchard is rising on the organizational depth chart like a rocket. He could make the team. Free agent of note: Dylan DeMolo, who is probably going to be expensive (lack of quality in free agency).
GOALIE
Cam Talbot

Mikko Koskinen

Al Montoya
I expect to see a trade at some point before opening night, Montoya has enough of a reputation to have value. There are a ton of free agent goalies, Edmonton has no room. Not sure about the slotting of Shane Starrett, Dylan Wells and Stuart Skinner but none of them will be in the NHL this coming season.
REMAINING OILERS FREE AGENTS
G Nick Ellis RFA. Retired.
G Laurent Brossoit UFA. Unlikely to return.

LD Darnell Nurse RFA.

Qualified

RD Matt Benning RFA.

 Signed. 
LD Yohann Auvitu UFA. KHL bound.
RD Mark Fayne UFA. He's done with the Oilers.

LD Keegan Lowe UFA.

Signed. 
LD Dillon Simpson UFA. Appears headed to free agency.
LD Joey Laleggia UFA. Appears headed to free agency.
LD Ben Betker RFA. Not Qualified. 

RC Ryan Strome RFA.

Qualified. 
RC Kyle Platzer RFA. Not Qualified.
LC Grayson Downing UFA. Appears headed to free agency.
L Mike Cammalleri UFA. Appears headed to free agency.

L Drake Caggiula RFA.

Signed. 
L Braden Christoffer RFA. Signed an AHL deal. 

R Anton Slepyshev RFA. 

Qualified.
R Iiro Pakarinen RFA. Not Qualified. 

R Patrick Russell. RFA

. Signed. 
R Brian Ferlin UFA. Appears headed to free agency.
CHIARELLI'S NEEDS LIST
A scoring winger capable of sliding up and down the depth chart as required (Anthony Duclair one of the few value contracts available with this resume).
A two-way forward who can provide veteran presence on the third or fourth line (this could be Brodziak or other).
A second-pairing defender (patience may require this solution arrives later, and it might be Matt Benning until Evan Bouchard is ready).
A backup goalie (Mikko Koskinen).
CHIARELLI'S ASSETS LIST
Milan Lucic.

  No idea what the market might be, suspect he goes after July 1.

Zack Kassian.

 He's likely in a few conversations.
2019 first-round pick. It would have lots of value.
Oscar Klefbom. The OEL signing has him moving down my list (from No. 1).
Jesse Puljujarvi. He's vulnerable, suspect they'll regret dealing the big man.
Ryan Strome. Oilers may want to reset that third line.
Andrej Sekera. Injury unknown likely keeps him here.
Kris Russell. NMC probably keeps him here.
Cam Talbot. I don't believe it but his name is out there.
PROJECTED ROSTER AND RE [237]
Ryan Nugent-Hopkins [25]—Connor McDavid [40]—Ty Rattie [14]
Milan Lucic [15]—Leon Draisaitl [27]—

Tobias Rieder [14]

Jujhar Khaira [10]—Ryan Strome [15]—Jesse Puljujarvi [18]
Drake Caggiula [9]—

Kyle Brodziak [8]

—Zack Kassian [8]
Pontus Aberg [3]—Brad Malone [3]
Oscar Klefbom [8]—Adam Larsson [2]
Andrej Sekera [4]—Kris Russell [2]
Darnell Nurse [5]—Matt Benning [6]
Brandon Davidson [1]
Cam Talbot3—Mikko Koskinen
Oilers scored 229 goals one year ago, I've added Tobias Rieder, Kyle Brodziak and Brandon Davidson to this model and the projection is 237 goals. Still not good enough, they're going to need someone to spike. Maybe it's Kailer Yamamoto, or Jesse Puljujarvi. Or a trade. Most of the goals are going to come from the centers, the weakness is on the wings.
TRADES
I think it'll come down to a trade and maybe we see it today. No matter what happens, even if the big name is a trade for Josh Leivo, the key item to remember is the team has added zero long-term contracts that could serve as future albatross. The Oilers didn't trade their top picks, didn't trade Oscar Klefbom and didn't trade Jesse Puljujarvi. The McDavid cluster remains intact. Now, about all of those imported veterans who are making big dollars. That's the next step, probably next year.