Based on previous behaviour and current roster holes, we will see some activity by the Edmonton Oilers over the summer. The signing of Ryan Strome yesterday gets us closer, with Darnell Nurse the last man standing from last season's roster. There is plenty of room on the 50-man and many rumours that the game is afoot. Is it? And if so, how many balls are in the air? Is Milan Lucic still in play? Let's have a look at the possibilities.
THE ATHLETIC!
Give The Athletic as a gift or get it yourself and join the fun! Offer is here, less than $5 a month! I find myself reading both the hockey (Willis, Dellow, Pronman, et cetera) and the baseball coverage a lot, it's a pure pleasure to visit. We'll sell you the whole seat, but you'll only need the edge.
Have been told that Chiarelli has been in contact quite a bit with free agent Joe Colborne who he drafted 16th overall in 2008. Colborne is coming from from a concussion. #Oilers

— Dean Millard 🎙🦆🎧 (@DuckMillard) July 6, 2018
Colborne is big (6.05, 221) and 28, with a lot of NHL experience (295 games). Per 82gp, he has scored 12-20-32 in the world's best league. He can play a rugged, skill game but he is inconsistent and has had injury issues. I think there's an excellent chance he will be in Oilers camp this fall. Folks, this is a Chiarelli type player.
PROJECTED ROSTER 2018-19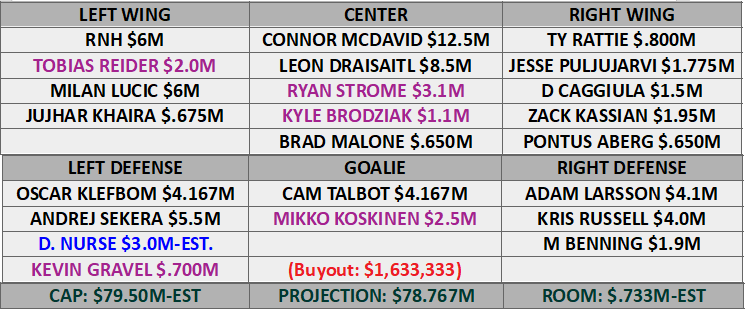 Oilers don't have room to go long on Nurse and can't sign Patrick Maroon, so we may be getting a close facsimile of the opening night roster. The Milan Lucic chatter won't go away, more in a minute. Folks, this is us. I wrote about value contracts in the latest item for The Athletic, searching for value contracts. Edmonton needs six, please and thanks.

Strome's scoring numbers were down slightly year over year, the 5-on-5 shooting percentage contributed. Better in possession (he was 50.28 Corsi for 5-on-5 without Connor McDavid) and there were some interesting little bits about his numbers (scored over 2.00/60 5-on-5 with McDavid, Leon, Puljujarvi and 1.82 with Jujhar Khaira). I thought he was gone for sure mid-season, but he came on and found a role later in the year.
AVAILABLE FREE AGENTS
It's amazing how many players are still available. We've gone from black and white to shades of gray, meaning all available players range in price from $1 million to a training camp invite, but there are several players worth mentioning at this point.
L Lance Bouma.

He's a fringe NHL player but intangibles get mentioned when his name comes up. There isn't an obvious statistical reason to retain his services.

L Mike Cammalleri.

The Oilers know him, he did contribute after coming over via trade. A long shot for sure.

R Alex Chiasson.

I thought he had signed but CapFriendly has him as still available. Gigantic winger with some skill and a lot of grit.

L Jason Chimera.

Probably an invite, he is 40 and played seven minutes a night last season but guys who can skate (and he still can) often have long coda's. He might have another season in him.

LC Joe Colborne

. Mentioned above, he might be an invite, Peter Chiarelli was general manager in Boston when the Bruins drafted him. If he's healthy, Colborne could see NHL time.

LD Brandon Davidson.

He struggled last season and the injuries are piling up but as a low risk investment or invite Davidson has all kinds of appeal.

RD Dylan DeMolo.

Remains unsigned, he is absolutely worth an NHL contract.

RD Cody Franson.

Math still loves him and that's good enough for me. His speed means he may not get a contract but might land an invite.

LC Derek Grant.

Effective in a very specific role, the Oilers could use more depth at center but Grant should easily get an attractive offer that sees him in the everyday lineup.

R Jannik Hansen

. I'd completely forgotten about him but he's a fine player who should have some track left. Bob mentioned him yesterday.

L Scott Hartnell.

He's aging now and hasn't been mentioned a lot but did score 13 goals while playing 12 minutes a night last season.

R Ales Hemsky.

He's 34, has been hurt a lot, but I would be happy to see him get an invite to training camp. One of my all-time favourite Oilers.

L Tomas Jurco.

Good size, good speed, he's been pushing for regular duty in the NHL for several seasons.

L Patrick Maroon.

He still hasn't signed, if I were a suspicious sort this blog would drill down on the idea Mr. Maroon is waiting for the Oilers to find cap room. He has chem with 97, it would allow Nuge to move down to the Draisaitl line. It probably won't happen.

L Benoit Pouliot.

A team looking for a player who can help them will check out Pouliot. He forechecking alone is worth having him on the roster.

RC Nick Shore.

An attractive set of skills, righty center who can help out in multiple areas. Why is he still available?

L Scottie Upshall.

His name has been mentioned a few times in connection with the Oilers over the last several days. Maybe he's the one.

R Tommy Wingels.

He's a utility forward but can help in multiple areas. How much is left?
The 50-man is at 44, I think Evan Bouchard signs and makes the big club. That's 45, and the Oilers will want to start the season shy of 50. Let's say there are three more spots. From this list, I choose Dylan DeMolo, Nick Shore and Benoit Pouliot. My guess is the Oilers choose Joe Colborne.
GRAVEL ROAD
I haven't spent much time on Kevin Gravel so far, but promise to drill down on the new Oilers defenseman in the coming days. An interesting article worth your time is this item from Paul Gazzola. Interesting player, the numbers skewed from a year ago and we'll chat in the next week or so.
MILAN LUCIC
Frank Seravalli was my guest on the Lowdown Thursday, we chatted about Milan Lucic and his future. Based on current events, my read is that things have settled down, the market wasn't there, Edmonton and Lucic move on together.
Frank had different ideas.
"I just can't imagine going into next season with all the issues they had to close out last season more or less and Peter Chiarelli basically saying, 'Well, it's up to you guys to figure it out.' I mean, that's not really  how it works. It's up to the manager to figure out a solution and find a way to make this team better. Because this team, on paper at least, certainly isn't better."
The other curio is Patrick Maroon, still out there flapping in the wind. Teams have apparently pursued him but he remains free as a bird. Could we see a Lucic (plus a pick) offload, a Maroon signing and a Nurse extension in rapid order? I'm inclined to say no, but Frank doesn't pull this stuff from nowhere.
One thing I did want to point out here: When Frank says the team on paper isn't better, that is true. However, making a bet on improved health and a recovery in net is a reasonable attack when you've no cap room and cannot afford to bleed even more talent.
Peter Chiarelli improved the penalty kill, grabbed some secondary scoring and may well be forcing his coach to bet on Jesse Puljujarvi. I'm onboard with all of it, no matter the optics. The window of opportunity to win the Stanley Cup should be open now, but the Edmonton Oilers badly need Jesse Puljujarvi, Kailer Yamamoto, Evan Bouchard and others to step up this year. Betting on the in-house option is somewhat novel for the Oilers, who have been sending good young players to other NHL teams for all of this century. Draft and develop, get good players, keep good players, same as it ever was. This is the way and the light.
David Staples wrote about the Seravalli interview I did on the Lowdown Thursday. His article is here.