Todd McLellan values volume shooters and the Edmonton Oilers are procuring forwards who match the vision. The biggest development: Connor McDavid increased his volume, but there are others pushing. Some of these shooters could arrive on a skill line as soon as this fall. Is the next 50-goal scorer for the Edmonton Oilers already on the roster?
Todd McLellan:

 "

Volume shooting, I don't know what that does to Corsi or Fenwick because I don't even know what those things are, but volume shooting is important. I think it breaks down defensive zone coverages, gets players out of position, taxes the opposition, makes them play more minutes in their zone."
THE ATHLETIC!
Give The Athletic as a gift or get it yourself and join the fun! Offer is here, less than $5 a month! I find myself reading both the hockey (Willis, Dellow, Pronman, et cetera) and the baseball coverage a lot, it's a pure pleasure to visit. We'll sell you the whole seat, but you'll only need the edge.
NHL F'S 5-ON-5 SHOTS PER 60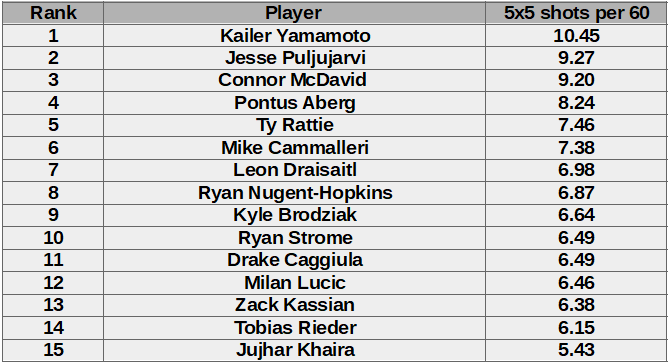 Most of the new hires among wingers were leaders in shots per 60 for 2017-18. Yamamoto's number comes with a sample size alert, McDavid promised more shots and delivered in a big way (up .50 per 60 year over year). If you're looking for the best bet on 50 goals, 97 is the easy answer. Jesse Puljujarvi shows up in a good spot and Pontus Aberg is a promising acquisition.
AHL F'S shots/game (all disciplines)

Two wingers shooting lights out (these rates would have them approaching 250 shots on goal in a full 82-game schedule) and both men are projected to be on the opening night roster this fall.
CHL F'S shots/game (all disciplines)

Monster totals here, it's unfortunate we don't have the numbers from decades previous for CHL kids. Hebig was an overager but that's a grand number, Benson, Safin and Maksimov are shooting halfway through the anthem. It will be fun to see how much they shoot first year pro.
NCAA F'S shots/game (all disciplines)

None of the college men are pure shooters. McPhee and Rasanen are two players I'll be monitoring this coming season, they aren't purely offensive forwards but could fill roles as two-way players in years to come.
WHAT DOES IT ALL MEAN?
Oilers need shooters. I think there is some evidence Jesse Puljujarvi, Kailer Yamamoto and Ty Rattie are all worthy candidates. One of these wingers is going to come to camp and shoot from the first warmup through the last whistle of preseason, and that guy is going to get an amazing job this winter.
DFF FORWARDS 2017-18 (5-ON-5)
I thought this had been published but went walkabout and couldn't find. Here are Oilers forwards and their percentage of time on-ice against elites, their DFF percentage 5-on-5, and the goal differential. Some terrific numbers, I ran the main group and then three men whose sample size is less trustworthy because at-bats.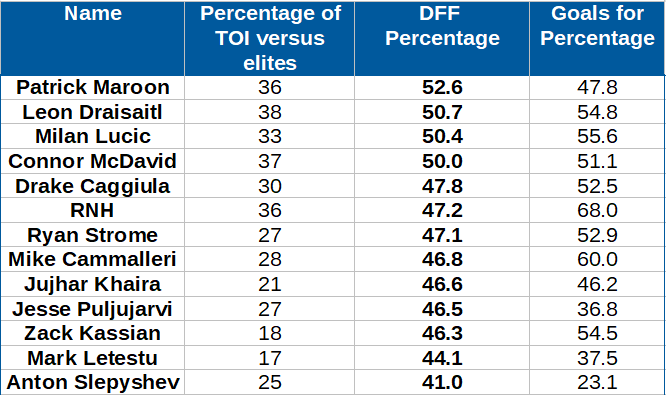 The names at the top are predictable, anyone who played with Connor McDavid is going to shine like a diamond. As a reminder, McDavid played a lot with Patrick Maroon (523 minutes), Leon Draisaitl (498), Milan Lucic (419) and some with Jesse Puljujarvi (256) and Ryan Nugent-Hopkins (207). Drake Caggiula played 146 minutes with 97, that's 19 percent of his total 5-on-5 time on ice last season.

This is the small sample size crew, both Yamamoto and Aberg showed well, while Rattie was on a fabulous unsustainable wave that cannot stand. Man. A quick note here to thank all involved in the Puck IQ project, their strong work opens up an avenue of discussion available only because they exist. I started this blog in search of knowledge, their work is like finding five more chapters of the bible. Hallelujah, amen. I thank you.
TOBIAS RIEDER INTERVIEW
I quote articles from time to time, mostly waiting 24 hours to do it. I'm changing up the rule today because of a German language interview with Tobias Rieder. The translate is clean, we are on the honor system (that means you have to click on the article or I'm a bad bad man) but there's so much there I don't know how you could resist. Here is my favourite Rieder quote:
Rieder on the role Leon Draisaitl played in his signing with Edmonton:

 "Honestly not a big one, of course he's a great player I like to play with and the other centers at Edmonton are superstars or very good players, but the fact that the Oilers do not have that many players out in the field "gives me a good chance there and has influenced the decision." Source-EIS Hockey News
Music! Rieder knows this is an ideal fit, the men he needs to best in order to play with ridiculous skill do not represent Everest. Well done to Tobias Rieder, hope he scores 20.
LOWDOWN WITH LOWETIDE
A fun, busy show to start the week! At 10 this morning, scheduled to appear:
Erik Erlendsson, LightningInsider.com

. Where are we with the Erik Karlsson trade?

Matthew Scianitti, TSN.

CFL Week 4 brought the crazy, plus Batman chucks.

Jason Gregor, TSN1260.

Slow starts for Eskimos, Patrick Maroon landing.
10-1260 text, @Lowetide twitter. See you on the radio!