We're mostly through the procurement portion of the summer, meaning the RE estimates can begin. Pain in the ass is what it is but for me it helps make sense of the season to come. It actually makes me angry truth to tell, because balance and depth remain out of sight. The last two drafts are encouraging but the Edmonton Oilers have been out of time for most of this century and it doesn't have to be that way. (Photo by Rob Ferguson)
THE ATHLETIC!
Give The Athletic as a gift or get it yourself and join the fun! Offer is here, less than $5 a month! I find myself reading both the hockey (Willis, Dellow, Pronman, et cetera) and the baseball coverage a lot, it's a pure pleasure to visit. We'll sell you the whole seat, but you'll only need the edge.
RE GP REVIEW 2017-18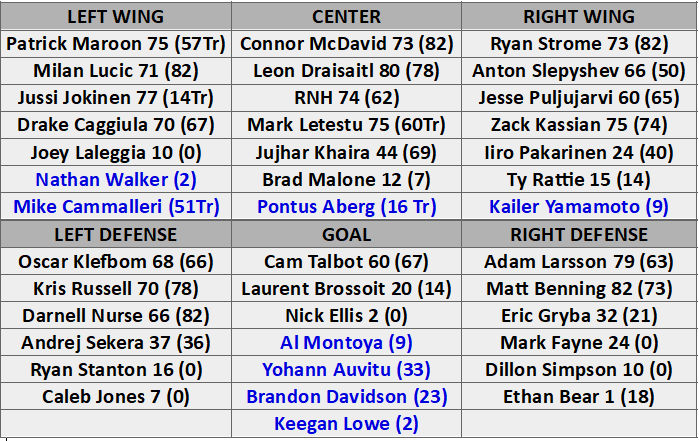 This is my projected games (actual games in brackets), with players in blue either surprisingly elevated by the team (Yamamoto), or players who were acquired after I made my RE predictions July 8 one year ago.
It's fairly accurate, I missed on the unforeseen (Larsson missing so many games, traded guys) and on a few players up and down like Jujhar Khaira and Iiro Pakarinen. Moving target clearly, I'll be happy if I get this close next season.
The key is we didn't miss any major players. Now, let's see about this year's predictions.
RE GP PREVIEW 2018-19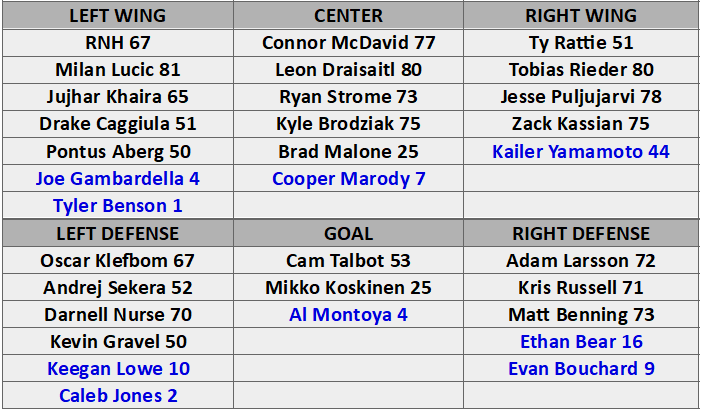 The lines are loose, going with veterans over kids to begin the process.
Much like a year ago, right wing is up in the air. I have Ty Rattie, Kailer Yamamoto, Tobias Rieder, Jesse Puljujarvi and Drake Caggiula getting top-six minutes on right wing this coming season. What does this mean? Ryan Strome will play the entire season with McDavid.
The two rookies of note are Yamamoto (I have him playing half the season) and Evan Bouchard, who gets the nine games.
Is this a playoff team? I'm never going to bet against a Connor McDavid team, and I do think the Oilers will be more aggressive in addressing goaltending if it flags early.
Edmonton has room for one more forward, I think they should spend it on a penalty killer.
How much will they score? I have 232 goals before drilling down on the power play (it could add 5-10 goals but that's not certain).
Ryan Nugent-Hopkins

 

[25]

—

Connor McDavid

 [40]

—

Ty Rattie

 

[12]

Milan Lucic

 [12]

—

Leon Draisaitl

 

[27]

—Tobias Rieder 

[15]

 

Jujhar Khaira

 [7]

—

Ryan Strome 

[15]

—

Jesse Puljujarvi 

[16]

 

Drake Caggiula

 [8]

—

Kyle Brodziak

 [8]

—

Zack Kassian

 

[7]

Pontus Aberg

 [3]

—

Brad Malone

 

[1]

—

Kailer Yamamoto

[8]

Oscar Klefbom

 

[8]

—

Adam Larsson

 

[2]

Andrej Sekera

 

[4]

—

Kris Russell

 

[2]

Darnell Nurse

 

[5]

—

Matt Benning

 

[4]

Kevin Gravel

[0]—

Ethan Bear

[2]

—

Evan Bouchard

[1]

Cam Talbot—Mikko Koskinen
https://twitter.com/NicholsOnHockey/status/1016413760204955649
I thought it was pretty funny myself, many people see this as being Edmonton. There are things about the quote that fit the Oilers, and the Flames are generally seen as having one (if not the) best defensive groups in the game. Vancouver is a non-starter. Edmonton's defense isn't perfect, and is still reliant on players like Oscar Klefbom and Darnell Nurse further establishing themselves. It could be McDavid zooming the numbers, that's a piece of evidence that should never leave the table, but the Puck IQ numbers have some good things to say about men like Klefbom, Larsson and Benning.

Nurse handled too many elite minutes, the result of injury to others. It may inform us about where he'll hand (second pairing or third) but it doesn't trash the entire group.  Here are the DFF totals for 2016-17, showing Benning, Larsson and Klefbom once again doing well with bigger minutes against elites:

The agent's story about the player who wouldn't sign with a western Canadian team may well be about the Oilers, but there is some quality here. The Oilers need to improve on defense, suggest they recognized as much when using No. 10 overall on Evan Bouchard.
continuing to do so. If this represents a successful template (draft, develop, get lucky, develop some more, make astute trades, perhaps the better thing to ponder is 'why doesn't my team's management do these things? and maybe that should start now' Just a thought

— Lowetide (@Lowetide) July 10, 2018
LOWDOWN WITH LOWETIDE
A fun morning, cut short by World Cup Soccer. At 10, TSN1260, scheduled to appear:
Jonathan Willis, The Athletic. How about that Oilers' defense? Plus who should the team sign with that final $1 million?

Alan McInally, Sky Sports

. World Cup Soccer!

Scott Cullen, TSN.

We'll look at the Maple Leafs and what their work over the last five seasons brought them.
10-1260 text, @Lowetide on twitter. See you on the radio!