Everyone has their favourite subjects, one of mine is acquiring players via waivers. Edmonton claimed Brandon Davidson and Nathan Walker last season and I'm going to bet there will be some impressive offensive forwards sliding through waivers in the fall. Will Edmonton grab one?
THE ATHLETIC!
Give The Athletic as a gift or get it yourself and join the fun! Offer is here, less than $5 a month! I find myself reading both the hockey (Willis, Dellow, Pronman, et cetera) and the baseball coverage a lot, it's a pure pleasure to visit. We'll sell you the whole seat, but you'll only need the edge.
WAIVE BABIES
I do this every year, list all the wonderful skill forwards and defensemen who are available. The Oilers claims have gone to Ryan Jones, Steve MacIntyre and others, but I remain convinced one sweet day they'll strike it rich like Leduc No. 1. Last year it was Brandon Davidson and Nathan Walker, this year my vote goes to.
Anaheim: Chase De Leo.

The Ducks traded for him at the end of June. He scored 69, 12-23-35 in the AHL and I think he could easily replace Drake Caggiula (they are similar players) at a far lower cap hit.

Arizona: Michael Bunting.

I liked his speed and skill on draft day 2014, not much has changed. His AHL totals (67, 23-20-43) showed marked improvement and he has to be close to making his NHL debut.

Florida: Frank Vatrano.

The Panthers shuffle players with extreme regularity, Vatrano has some offensive touch and doesn't cost a lot.

Tampa Bay: Adam Erne.

He's been a slow developing player in a machine gun system, but I like his size/speed/low center of gravity. He's the kind of player who can dig out pucks for the skill forwards.

Toronto: Josh Leivo

. Toronto has a bunch of kids who are pushing by him (Johnsson for sure) but Leivo remains a worthy bet.

Winnipeg: Marko Dano.

Has many nice things, including speed and skill. Bloom is off the rose now but maybe all he needs is a change of scenery. Has played for three NHL teams, that's a lot for someone 24 who isn't completely established.
TY RATTIE
Had a couple of conversations yesterday about right wing. Ty Rattie is among a group of players vying for time on the skill lines in 2018-19, and I suspect he'll get the lion's share of the early McDavid RW minutes. Rattie is a little unusual for a skill NHL winger, he is 25 and has played fewer than 50 NHL games. Since the turn of the century, there aren't many players who are comparable to Rattie who went on to significant NHL success:
Matt Moulson 0.41

points-per-game through 2008-09 (22 games)

Daniel Carr 0.39

points-per-game through 2015-16 (23 games)

Ty Rattie 0.39

points-per-game through 2017-18 (49 games)

Ryan Jones 0.36

points-per-game through 2008-09 (46 games)

Dominik Simon 0.37

points-per-game through 2017-18 (38 games)
I hope you recall my Farm Workers post I write every spring and you may recall the passage about men who are similar to Ty Rattie. It discusses their chances of making the NHL as skilled men after significant minor-league time.
For Rob Schremp fans, there's exactly ONE pure offensive player who made it: Mike Walton. Condors 16-17: If Leon had stayed a whole season on the farm, we could claim him as an example, but offense is too valuable. Chiarelli kept David Krejci on the farm for a time, he would be an example. Source
Mike Walton was not similar to Rob Schremp or Ty Rattie but did in fact play a lot on the minors (172 games) before beginning his NHL career (588 games). He was an NHL regular on his way to 30 goals at age 22. Rattie is 25, has played 49 NHL games and 268 AHL games at this point in his career, so expecting 201 NHL goals (Walton's total) is a stretch. That said, Rattie has a shot, we'll see if he can keep the job (his work with Nuge and McDavid 5-on-5 was impressive in goal differential, but a sawoff in possession).
At some point Evan Bouchard will likely get signed in the AAV range (with bonuses) similar to the ELC's for Mikko Rantanen and Tyson Jost.
With RFA Darnell Nurse, an AHL Center and Bouchard Oilers will be at 47 contracts.
No guarantee the teams signs a 14th forward at this time

— Bob Stauffer (@Bob_Stauffer) July 11, 2018
Bob's math is correct here (see below) but I'm not certain it is a wise path for Edmonton. As I wrote in my article for The Athletic yesterday, there are still players out there who can help. Perhaps the plan is to invite some at the lower end (Jason Chimera, Joe Colborne) to camp.
50-MAN LIST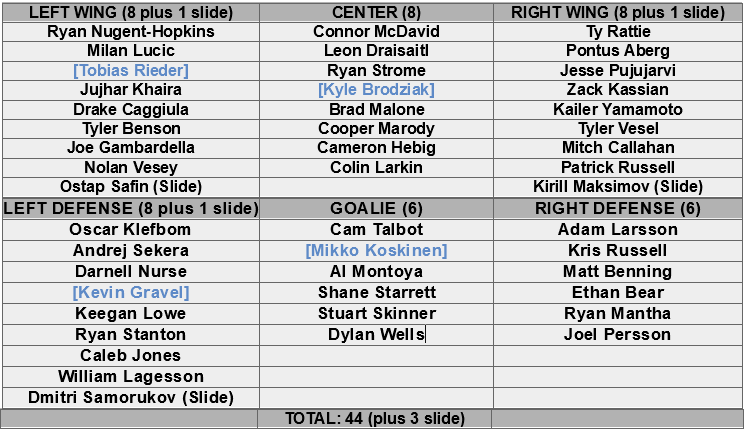 If this is the roster (with additions mentioned above) I think we can safely guess Edmonton's opening night lineup:
Ryan Nugent-Hopkins—Connor McDavid—Ty Rattie

Milan Lucic—Leon Draisaitl—Tobias Rieder

Jujhar Khaira—Ryan Strome—Jesse Puljujarvi

Drake Caggiula—Kyle Brodziak—Zack Kassian

Pontus Aberg

Oscar Klefbom—Adam Larsson

Darnell Nurse—Matt Benning

Andrej Sekera—Kris Russell

Kevin Gravel—Evan Bouchard

Cam Talbot—Mikko Koskinen
Rattie gets the first lash at No. 1 right wing, Kailer Yamamoto walks the streets of Bakersfield. For me personally, I would not invest another season in Milan Lucic as the No. 2 left wing, but Todd McLellan is going to push the veterans so Leon's likely wingers out of the box are Lucic and Rieder. I like that third line and they did some good business in a very small sample one year ago:
Khaira—Strome—Puljujarvi:

28 minutes, 52 percent Corsi for 5-on-5, 4-0 goal differential (Corsica)
That might be the No. 3 line this coming season. I like it.
LOWDOWN WITH LOWETIDE
At 10 this morning, we have a full boat, doesn't matter what happens on the river. TSN1260, scheduled to appear:
Mike Heika, DallasStars.com.

The Erik Karlsson trade talk continues into mid-July.

John Horn, aroundthehornmedia

. We'll chat Milos and the brilliance of Wimbledon.

Rob Vollman, NHL.com and ESPN.

Smart dollars in free agency, what's left?

Murat Ates, The Athletic Winnipeg.

Connor Hellebuyck is getting paid.
10-1260 text, @Lowetide on twitter. See you on the radio!