The NHL doesn't make many trades from mid-July through the final days of September, so we're in Death Valley for the next 10 weeks. How scarce is it to see a legit trade this time of year? The last deal to move the needle made between July 15 and August 1 came in 2016 when Ottawa sent Mika Zibanejad to the Rangers for Derick Brassard. There is some evidence we'll see action in the coming days but for Oilers fans this fall may be about unproven wingers trying to forge their way. Again.
THE ATHLETIC
Give The Athletic as a gift or get it yourself and join the fun! Offer is here, less than $4 a month! I find myself reading both the hockey (Willis, Dellow, Pronman, et cetera) and the baseball coverage a lot, it's a pure pleasure to visit. We'll sell you the whole seat, but you'll only need the edge.
MAKING BETS
There are some massive bets to be made on this Oilers roster this fall and winter, I think we've reached a point where we can assume this is us. Here are, in order of balls, the biggest bets on the team.
Ty Rattie

. He probably gets first chance with Connor McDavid, and if he can hold the job we'll be talking about him as the modern Blair MacDonald. You may recall MacDonald scored 46 goals in his only full season playing alongside Wayne Gretzky. I'm guessing Rattie scores 12-17 goals while holding the job with 97 for most but not all of the year.

Mikko Koskinen.

Edmonton hit the market with $6.35 million for four players (Koskinen, Gravel, Brodziak, Rieder) and the highest paid is the fellow with four games experience. Spending 39 percent of your entire free-agent budget on an unproven goalie has the chance to backfire. It reminds me of Whitey Herzog, another risk taker (baseball manager and GM): When things went well he looked like a genius, when they backfired it was front page news.

Leon Draisaitl.

He's going to be asked to drive his own line, and despite some good numbers away from Connor McDavid (without 97: 2.01 5-on-5 per 60 scoring in 628 minutes, 50.42 Corsi for 5-on-5) Leon posted just 42 percent of the goal share. What's more, beyond new arrival Tobias Rieder there are several candidates the team likes for the No. 2 line who may in fact be a drag on success. On the positive side, math suggests a couple of interesting names (wrote about it here) on the roster.

Milan Lucic.

A lot of talk surrounding his point total as a measure of quality, but he struggled during his 50-point season, too. One of the major pressure points of the season is likely to come when Todd McLellan is forced to move the big man to the third line.

Kailer Yamamoto

. The collective inertia at right wing is good news for everyone at the position, with Yamamoto poised to grab a skill job should anyone falter. Can he endure the rigors of a long pro season? There's a good chance we'll find out by spring.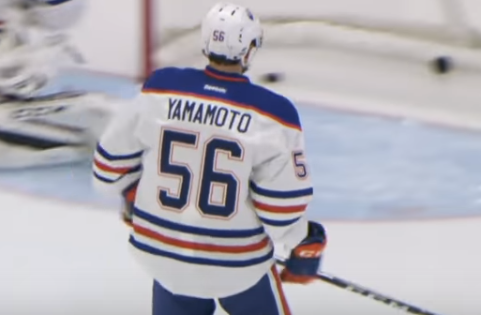 SCORING WINGER
I agree with the Oilers organization in regard to finding scoring wingers internally, mostly because their are good candidates for the job. Ty Rattie scored well in a small sample size, Kailer Yamamoto is potentially big video dynamite in a small package and Jesse Puljujarvi has all the tools to be a locomotive on skates. You know, if this were a building team, if this were Connor McDavid's rookie season, we might even be excited about it. As it is, impatience rules the world and that's understandable.
One year ago, we were looking at possible right wingers for the 2017-18 club and discussing Leon Draisaitl, Ryan Strome, Jesse Puljujarvi, Anton Slepyshev, Zack Kassian, Iiro Pakarinen and Ty Rattie.
This summer, it's Ty Rattie, Tobias Rieder, Jesse Puljujarvi, Kailer Yamamoto, Pontus Aberg, Zack Kassian. Losing Leon from the depth chart is a big deal, but betting on two first-round selections, a veteran like Rieder and a swath of 14 games that included 129 minutes with Connor McDavid (and a 13-7 goal differential 5-on-5) represents an investment and a leap of faith. I believe in both Puljujarvi and Yamamoto, looks like the Edmonton Oilers do as well. That's the takeaway from this summer.
Is there another shoe to drop?
The last July trade made by the Oilers came in 2015 (Liam Coughlin for Anders Nilsson) and the last big one took place in 2013 (Magnus Paajarvi and a second-round pick for David Perron). There are areas where the club could improve but the selection of Evan Bouchard, the decision to go all-in on youth at right wing, the conclusion that playing Milan Lucic in Edmonton is better than giving up another big piece of the future as sweetener, all seem to have conspired to make this a quiet summer. I suggested keeping the powder dry was the best route in this situation. It appears to have also been the assessment of management. A trade this summer could happen, but bleeding the future is apparently no longer an option. That's a good decision, now it's up to the kids.
50-MAN JULY 13, 2016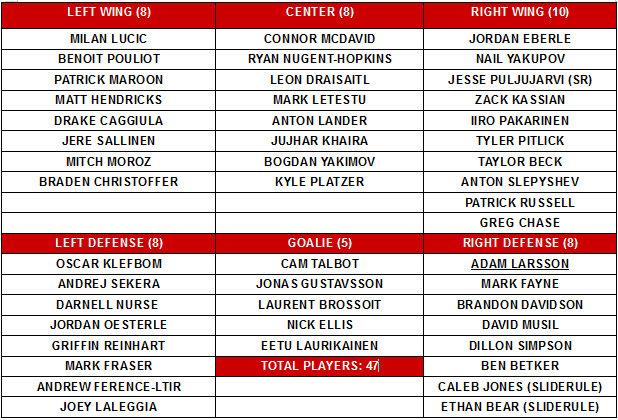 CURRENT 50-MAN