We are mostly through four free-agent summers for Peter Chiarelli, the biggest move remains Milan Lucic and the best one (Matt Benning in my opinion) may have a challenger in recent addition Tobias Rieder. How many free agent deals have worked out so far?
THE ATHLETIC!
Give The Athletic as a gift or get it yourself and join the fun! Offer is here, less than $4 a month! I find myself reading both the hockey (Willis, Dellow, Pronman, et cetera) and the baseball coverage a lot, it's a pure pleasure to visit. We'll sell you the whole seat, but you'll only need the edge.
JULY 2015 TO JUNE 2016
July 1, 2015: Signed D Andrej Sekera. Six years, $33 million, $5.5 million AAV. The Sekera signing suggested (to me) the Oilers were now shopping down a better aisle in free agency. He was absolutely one of the best available defensemen that summer and the first two seasons were quality. An injury in 2017 postseason derailed his 2017-18 campaign and now we await his level of ability for the final three years. He is now 32. In his three Oilers seasons he is averaging 66 games and 24 points. At this point, I think his Oilers career has been worth the investment. I'd love to hear your assessment.
July 1, 2015: Signed RC Mark Letestu. Three years, $5.4 million, $1.8 million AAV. Letestu called it better than anyone on the day he signed. He was a guest on TSN1260's free agent show and told me he would play in all situations and felt he could help on the power play. He didn't get a lot of opportunity in year one, but scored 11 with the man advantage year two. He had just three PP goals before being traded at the deadline. I count his Oilers career as a success.
October 6, 2015: Signed L Braden Christoffer. Three-year entry-level deal, CHL free agent. Rode a hot training camp to an NHL entry-level contract but wasm't able to find the range as a pro player. Signed an AHL deal with Bakersfield.
March 13, 2016: Signed W Jere Sallinen. One year, $792,500. The Oilers have been signing outlier European players for about one decade now and the success rate is very poor. Sallinen couldn't get much done in the AHL, never got close to Edmonton.
April 7, 2016: Signed G Nick Ellis. Two year entry level, college free agent. Chiarelli was very aggressive in procuring goalies, and Ellis looked like he might have some NHL potential. His first pro season put him on a trajectory similar to Laurent Brossoit, his second pro season was not as successful. He retired after his second pro campaign.

May 6, 2016: Signed F Drake Caggiula. Two-year entry level, college free agent.

 Caggiula was the first famous college free agent signed by the organization since Justin Schultz. His NHL career is now two seasons old and he is one of the least productive regulars in the NHL. In 2017-18, his 5-on-5 points per 60 (1.16) ranked No. 307 among 389 forwards who played 400 plus minutes.  His Corsi rel ranked No. 326 among those same 389 forwards.
May 9, 2016: Signed R Patrick Russell. Two-year entry level, college free agent. The least successful of the college signings of 2016, he shot the puck a lot but couldn't score for the Condors in 2016-17. Year two he scored 14, including four on the penalty kill. Still no NHL time, but he did re-sign with Edmonton summer 2018.
JULY 2016 TO JUNE 2017
July 1, 2016: Signed L Milan Lucic. Seven years, $42 million ($6 million AAV). Chiarelli's biggest free-agent signing to date, probably the biggest we'll see during his time as Oilers general manager. Lucic ranked No. 262 among NHL forwards (400 or more minutes) with 1.30 points-per-60 at 5-on-5 in 2017-18. What people have forgotten is he was No. 267 the season before (1.21) in the same discipline. That's over 150 NHL games at what can be described as third line (six top-6F per team, times 31 teams=186 players represent the top two lines in any category). All stats via Natural Stat Trick).
July 1, 2016: Signed G Jonas Gustavsson. One year, $800,000 (same AAV). A strange signing from the beginning. Gustavsson was the least successful free agent of the Chiarelli era.
July 1, 2016: Signed D Mark Fraser. One year, $575,000 (same AAV). Another depth signing, the rugged defender didn't see the NHL during the 2016-17 season.
August 27, 2016: Signed RD Matt Benning. Two-year entry level, college free agent. This may end up being the best free-agent signing of the Chiarelli era. Former Bruins draft pick when PC was in Boston, Benning was not only a perfect fit but he delivered a stunning rookie season. He was inconsistent in year two but this remains a quality addition two years after the fact.
Oct 7, 2016 Kris Russell: One year, $3.1 million deal. A training camp invite, who signed a value deal. He was part of the solidification of the defense and in particular, part of Chiarelli's massive overhaul of right defense. Edmonton signed him to a four-year deal before he reached free agency in summer 2017.

April 10, 2017: Signed G Shane Starrett. Two-year entry level, college free agent.

 Starrett's college numbers were excellent and he was adequate in the ECHL (.912SP) as a rookie pro. The AHL situation is wide open as we enter fall 2018.
March 28, 2017: Signed LC Joe Gambardella, two-year entry-level deal, college free agent. It took him some time to find his way offensively in the AHL but a late scoring surge showed he had some skill at that level. There are some things about him as a player (great on the forecheck, smart) that may allow him to find his way to the NHL through the Fernando Pisani door. I'm not predicting it, just identifying Gambardella as a member of that two-way family.
March 1, 2017: Signed RD Ryan Mantha. Three-year entry-level deal, CHL free agent. Mantha had a solid rookie pro season derailed by eye issues and we're now in a zone of unknown. Damn shame, there are things about his first year pro that suggested real promise.
JULY 2017 TO JUNE 2018
July 1, 2017: Signed R Ty Rattie. One year, $700,000. I mentioned it as a sneaky good signing last summer and it may turn out just that way. He has already cleared one major hurdle: McDavid and the coach appear comfortable with him on the top line.
July 1, 2017: Signed LD Ryan Stanton. Two years, $1.4 million ($700,000 AAV). The veteran shutdown defender was signed as insurance and injury kept him from recall. We could see him in the NHL in year two of the contract.
July 1, 2017: Signed R Mitch Callahan. Two years, $1.4 million ($700,000 AAV). I followed his minor league career and wondered if he was a fringe NHLer who just needed a chance. Callahan's season was among the most disappointing in the entire organization.
July 1, 2017: Signed R Brian Ferlin. One year, $700,000. Chiarelli drafted him for the Bruins, Ferlin has shown promise but is coming off some significant injury issues.
July 1, 2017: Signed G Edward Pasquale. One year, $700,000. AHL backup didn't make it through the season (was dealt to the Lightning organization in late January).
July 1, 2017: Signed LD Keegan Lowe. One year, $650,000. Lowe had a strong AHL season and received a quick cup of coffee later on in the NHL. Re-signed this summer and may see more time in Edmonton this coming winter.
July 1, 2017: Signed LC Grayson Downing. One year, $650,000. The hope was Downing could provide some spark at center in the AHL but
July 3, 2017: Signed LC Brad Malone. Two years, $1.3 million ($650,000 AAV). Malone landed in the Anton Lander spot, played well in preseason and in Bakersfield. Played in seven games during the year with the Oilers and we may see him again in 2018-19.
July 7, 2017: Signed L Jussi Jokinen. One year, $1.1 million. Underlying numbers were good but he couldn't cash and played in some bad luck. Moved along for Mike Cammalleri, who had an effective run with the Oilers.
July 10, 2017: Signed LD Yohann Auvitu. One year, $700,000. This will go down in my books as a good signing who never got a full chance with Edmonton. A weird, weird season when your power play is garbage and you won't try a specialist.

December 28, 2017: Signed F Cameron Hebig to an entry-level deal.

Chiarelli hasn't had a great deal of success with CHL free agents, but landed a solid scoring prospect in Hebig. We'll see him in Bakersfield this winter.

March 4, 2018: Signed C Colin Larkin to an entry-level deal

. Unusual signing as he came from a lower tier of NCAA, it's a long shot.

May 19, 2018: Signed RD Joel Persson. One-year, $1.775 million.

Strange deal, it was agreed to but won't kick in for one season. Impressive numbers but he spiked in one calendar year and both sides no doubt want to see if he can repeat.
JULY 2018 TO JUNE 2019
July 1, 2018: Signed G Mikko Koskinen to a one-year, $2.5 million deal.

It was agreed to in May but became official July 1. A big free-agent risk, fits in with Chiarelli's behaviour in that way, but spending money on backup goalies is a new thing. Maybe he's not the backup?

July 1, 2018: Signed F Tobias Rieder. One year, $2 million.

I think this might rival the Benning deal, especially considering Rieder is RFA next summer. Rieder has a great chance to emerge as the Pisani, the responsible winger on his line. The Oilers have needed this guy for exactly one forever.

July 1, 2018: Signed RC Kyle Brodziak. Two years, $2.3 million ($1.15 million AAV).

Solid fourth line center who moved up the depth chart a year ago and played well. Low cost, low risk and he can PK plus win faceoffs. A fine signing.
There are over 30 transactions here, but most of them are marginal items that didn't move the needle and weren't expected to at the NHL level. Among the bigger moves, or ones that worked out, my list of positives (Andrej Sekera, Mark Letestu, Matt Benning) is three. We might add two or three more from this summer's list and Ty Rattie has a chance to add to the total. Negatives? Milan Lucic is the big drag, his first two seasons were at the level you would have expected much later in the contract. We can parse from there (Russell's first deal was a positive, the second one hamstrung the team, and Drake Caggiula is a possession drag and a roster block) but the Lucic signing is the hill to die on.
OILERS 50-MAN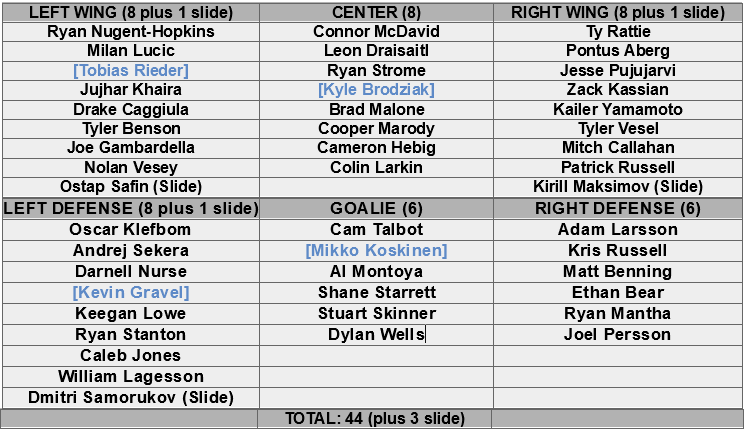 The Oilers have three additions to make: Darnell Nurse (I have him listed, he is under control and a contract will get done), Evan Bouchard (important to note, he is unlikely to slide) and an AHL-NHL center (Bob has been pushing this, makes sense to place a skill pivot in Bakersfield for Yamamoto). It's also possible the organization fast tracks Joel Persson, but that won't impact the 50-man.
Once all three are signed, the club will have 46 names and three slides. There's room for more.
COLLEGE FREE AGENTS (AUG 15 GROUP)
I mentioned Matt Benning as my choice for best free-agent signing by Peter Chiarelli since his arrival in Edmonton. Benning was a draftee of the Boston Bruins, and waited out his team to become a free agent in mid-August. There are some interesting names on a collision course with free agency who might be players of interest for the Oilers:
RD Kelly Summers, Clarkson.

He's a mobile defender and excellent passer, handedness is a positive. Summer's boxcars (40, 6-24-30) give him an NHLE of 17.2 (Benning was 14.9). A nice article from last fall is here. Ottawa draft.

LD Terrance Amorosa, Clarkson.

Flyers draft pick also played at Clarkson. His boxcars (40, 7-20-27) give an NHLE of 15.5. Another mobile defender, good passer, article here.

LC Avery Peterson, Minnesota-Duluth.

Center with some skill, he's 6.03, 209 and he can shoot the puck. Shy boxcars (30, 6-5-11) give him an NHLE of 13.2

L Aidan Muir, Western Michigan

. An Oilers pick, haven't heard a peep from the organization on him. Big power forward, injuries impacted his college career. Boxcars of 27, 4-8-12 give him an NHLE of 16.0.

RD Jack Glover, Minnesota.

Highly touted on his draft day (went No. 69 to Winnipeg in 2014), Glover's development appears to have stalled. Red Line loved him, calling him an underrated two-way defender with size and skill. His boxcars (34, 1-6-7) suggest a shutdown type, NHLE is 5.6.