Among the things we're searching for this summer is a second scoring line. The No. 1 unit writes itself, and if that doesn't work we can write another one around 97. It's that second line, the one without McDavid, that's the tough one.
THE ATHLETIC!
Give The Athletic as a gift or get it yourself and join the fun! Offer is here, less than $4 a month! I find myself reading both the hockey (Willis, Dellow, Pronman, et cetera) and the baseball coverage a lot, it's a pure pleasure to visit. We'll sell you the whole seat, but you'll only need the edge.
PRIMARY POINTS PER 60, 5-ON-5 2017-18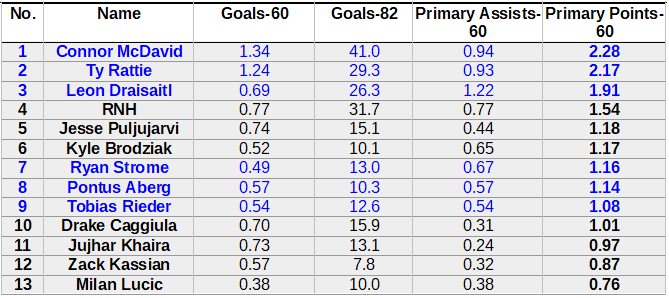 This breaks down (sorted by primary points per 60) in an interesting way.
Top three performers could form a No. 1 line (Rattie sample size alert) and the No. 2 line would include a trio of unlikely Oilers draft picks over 13 years.
The third trio might be an intersting line, undersized but some speed on the wings.
Fourth line candidates offer at least one surprise.
The goals per 82 is just this past season. When I do RE, the previous three seasons are a factor. The top trio listed here had almost 100 goals per 82, that would be a massive total in the modern era.
I've seen a few people in the comments section suggest another 40-goal season by Connor McDavid would be a disappointment. Sidney Crosby has one 40-goal season in his last five, same as Evgeni Malkin. I understand the idea of going supernova, and McDavid may well do it this year. However, reasonable expectations are trying to find normal.
Kyle Brodziak shows well here, I wonder if he gets some chances to play above the No. 4 line.
LEON AND RIEDER
Leon Draisaitl:

"It's really special to be able to play with a German in the NHL and to be able to chat German with one another in the cabin. But not only in the cabin. Also as a player type Tobi will help us, I'm sure. He will fit in well with us. " (RPOnline).
Todd McLellan thinks in pairs, and Leon Draisaitl is going to need some experience on his wing this winter. In a recent article for The Athletic, I wrote about four internal options and of course Rieder will be a likely option at the beginning of camp.
VACLAV BURDA
A news story today has Oilers amateur scout Vaclav Burda passing away after a car accident. A brief account is here. Burda's scouting career goes back to Ottawa and Peter Chiarelli's time there, the Senators had enormous success drafting out of Europe while Burda was with the organization. He was hired by Edmonton August, 2017.
We could see as many as eight Oilers prospects at the 2019 WJC in Vancouver.

Dmitri Samorukov (RUS)
Kirill Maksimov (RUS)
Ostap Safin (CZE)
Phil Kemp (USA)
Evan Bouchard (CAN)
Ryan McLeod (CAN)
Olivier Rodrigue (CAN)
Patrik Siikanen (FIN)

— EDM Prospect Watch (@EDProspectWatch) July 4, 2018
Ostap Safin scored a big goal yesterday at a U20 game between Czech and Switzerland. Safin is a fascinating prospect at an interesting crossroads. He could play another year in the QMJHL or turn pro with the Bakersfield Condors.