In May of 2015, in the weeks after Peter Chiarelli arrived in town as Edmonton's general manager to replace the MacTavish team, I wrote the following:
Faced with a large roster problem, Chiarelli preferred veteran options all down the line in Boston. In the last five years, with a contender, he overpaid for Chris Kelly, Rich Peverley, Tomas Kaberle, Joe Corvo, Brian Rolston, Loui Eriksson, Reilly Smith, Andrej Meszaros, Brett Connolly. While it's true he was looking to remain a Stanley Cup contender, it's also true he liked veterans long before the Bruins were winning. I believe he'll keep the golden kids but we're going to see picks and lesser prospects sent away this summer. The Oilers will be better in goal, on defense and more veteran up front in that middle area, in that 3line slot. Candidates to satisfy the incoming assets include Martin Marincin (poor bugger), the pick at No. 33 and cap room. It's been a wild five weeks, and the next six may be just as crazy. The summer of Connor is non-stop action. As they used to say in the old monster-truck radio commercials, they'll sell you the whole seat but you'll only need the edge. Source
I was correct about the Oilers improving in goal and on the blue, but I missed badly in method of payment. Now that most of the golden kids are gone, what next? What can the organization use to address need? Are the internal solutions, while unproven, sufficient?
THE ATHLETIC!
Give The Athletic as a gift or get it yourself and join the fun! Offer is here, less than $4 a month! I find myself reading both the hockey (Willis, Dellow, Pronman, et cetera) and the baseball coverage a lot, it's a pure pleasure to visit. We'll sell you the whole seat, but you'll only need the edge.
FREE AGENTS STILL AVAILABLE
L Lance Bouma.

 There isn't an obvious statistical reason to retain his services.
L Mike Cammalleri. The Oilers know him, he did contribute after coming over via trade.
R Alex Chiasson. Gigantic winger with some skill and a lot of grit.
L Jason Chimera. Probably an invite, he is 40 and played seven minutes a night last season but guys who can skate (and he still can) often have long slow fade.
LC Joe Colborne. Chiarelli was general manager in Boston when the Bruins drafted him. If he's healthy, Colborne could see NHL time.
LD Brandon Davidson. He struggled last season and the injuries are piling up but as a low risk investment or invite Davidson has all kinds of appeal.

RD Cody Franson.

 Math still loves him and that's good enough for me. His speed means he may not get a contract but might land an invite.
R Jannik Hansen. His injuries are a concern but there's still a player here.
L Scott Hartnell. He's aging now and hasn't been mentioned a lot but did score 13 goals while playing 12 minutes a night last season.
R Ales Hemsky. He's 34, has been hurt a lot, but I would be happy to see him get an invite to training camp. One of my all-time favourite Oilers.
L Tomas Jurco. Good size, good speed, he's been pushing for regular duty in the NHL for several seasons.
L Benoit Pouliot. A fine two-way forward, he did the Lido shuffle and he ain't coming back.
RC Nick Shore. An attractive set of skills, righty center who can help out in multiple areas. Why is he still available?
L Scottie Upshall. Veteran checking forward just passed 750 NHL games.
R Tommy Wingels. He's a utility forward but can help in multiple areas. How much is left?
There are several names on this list that work for me as additions to the current roster. Benoit Pouliot isn't coming back, but I'd take him on my team. Jannik Hansen would be a solid addition as well and Nick Shore inexplicably remains available. I'm a Brandon Davidson fan, but there was a hitch in his giddyup in 2017-18.
WHAT DOES THAT MEAN FOR THIS YEAR?
The Oilers are curious about Evan Bouchard now, the final decision may come down to an invite like Bouma versus the teenage blue. Here's my last posted projected roster, including eight defensemen.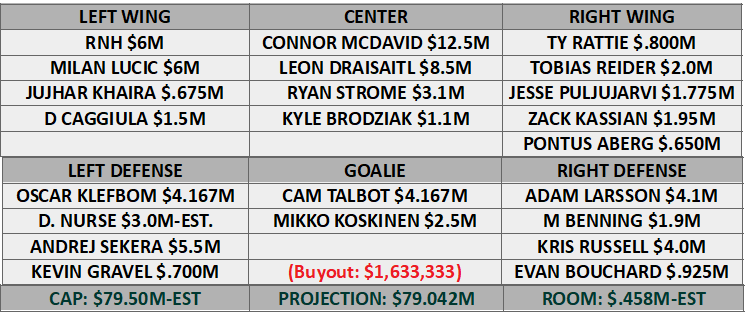 Bouma's hiring could also put Pontus Aberg's roster spot in jeopardy, possibly forcing Jujhar Khaira or Drake Caggiula down the depth chart. A doomsday scenario might see Bouma getting a contract and Jesse Puljujarvi getting sent down Bakersfield. To the rosaries, ladies and men!
ASSETS OUT
Where does the next tradeable asset come from? My guess is from the blue line and it could arrive soon. If Evan Bouchard makes the team, and plays well enough to stay, Edmonton might deal a defender before next summer. Candidates include Andrej Sekera, Kris Russell and Matt Benning. I would not trade Benning. In fact, I would play him second pair with Darnell Nurse.
PUCK IQ FORWARDS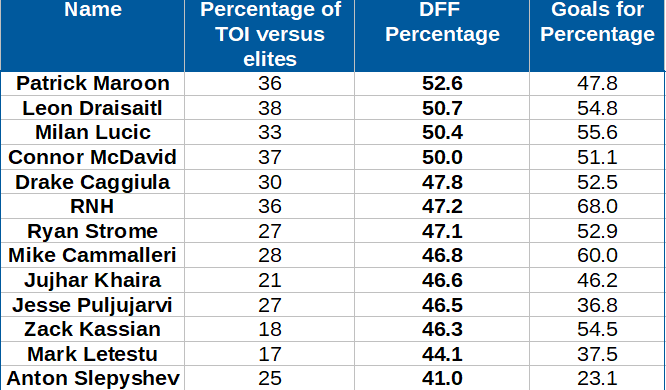 I was asked to publish this again, this is Puck IQ (my thanks again) and shows some fascinating things. Drake Caggiula played 30 percent of his 5-on-5 time against elites, that's something the organization should take a minute over and think about what they've done. Slepyshev also had a tougher row to hoe than you're think and JP as well, the Russian and Finn quite unlucky in goal differential against the toughs.
PUCK IQ DEFENSE

The top four here look obvious, with Andrej Sekera in the conversation if he's 100 percent. I am beginning to get excited for the season.