We talk a lot about waiting five years after a draft, meaning we can conclude all business and make the call on a draft season. I did exactly that just the other day for 2013. If an NHL team could procure two regular players per draft, and those players filled a role as a regular for 10 seasons, the entire roster could be homegrown. This impossible dream is called Sam Pollock. How are the Oilers doing? You know the answer. How quickly can they recover? Good question.
THE ATHLETIC
Give The Athletic as a gift or get it yourself and join the fun! Offer is here, less than $4 a month! I find myself reading both the hockey (Willis, Dellow, Pronman, et cetera) and the baseball coverage a lot, it's a pure pleasure to visit. We'll sell you the whole seat, but you'll only need the edge.
BEST DRAFTS, FIVE YEARS OUT, SINCE 2000
I rely heavily on games played, but if a team drafts three players who play a substantial role on a regular basis, that's a strong draft. Edmonton has done it, just not enough since the turn of the century. Also, generational talents and impact forwards to the front of the line.
2015—Generational forward,  227 games. 

(Connor McDavid 209, Ethan Bear 18). The 1979 and 1980 drafts boasted over 1,000 NHL games after five years, with names like Messier, Anderson, Kurri, Lowe, Moog, Coffey. McDavid's draft is the only one in team history that can rival those magical drafts, 2015 probably doesn't get 500 games in the first five years (two more seasons to go). It would be ridiculous to rank any draft year ahead of this one.

2010—Impact F, depth D, 425 games. 

(Taylor Hall 299, Martin Marincin 85, Tyler Pitlick 27, Brandon Davidson 12, Curtis Hamilton 1, Tyler Bunz 1). Taylor Hall was the first No. 1 overall pick in franchise history—incredible considering what has happened since. Brandon Davidson and Martin Marincin, along with Tyler Pitlick, teased and then emerged after the five year marker.

2011—Top 3F, Top 4D, Top 9F, 578 games.

 (Ryan Nugent Hopkins 313, Tobias Rieder 154, Oscar Klefbom 107, David Musil 4). A quality draft with a mighty head start, No. 1 overall and another player inside the first round. The Tobias Rieder pick was a strong moment for the scouts, although the club took seven years to sign him.

2001—Top 3F, backup goalie, 471 games

(Ales Hemsky-275, Jussi Markkanen-128, Ales Pisa-53, Kari Haakana-13, Doug Lynch-2). Hemsky represented the best skill forward drafted by Edmonton and successfully brought to the NHL since Ryan Smyth in 1994.

2014—Top 3F, 269 games.

 (Leon Draisaitl 269). One pick but what am inspired choice. MacT's top contribution to the cause. One more year to go.

2002—Top 6F, Top 6D, 440 games.

(Jarret Stoll-286, Matt Greene-151, Mikko Luoma-3). A little misleading in that Stoll was a draft re-entry and technically belongs to the 2000 group. Greene and Stoll had long and productive careers. Unlike the 2010's, both men were second rounders, top pick Jesse Niinimaki washed out.

2008—Top 6F, 250 games. 

(Jordan Eberle 195, Teemu Hartikainen 52, Phil Cornet-2, Johan Motin-1). Eberle took two years in junior and then played well from his rookie year. Hartikainen looked like a player, but could not survive all the management chaos in his time with Edmonton. They didn't have their second or third-round picks.

2013—Top 4D, 300 games.

 (Darnell Nurse 197, Anton Slepyshev 102, Bogdan Yakimov 1). It took some time to get Nurse rolling, but his most recent seasons suggest the club drafted a top-4 defender. This is the fifth season for this draft, would have been fab if Slepyshev had also made it.

2007—Top 6F, 447 games.

(Sam Gagner 366, Linus Omark 65, Alex Plante-10, Riley Nash-5, Milan Kytnar-1). So much promise—three picks inside the top 21 overall—and so little to show for it. Gagner is now over 750 NHL games, but did not cover his draft bet. Nash took forever to arrive but is now at 399 NHL games.

2005—Top 9F, 339 games.

(Andrew Cogliano-246, Danny Syvret-49, Taylor Chorney-44). Cogliano emerged as a solid player and has been a consistent performer over many years now. Chris VandeVelde, not listed here, arrived after the five-year window closed
The odd man out was 2003, Kyle Brodziak couldn't save it from the seventh round. This ranking is a little different than my previous looks and honestly we haven't done this for two years. Input on ranking welcome.
OUTLIERS
Going through the process of ranking and then writing about the top Oilers prospects at The Athletic reminds me about how unpredictable recalls to the NHL can be over the summer. Jon wrote about Ryan Mantha yesterday, he's a guy who made terrific progress and then a freak eye injury changed his world. I haven't mentioned Mantha as a recall option because we simply don't know if he's going to play, or at what level.
I predicted Ethan Bear would play one NHL game during my RE series last summer:
On the RHD depth chart (Larsson, Russell, Benning, Gryba, Fayne) there's really no one he is going to pass. That doesn't mean he won't get a look with the big team this season, though. Ethan Bear has a great chance to play in the NHL during his entry-level deal. How much he plays probably depends on how quickly he learns the quickness of the pro game. Once the ebb and flow of defense slow down for him, Bear will be able to move the puck effectively and spend less time defending.
As it turned out, he passed both Eric Gryba and Mark Fayne on the depth chart and enters camp no worse than No. 9 on the depth chart (the starting six, plus Kevin Gravel and the emerging Evan Bouchard). That means he'll play in the NHL this coming season barring a setback in performance or personal injury. Caleb Jones may push forward this fall and get some NHL games, but losing Mantha (if that is the result of the injury) impacts the organization's talent flow in a significant way.
TRAINING CAMP HOPEFULS 2018-19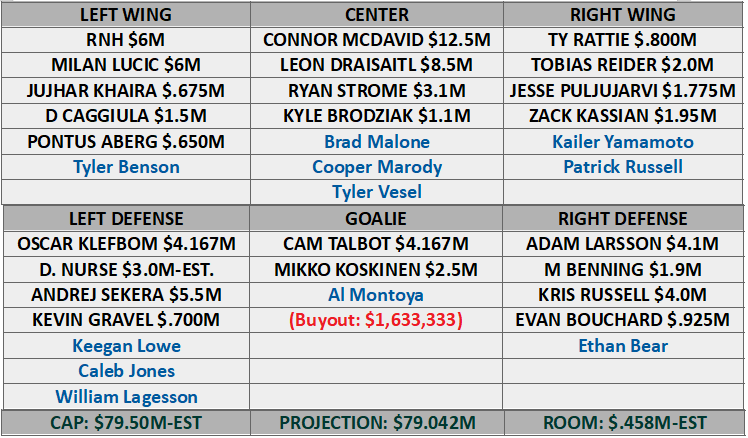 I've mentioned Tyler Benson as a more prominent factor than one would think due to positional shortage. That fact likely gets him a longer stay in camp if he can perform well enough in preseason play. It also points to the strong possibility we see Lance Bouma (Bob has been mentioning him) or Jason Chimera in training camp.
At center, Brad Malone still has the inside track (OP needs to light more candles!) with Cooper Marody and Tyler Vesel likely to get AHL time in October. I can see Marody being an early recall if he is posting crooked numbers in California.
Kailer Yamamoto has the best chance among forwards in blue to make the team. They liked him last fall, suspect the chem will work with skill centers again this coming October.
On defense, I think Evan Bouchard will be the main story. If he makes it, Ethan Bear gets pushed down the depth chart. If Bouchard is sent back to junior, Bear would probably be an early recall option. On the left side, Keegan Lowe trumps Ryan Stanton (not listed) while Caleb Jones starts with the edge on William Lagesson, but that should be an interesting battle for recall. Al Montoya really is in no man's land.
LOWDOWN WITH LOWETIDE
A fun show with an unusual theme, based on a tweet sent out yesterday afternoon. At 10 this morning, TSN1260, scheduled to appear:
Jonathan Willis, The Athletic. The cat came back the very next year! Plus Ryan Mantha and Oilers prospects who might get the call during 2018-19.

Jonah Birenbaum, The Score.

Everyone has been traded for everyone else as the major league baseball trade deadline approaches.

Scott Cullen, TSN

. CFL week to come, Cody Ceci, Jays trades.
10-1260 text, @Lowetide on twitter. Talk soon!