During his first trip to Bakersfield to meet the media and the Condors organization, Jay Woodcroft said his AHL team would be based on pace, puck possession and one that will play a connected brand of hockey in all three zones. Music! It's a long way from the streets of Bakersfield to an NHL career, but one thing will be true about this year's Condors: They have some talented forwards who the organization believes in. No pressure, Mr. Woodcroft.
THE ATHLETIC!
Give The Athletic as a gift or get it yourself and join the fun! Offer is here, less than $4 a month! I find myself reading both the hockey (Willis, Dellow, Pronman, et cetera) and the baseball coverage a lot, it's a pure pleasure to visit. We'll sell you the whole seat, but you'll only need the edge.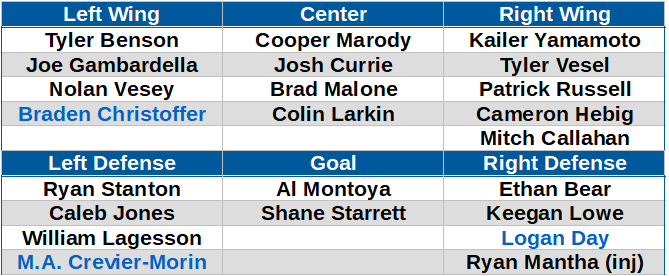 Were you surprised Gerry Fleming left?

No. Fleming was assistant and then head coach in Oklahoma City, meaning he was hired before the move to Bakersfield and (more importantly) before Peter Chiarelli arrived on the scene. Managers like their own people in important spots, I don't think that's a negative.

Name the players Fleming helped get to the NHL.

Under Fleming's watch, Jujhar Khaira, Jordan Oesterle, Laurent Brossoit, Ethan Bear all got to the NHL and may grab long-term employment.

Is there one player Fleming failed?

That's too strong a word. I would say that the organization seemed to slow play Jesse Puljujarvi (his center was Josh Currie often, he didn't get a power-play push) and that may have been a factor in his leaving. Wildly speculative, they don't count time on ice so there's no actual factual here. I do think coaches would do well to push the player who the general manager selected No. 4 overall though.
What about time on ice? Always a bone of contention. Prospect-stats.com estimates Puljujarvi's even-strength ice time at 12:44 per game, No. 5 among Bakersfield forwards. Our friend Eric Rodgers estimated JP's ice time overall at 17:14, No. 6 among forwards on the club. So, I think we're safe in suggesting Puljujarvi wasn't a feature player overall.

What are Jay Woodcroft's strengths?

He is an experienced assistant coach in the NHL, having worked for the Detroit Red Wings, San Jose Sharks and now the Oilers. He would be familiar with Todd McLellan's style and should be able to produce farmhands who can adjust seamlessly on recall.

Anything else?

He's 41 and has 13 years NHL coaching experience. That's a rather impressive resume for such a young man.

Will Woodcroft have a good roster?

Yes. He will have the best Condors roster, especially if all of the new pro's (Kailer Yamamoto, Cooper Marody, Tyler Benson, Cameron Hebig, William Lagesson, Tyler Vesel) head to California. The boost in forwards alone will change the weather.

And the defense?

Some nice AHL veterans like Keegan Lowe and Ryan Stanton added in to second year pros like Ethan Bear, Caleb Jones and (hopefully) Ryan Mantha.

Goal?

Honestly it's a completely open scenario. Al Montoya might start if he clears waivers, Shane Starrett has pro experience, plus the two graduating juniors Stuart Skinner and Dylan Wells. My money long term is on Skinner but goaltending prospects are such a difficult bet. Montoya has played 168 NHL games, a smart bet would be none of the other three will exceed that number. That's how goaltending bets go.

The Condors haven't won 35 games in a season yet. Will they do it this year?

I think the team will be better, mostly because the goals for should increase. By season, the team has averaged (per game) 3.12, 2.94 and 2.76 goals per game. That should correct.

How many players in Bakersfield do you project to play 250+ NHL games?

It doesn't work like that. You can't project three full seasons as a regular for Tyler Benson, he has to have success in the AHL and build toward it. Same with all these kids.

Okay, are there any players who you believe will have NHL careers?

Kailer Yamamoto is the one Condor I would bet on, to the point where he might make the big team out of the box.

No sure things?

No. Ethan Bear did some nice things but the club drafts Evan Bouchard and now things change a little. You never know. Best to wait and see how things turn out.

How many players do the Oilers produce?

It all depends on your 'line in the sand' for qualifying. If you take a five-year period (say, the OKC Barons) and use players who were in 40+ AHL games, and then played 200 NHL games, it isn't a big list.

How many qualify using that criteria?

 Jeff Petry (527), Magnus Paajarvi (387), Chris VandeVelde (278), Oscar Klefbom (255), Anton Lander (215).

Is that good?

They developed two fine defensemen, no doubt about it. The forwards were less successful, you'd want some productive forwards (maybe not Dan Cleary, Jason Chimera but someone who could fill a role).

How does that compare to other organizations?

The Worcester Sharks were San Jose's AHL affiliate from 2006-15. That's nine years instead of five, but we're smart we can do the math.

Using AHL 40+ and NHL 200+, how many Sharks?

 Jamie McGinn (598), Logan Couture (582), Jason Demers (573), Justin Braun (529), Tommy Wingels (448), Andrew Desjardins (408), Matt Irwin (279), Brad Staubitz (230), Thomas Greiss (208). That's nine.

One a year, just like the Oilers!

Yes. In fact, the Oilers have two fine blue (Petry, Klefbom) and so do the Sharks (Demers, Braun). I think we can give credit to the Oilers here in regard to developing those rearguards. It's the gap in quality forwards that stands out here.
Where are the forwards Edmonton developed? I will tell you, but you won't like it.
Where are they? Tyler Pitlick is in Dallas, Teemu Hartikainen is a quality regular in the KHL (20 goals this past season, 24 goals NHLE), Linus Omark posted his fourth straight quality season in the KHL, Jujhar Khaira is in Edmonton and playing well, he just hasn't hit 200 games yet.

Please explain.

The Oilers were developing useful forwards but coaching and managerial changes conspired against the prospects. The team sent away Teemu Hartikainen and brought in Jesse Joensuu as a replacement. Hartikainen was the better player then, he's a better player now. Craig MacTavish sent away the kid Edmonton drafted and gifted Dallas Eakins a lesser player. This isn't good.

What's the most important thing for Woodcroft to do?

Play the hell out of the kids in their entry deals. Not just PK or fourth-line minutes, real time with good mentors who know the league. Play Yamamoto, but that's easy. If they send Jesse Puljujarvi down play the hell out of him. Same thing Tyler Benson and they'll want him on a skill line. If the Oilers can get Woodcroft a veteran skill center with AHL experience, putting him between the two kids is a good idea. Or maybe Benson-Marody on the second line. The key is minutes.

They're sending Puljujarvi down??????

I don't think so but if you're Woodcroft you sure as hell should be ready for it and have a plan. Woodcroft and the Finn are in a similar spot, the bloom is maybe a little off the rose but there's the recognition of talent. If Woodcroft spends two or three years in Bakersfield, and the kids he sends north flourish, he might end up as a strong candidate for head coach (here or elsewhere) in the NHL.

Do you think the Oilers will produce enough players in Bakersfield to sustain the McDavid years?

It's vital. Jesse Puljujarvi can't fail, the organization needed to be very aware of his usage in Bakersfield. This is important stuff. Instead, Taylor Beck got the cherry minutes. No disrespect, but that's a poor use of assets.

Do you think the Oilers will produce enough players in Bakersfield to sustain the McDavid years?

The drafting is better, that's a big piece. It won't come down to Yamamoto, his development will be expected. The question is 'can Woodcroft turn out Tyler Benson and Cooper Marody?' and we are about to find out.

Will Woodcroft's methods of coaching change?

I imagine he'll be relying on his assistants for in-game instruction. That may help Woodcroft, his most prominent skill in Edmonton seemed to be talking to players in the milliseconds after returning to the bench.

Based on body language, it wasn't welcome.

I think we read too much into a losing season, but he did seem to be a dog with a bone in that he did it all the time.

Can this work?

He's clearly a smart guy. It's a bit late for him to be the head coach, but he has plenty of ideas based on the video and he does have some talented men heading to Bakersfield.

What does success look like?

The 2020-21 opening night lineup in Edmonton including Kailer Yamamoto, Tyler Benson, Cooper Marody, Ethan Bear, William Lagesson and Stuart Skinner. That's the job.
per @champ_hockey source, #KHL side @hccska will sign one-year deal with Danish forward Jannik Hansen (@SanJoseSharks #NHL). #SJSHARKS #Sharks

— vorky (@vorkywh24) August 1, 2018
LOWDOWN WITH LOWETIDE
At 10 this morning, TSN1260. We're going to cover a lot of subjects, scheduled to appear:
Bruce McCurdy, Cult of Hockey.

When was the last time Edmonton had a flourishing minor league system? Plus, how many rookies in Edmonton this year?

Derek van Diest, Post Media.

Alphonso Davies is an overnight sensation for most sports fans, DVD has been on the story for many months.

Cameron Wolfe, ESPN.

Our trip around NFL camps lands in Tennessee and we'll talk Titans.
10-1260 text, @Lowetide on twitter. 90 minutes to the show!