I promised you a trip to reasonable, we'll have to do it in pieces over time. There are two issues with the skaters that are giving me pause: The amount of recovery for the power play that reaches reasonable top dead center, and how to handicap the skill RW jobs. None of this really matters, but if we're going to make an effort then let's give it a real try. I estimated 25 games for Ryan Strome with Connor McDavid a year ago, he played 160 minutes with 97 (about 300 minutes shy of "reasonable") so it's a moving target. This year, right wing remains a mystery.
THE ATHLETIC!
Give The Athletic as a gift or get it yourself and join the fun! Offer is here, less than $4 a month! I find myself reading both the hockey (Willis, Dellow, Pronman, et cetera) and the baseball coverage a lot, it's a pure pleasure to visit. We'll sell you the whole seat, but you'll only need the edge.
THE TOP SIX FORWARDS, RE 2018-19
This is all of the top six in my RE. Some of these players are also on my bottom six table but for me this is the best way to break things out. For instance, I have Tobias Rieder's estimated GP total, but he'll play more than 12 minutes on average per night (I'll list the other 2+ minutes when we do the bottom 6F). Also, this is at 'even strength' as opposed to 5-on-5, I had to change things because Connor McDavid does so much at 4-on-4. Finally, all numbers are from last season save for the 18-19 projection (that's my projection) and the numbers are from NaturalStatTrick.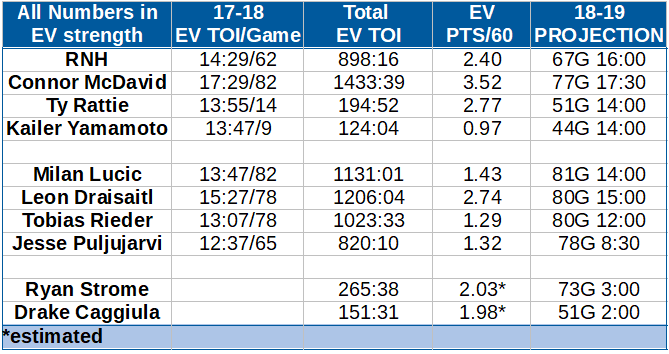 I have

Kailer Yamamoto

taking over the No. 1 right wing job from Ty Rattie at mid-season, and

Jesse Puljujarvi

grabbing the No. 2 RW job. It could be vice versa, but it's coming. The competition isn't strong enough to hold back the water.
I'm also certain

Leon Draisaitl

and

Ryan Nugent-Hopkins

will switch spots at times during the year.
I don't have the point projections here, will publish them later in the summer once we've run through The Athletic profiles.

Connor McDavid's

projection is the most fun, he scored 84 EV points (35-49-84!!!) a year ago, slightly above an even strength point per game. If you add that number to his 2016-17 power-play production (3-24-27) and his 2017-18 PK numbers (1-3-4), we get 82, 39-76-115. If the power play spikes and they find a right winger who can cash, look the hell out.

Ryan Nugent-Hopkins

sees the highest increase in minutes and his boxcars are going to rise like a Nolan Ryan fastball if he stays with the captain.
I've decided to divide Rattie-Yamamoto onto the No. 1 line, and then Rieder-Puljujarvi on the No. 2 line, but the truth is those four men (plus Strome, plus Caggiula) are all in the mix for the two starboard jobs. I've chosen Yamamoto and Puljujarvi as the eventual winners but it's going to take a lot of time, most of the season.
Natural Stat Trick tells us the Oilers had 4,200 minutes of even strength time, that means 12,600 minutes for forwards. I'm using about 8,000 minutes for the top-six forwards and friends, that's 64 percent.
I will do the same thing for the power play and penalty kill, plus of course the entire roster. One of the things we won't see in my opinion? McDavid spending less time on the PK. I mentioned end of June (and elsewhere) some sweet day 97 will be waiting for the shift after the penalty kill, but I don't think the Oilers have that kind of depth this coming season.
Your thoughts are welcome.
I've published this previously, here are the estimated games played for the coming year.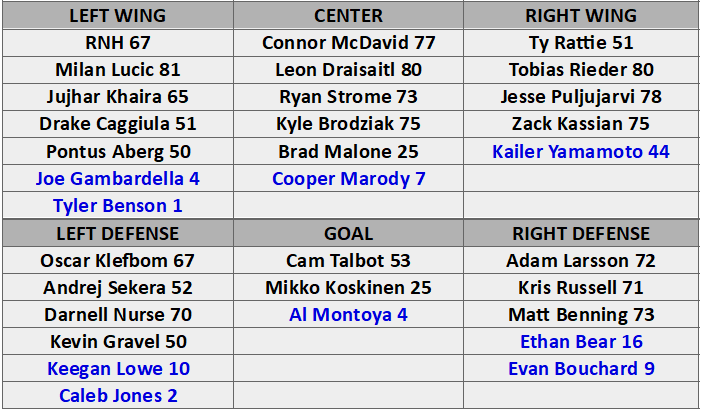 No Calder Trophy for the Oilers this season, maybe Evan Bouchard wins it next season. He was poor in Kamloops last night, but I have been estimating him for 9 games since publishing this table on July 10.
Tyler Dellow wrote about the Oilers running a successful power play without an additional hammer from the point for The Athletic earlier in the offseason. I think Klefbom emerges in the role. It's a worthy article for any Oilers fan.
PROJECTED GOALS (RE) 2018-19
I'm still pondering the power play. I have 232 goals for this team, they scored 229 a year ago. Columbus finished No. 16 in goals a year ago, with 242. I don't see 242 goals on this roster, maybe just shy. The power play is a strange brew, falling from 56 to 31 year over year. That's 25 goals! You can't just say "Manny Viveiros will fix it" and call it a day. Anyway, I'm closing in on 90 points for the 2018-19 Oilers but there is some ways to go.
EVAN BOUCHARD
I didn't watch the entire game last night but it was a poor showing overall by Evan Bouchard. The things we know he'll need to improve (coverage) were off, but the things he does very well (passing) were also off. This happens, don't panic. When a defenseman gets beaten outside, we can say he's having an off night or needs to work on things. When he gets beaten inside, as happened to Bouchard (requiring a slash from his partner), the player either isn't good enough (I don't buy that) or may not be 100 percent. It's August. He didn't show well at all. Canada plays again today, I wouldn't be surprised to see the coaching staff give him another start. Noah Dobson looks miles better in this tournament. Don't panic, and please remember that I said don't panic while also advising that you do not panic during this time of what I assume will be extreme panic. Thanks.