As we get closer to training camp, we are (individually and as a group) deciding on the 2018-19 Edmonton Oilers. I'm at around 90 points, still pondering special teams, you may feel this team is stronger or weaker, and we're rolling it around in our minds. There are things to like about this team: Cam Talbot should have a stronger season and if Mikko Koskinen struggles I imagine Peter Chiarelli will be quick to react. The defense should be healthy and that means better. Connor McDavid is the purest weapon in the galaxy. There is talent on this roster.
I keep coming back to one thing: The Edmonton Oilers when Connor McDavid is at rest.
THE ATHLETIC!
Give The Athletic as a gift or get it yourself and join the fun! Offer is here, less than $4 a month! I find myself reading both the hockey (Willis, Dellow, Pronman, et cetera) and the baseball coverage a lot, it's a pure pleasure to visit. We'll sell you the whole seat, but you'll only need the edge.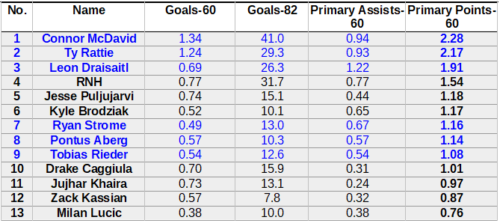 Craig MacTavish:

 "The year we went to Cup final [2006] we had lots of guys who could contribute offensively and last year we really didn't. We had a lot of one or two or zero goal scorers who were out there a really the best you could hope for was they were a non-negative factor. We have to let the core players continue to develop a and we have to build that supporting cast around them."
MacT's quote comes from 2013 summer, that was the shortened season. This isn't perfect, there were injuries and Magnus Paajarvi didn't play much early but came on as injuries piled up.
Taylor Hall [16]—Ryan Nugent-Hopkins [4]—Jordan Eberle [16]

Magnus Paajarvi [9]—Sam Gagner [14]—Nail Yakupov [17]

Ryan Jones [2]—Shawn Horcoff [7]—Ales Hemsky [9]

Ryan Smyth [2]—Eric Belanger [0]—Lennart Petrell [3]
Hemsky also played a lot with Gagner, and as MacT stated there were several players who couldn't deliver much offense in 2012-13. The team scored 123 goals in 48 games (the average was 131), extrapolated over 82 games that's a 210-goal season. Edmonton scored 229 this past season, league average was 244. In other words, the Oilers were missing a 15-goal scorer all season long compared to the rest of the league.
That 2012-13 team had other issues, reflected in the 5-on-5 GF-GA of the team's centers. Shawn Horcoff (18-9), Ryan Nugent-Hopkins (24-23), Sam Gagner (28-33), Eric Belanger (5-8) and Ryan Smyth (12-17) all spent time at pivot, the often-maligned Horcoff and the Nuge representing the only two players in the black. Jerred Smithson (2-2) broke even after he came over at the deadline.
In 2016-17, Edmonton scored 16 more goals than average and allowed 20 fewer goals than average, while in 2017-18, Edmonton scored 15 fewer goals than average and allowed 18 more goals than average.
THE GRETZKY SALE
I used to watch him from the cheap seats (radio didn't pay big money then) and took Jo several times while 99 was an Oiler. Watching him from high up gave you a unique view of Gretzky, who played the game about 20 frames ahead of everyone else. I know you know the records, but perhaps even more impressive was the total number of chances he would get in a game. It seemed the entire time he was on the ice, the opposition was in full sell out mode, just trying to avoid disaster. Crazy talent, crazy era. All you really need to know is that it was a sale, not a trade.
MCDAVID ON/OFF
We've run these numbers before, worth doing it again. The key for success in 2018-19 for the Oilers is closing the gap between McDavid's shifts and everyone else's. It is hockey's Grand Canyon:
2017-18 Oilers 5-on-5 GF-GA (percentage): 163-176 (48.08)

2017-18 McDavid shifts 5-on-5 GF-GA (percentage): 81-61 (57.04)

2017-18 Non-McDavid shifts 5-on-5 GF-GA (percentage): 82-115 (41.6)
It's an absolutely searing set of statistics (via Natural Stat Trick) and drives home the issues on this hockey team. Let's do shots on goal.
2017-18 Oilers 5-on-5 Shots (percentage): 2179-2143 (50.42)

2017-18 McDavid shifts 5-on-5 Shots (percentage): 816-739 (52.48)

2017-18 Non-McDavid shifts 5-on-5 Shots (percentage): 1363-1404 (49.3)
A better total but not having 97 on the ice is going to hurt any team's success. The importance of Leon Draisaitl's line cannot be underestimated, but the wingers available for him are not strong options.
2017-18 Leon Draisaitl 5-on-5 GF-GA (percentage): 59-61 (49.17)

2017-18 Leon w/97 5-on-5 GF-GA (percentage): 31-23 (57.41)

2017-18 Leon wo/97 5-on-5 GF-GA (percentage): 28-38 (42.42)
Draisaitl's line without McDavid basically played like they were facing the McDavid line every shift based on goal share. If Leon struggles early, how long into the season before Todd McLellan puts them back together? Finally, Leon's shots with and without, keeping in mind you'd like to have high quality linemates with him on a high-end skill line:
2017-18 Leon Draisaitl 5-on-5 Shots (percentage): 663-579 (53.38)

2017-18 Leon w/97 5-on-5 Shots (percentage): 325-255 (56.03)

2017-18 Leon wo/97 5-on-5 Shots (percentage): 338-324 (51.06)
So Leon without McDavid (all Natural Stat Trick) is over 50 percent in shots on goal, the key is finishing and goals against. His most likely wingers are going to be Milan Lucic and Tobias Rieder. That will no doubt be the subject of much discussion during the 2018-19 season.
LOWDOWN WITH LOWETIDE
A busy morning, TSN1260 at 10. Scheduled to appear:
Corey Pronman, The Athletic. We'll discuss the Hlinka-Gretzky and Corey's current countdown of NHL farm systems.

Rob Vollman, ESPN and NHL.com

. Darnell Nurse bridge contract, NHL.com previews and another brand new book for Rob is out today!

Jeff Hauser, Ralphie Report.

We get the Lowdown on the Denver Broncos.
10-1260 text, @Lowdown on twitter. See you on the radio!