Many years ago, Bill James wrote a chapter about the Minnesota Twins in one of his annual abstracts. Summary: It didn't look too good when those young kids arrived and kicked the ball all over the yard, but just a few years later the organization won it all. The emergence of Frank Viola, Kent Hrbek, Gary Gaetti and Tom Brunansky in 1982 gave the club an enormous lift, later aided by the addition of Kirby Puckett (1984) and some astute trade additions. This is the hope for the Edmonton Oilers, who have the greatest gift of this generation and require quality to surround him. This is the hope for Jesse Puljujarvi, Kailer Yamamoto and others.
THE ATHLETIC!
Give The Athletic as a gift or get it yourself and join the fun! Offer is here, less than $4 a month! I find myself reading both the hockey (Willis, Dellow, Pronman, et cetera) and the baseball coverage a lot, it's a pure pleasure to visit. We'll sell you the whole seat, but you'll only need the edge.
RE 2018-19 FORWARDS (ESTIMATING TOI) TOP 2 LINES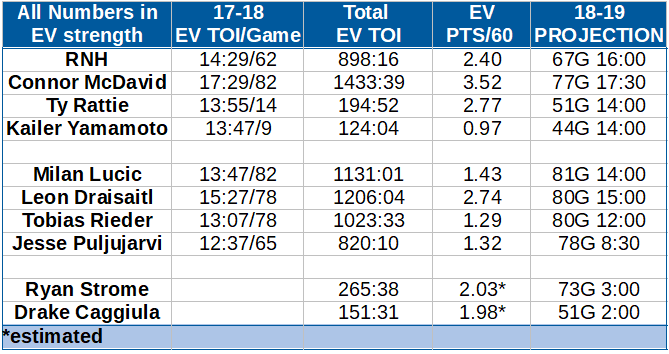 We began our RE discussion a week ago, the totals above are last year's numbers in the first three columns, my estimates for the top 6F breakdown in 2018-19 is the last column.
This is even strength and skill forwards from the top two lines.
I don't have the point projections here, will publish them later in the summer once we've run through The Athletic profiles.
I've chosen

Jesse Puljujarvi, Kailer Yamamoto

and

Ty Rattie

as the RW hopefuls who get the big push on

Connor McDavid's

line. I have a winner and will tell you in those profiles.
I estimated

Tobias Rieder

gets big minutes inside the top 6F, both on RW and LW as injuries impact the roster.
I have estimated a recovery for

Milan Lucic

, and that he will play the season on the No. 2 line. That may change at the deadline, but I've chosen to bet that the Oilers keep him in a feature role. As I wrote in the spring, the Oilers would be wise to move the big man down to the No. 3 line until it's established he can play those big minutes effectively.
Among skill forwards on the top two lines, I'm predicting a career crossroads for

Ty Rattie

and

Drake Caggiula

. I do think Rattie holds on to the No. 1 RW job for an extended period, but will eventually lose out to one of Yamamoto or Puljujarvi (my model has Yamamoto but that's a guess, they are both substantial options).
RE 2018-19 FORWARDS (ESTIMATING TOI) BOTTOM 2 LINES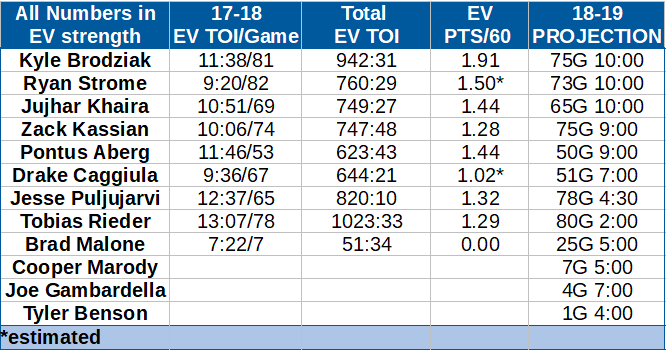 The graph above was published a week ago, this is the new stuff.
The totals above are last year's numbers in the first three columns, my estimates for the bottom 6F breakdown in 2018-19 is the last column.
This is even strength and skill forwards from the top two lines.

Kyle Brodziak

and

Ryan Strome

will be counted on to improve the performance of Edmonton's bottom two lines this coming season.
The best wingers in the bottom six will be

Tobias Rieder

and

Jesse Puljujarvi

but both men will spend much of their seasons playing inside the top 6F based on my estimates.
I think

Jujhar Khaira

and

Zack Kassian

grab the biggest TOI among available wingers, beating out

Pontus Aberg

and

Drake Caggiula

on the depth chart at even strength.
I have Todd McLellan using his No. 3 and No. 4 lines less during the regular season, relying more at even strength on the top two lines. I think a player like Brodziak will see substantial penalty-killing time, Rieder too.
WINGERS ESTIMATED EV TIME ON ICE
Milan Lucic 1134

—The Oilers don't have a bunch of options for skill LW and Lucic is healthy every year. Expecting a recovering in goals and points is reasonable but there is a chance he continues to erode. I'm predicting a small recovery and a season on the skill lines.

Tobias Rieder 1120

—Rieder's skills arriving in Edmonton are somewhat similar to several days of rain in the desert: Badly needed and extremely valuable. I suspect Todd McLellan plays the hell out of him.

Ryan Nugent-Hopkins 1072

—His career high in points (56) should be left in the dust if RNH spends the entire season with 97. I have him as LW on the No. 1 line for much of the season but do think Leon Draisaitl will move up (forcing RNH to No. 2 C) a few times this winter.

Jesse Puljujarvi 1014

—Lots of people predicting a breakout season, for me JP will establish himself as a solid NHL player and score 15-20 goals. I'm not sure that's breakout or solid progress, but this blog is always trying for reasonable. Predicting 26 goals is beyond reasonable. What does that mean? For me, if Jesse Puljujarvi scores 26 goals this season, everyone should acknowledge it to be an outstanding leap forward (which it would be) and treat it as special. I think an 18-goal season is reasonable as a prediction.

Ty Rattie 714

—Rattie gets the job early and holds onto it until one of the kids forces the issue. After that, it's going to be difficult for him to find a role on the team, we could see Rattie move into that No. 2 RW job and allow Rieder to play on the No. 3 line. I'm not predicting it.

Zack Kassian 675

—My model suggests he continues in his No. 4 role, but plays less than a year ago (due to McLellan running his horses more at even strength).

Jujhar Khaira 650

—Suspect he'll have another good season and play some on the No. 3 and No. 4 line, but no prediction of skill line minutes. It could happen but I don't see it.

Kailer Yamamoto 616

—I'm suggesting he'll spend the first portion (25 games) of the season in Bakersfield and then join a skill line in the NHL, where he will have success.

Pontus Aberg 500

—Aberg is the one player in my model I faded despite some very nice things a year ago. He gets squeezed by Yamaoto and Puljujarvi is my take, but don't be surprised if Aberg forces his way into a more prominent conversation.

Drake Caggiula 459

—The numbers suggest Caggiula will have a hard time getting work on the skill and fill lines, eventually having his role reduced to part-time player. Getting passed by two first-round picks is no sin, Caggiula has a hard road this season.

Joe Gambardella 7

—Cup of coffee.

Tyler Benson 4

—Half cup of coffee.