We're just about set (PTO's still to come, maybe a surprise appearance from Joel Persson) when it comes to the Oilers training camp roster, and we're one "Riesen to Believe" down with two more to go. Andrej Sekera's injury proves that, no matter how much we think we know, there's always a wrinkle or a catastrophe around the corner. How did things shake out in 2013 fall?
The Athletic is hosting an event series across Canada that's free for all subscribers. More details ?https://t.co/9UfaSySTwZ pic.twitter.com/5Xlj9WYbLz

— James Mirtle (@mirtle) August 15, 2018
THE ATHLETIC!
Give The Athletic as a gift or get it yourself and join the fun! Offer is here, less than $4 a month! I find myself reading both the hockey (Willis, Dellow, Pronman, et cetera) and the baseball coverage a lot, it's a pure pleasure to visit. We'll sell you the whole seat, but you'll only need the edge.
LOWETIDE 2013 TRAINING CAMP "CERTAIN OILERS" (18)
Goalies (2) Devan Dubnyk and Jason LaBarbera
Defensemen (5) Jeff Petry and Ladislav Smid, Justin Schultz and Andrew Ference, Nick Schultz
Centermen (3) Ryan Nugent-Hopkins (inj), Sam Gagner, Boyd Gordon
Left Wing (4) Taylor Hall, David Perron, Jesse Joensuu, Ryan Smyth
Right Wing (4) Jordan Eberle, Nail Yakupov, Ales Hemsky, Ryan Jones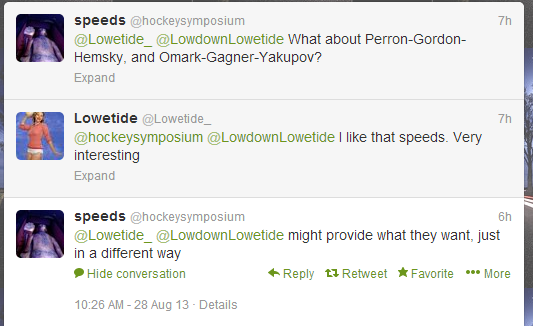 Dubnyk and LaBarbera made the opening night roster, but this was Dallas Eakins' first year as head coach and the Edmonton goalies had a tougher winter than the Donner party.
In the end, six men played net for the Oilers, three of whom (Dubnyk, Ilya Bryzgalov and Ben Scrivens) played over 20 games.
All five defencemen and 11 forwards listed in the 'lock' category made the team, although several (Ryan Nugent-Hopkins, Sam Gagner, Ryan Jones) didn't make opening night due to injury.
Ales Hemsky, Nick Schultz, Ladislav Smid, plus both goalies would not finish the season with Edmonton.
LOWETIDE 2013 TRAINING CAMP "UNCERTAIN OILERS" (15)
Goalies (none)
Defensemen (7): Anton Belov, Denis Grebeshkov, Corey Potter, Phil Larsen, Oscar Klefbom, Martin Marincin, Taylor Fedun
Center (4): Anton Lander, Mark Arcobello, Will Acton, Andrew Miller
Left Wing (3): Linus Omark, Ryan Hamilton, Ben Eager
Right Wing (1): Mike Brown

Belov made the team and played opening night, Grebeshkov was a healthy scratch.
All of the defensemen who didn't make the opening lineup ended up playing at least one game with the Oilers during the year.
Mark Arcobello and Will Acton won the opening night jobs.
Lander played 27 games over the season.
Ben Eager was a scratch opening night, played seven games and then got released. Luke Gazdic, claimed on waivers just days before, made the opening night lineup.
Omark and Hamilton played, but not much.
Brown made the team, played opening night and was traded eight games into the season to San Jose.
Here is the opening night roster.
We had a couple over for dinner that night, meal, some drinks and cards. I ruined it. Absolute fool. I was so damned angry. Still am. The Leafs game in Toronto not long after might have been the point where I stepped away a little.
CERTAIN OILERS AUGUST 16, 2018

Andrej Sekera no longer on the list gives the defense a 'wide open' feel now. We could see as many as eight blue flying to Cologne. The five men listed here will be counted on in a big way.
All 12 forwards listed are flat out locks, unless one of them gets traded for a defenseman.
UNCERTAIN OILERS AUGUST 16, 2018
The Sekera injury brings all five defensemen listed further into play, not certain who benefits more from yesterday's news.
Pontus Aberg (as we discussed yesterday) is close to a lock, I'm holding him back based only on Yamamoto winning a job and Drake Caggiula being an absolute lock.
DISTANT BELLS, AUGUST 16

Sekera is the first name off the list this year.
I don't think Jones, Lagesson or Persson are more likely to make this roster today than yesterday. All three could see action this season (Persson the longest shot, obviously) but it would be a shock to see them opening night.