The next few weeks are going to be interesting for the Oilers, as the "keep your powder dry" summer rolls into its third month. The around the edges method to address Andrej Sekera's injury news is to check the waiver wire and possibly make a small trade in the days leading up to the season if it makes sense. Is it possible we see a panic deal? I don't think so, that window has passed. What about a big deal that makes sense? Let's have a look.
THE ATHLETIC!
Give The Athletic as a gift or get it yourself and join the fun! Offer is here, less than $4 a month! I find myself reading both the hockey (Willis, Dellow, Pronman, et cetera) and the baseball coverage a lot, it's a pure pleasure to visit. We'll sell you the whole seat, but you'll only need the edge.
TRADE PROPOSAL

That's an interesting idea, and my friend Brian King (@kinger999, also known as PDO on the Oilogosphere and my friend in 'Why did I marry a Roughrider fan?' misery) sounds convincing on first blush. What would Edmonton be getting in return?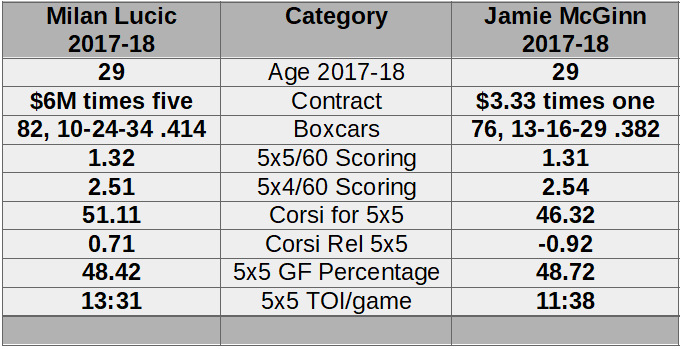 Lucic might get a new lease on life in Sunrise, and a year from now the deal might look good for Florida. If this offer is available, Peter Chiarelli has to pull the trigger based on cap and term alone. Lucic has a better possession number but we have to consider qual team and qual comp always. McGinn would be a solid fit for the Strome line (possibly with Rieder, ideally) and you'd have to use a younger hand on No. 2 left wing. My guesses would be names like Pontus Aberg, Jujhar Khaira, Drake Caggiula.
PUCK IQ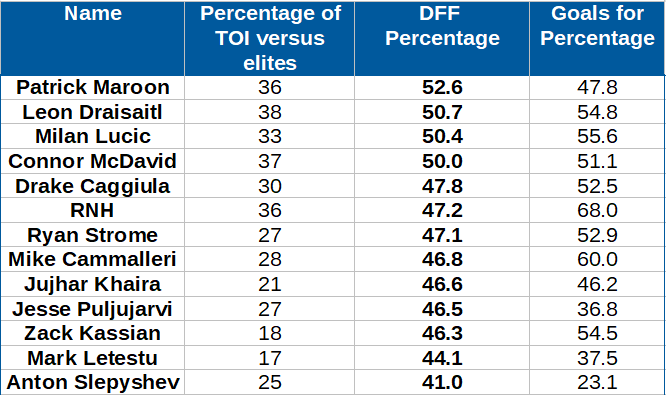 Some nice totals here, perhaps that convinces Florida the deal makes sense. From the Edmonton point of view, the fact they get out from under the last four years of the Lucic contract makes all statistical analysis moot. It does not matter.
WHAT ABOUT PETROVIC?
This would be an interesting addition. Petrovic is more of a shutdown type, he's a big man (6.04, 206) and he brings several seasons of NHL experience. His numbers are an interesting comp for Matt Benning of the Oilers.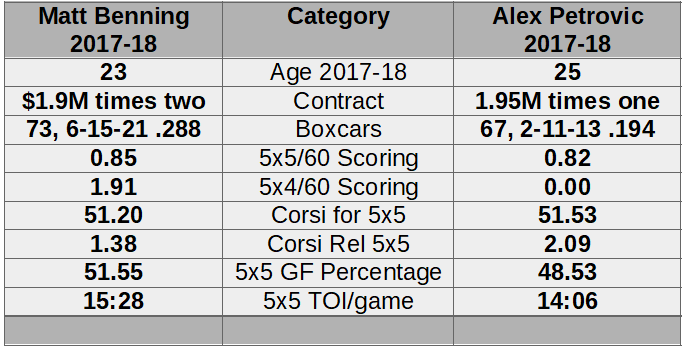 The difference offensively is power play, the possession numbers are close and the goal differential somewhat dependent on qual team. I wonder who would win the No. 2 RHD job?
OTHER NAMES
Notable players still looking for a job next season include:

Kari Lehtonen
Ondrej Pavelec
Daniel Winnik
Scottie Upshall
Alex Chiasson
Antoine Vermette
Jussi Jokinen
Chris Stewart
Dominic Moore
Matt Stajan
Alexei Emelin
Johnny Oduya
Luca Sbisa
Toby Enstrom
Kevin Bieksa

— Roster Resource NHL (@NHLRosters) August 16, 2018
Kevin Bieksa's name has been mentioned, I am always in favor of adding veteran defensemen but that would be a hard sell. Then again we embraced Zack Kassian. Smart people are mentioning Tobias Enstrom and the things I value (possession, rel, et cetera) are strong. You have to ponder who's zooming who ('bye, Aretha, love your songs) but it's a beggar's banquet on the fa market. Some of the names listed are signed to European teams, or at least I thought so (been on the road a lot this week). Daniel Winnik is a player I always wanted to view for a year on the town team.
Please Vote: I miss the Rathole!

— Lowetide (@Lowetide) August 17, 2018