I've been meaning to get back to something that happened last week, and today I have some time to address it.
THE ATHLETIC!
Give The Athletic as a gift or get it yourself and join the fun! Offer is here, less than $4 a month! I find myself reading both the hockey (Willis, Dellow, Pronman, et cetera) and the baseball coverage a lot, it's a pure pleasure to visit. We'll sell you the whole seat, but you'll only need the edge.
TRADE ON THE WAY?
When general manager Peter Chiarelli talked about the Andrej Sekera injury, he gave an interesting quote:
"We'll look at it (replacing Sekera) as camp progresses. I have a pretty good idea of the severity of the injury. We'll see what's out there, and lots of times, stuff surfaces with other clubs at camp (waivers)."  (Jim Matheson, Post Media)
The line about the severity of the injury jumps out like a Mick Taylor guitar solo. If Chiarelli knows Sekera's injury is short term, then all of this is just words. However, if he knows we are dealing with a player who is facing a career ending crossroads, then it behooves him to quietly seek out trade options with teams who have available talent.
Adding fuel to the fire are items showing up in Boston (Torey Krug) and the Edmonton blogs are naming Justin Faulk as a candidate. These names were discussed before, earlier in summer, but that was during a time when 'money in, money out' was required. If I'm reading this correctly, Chiarelli could LTIR Sekera early in the season, trade for Krug or Faulk (or other) using just prospects or picks, and would not have to worry about the impact from Sekera's return because the GM knows Sekera's injury is so bad he will not return. I wonder if that's what Chiarelli is contemplating. We wait.
CURRENT 50-MAN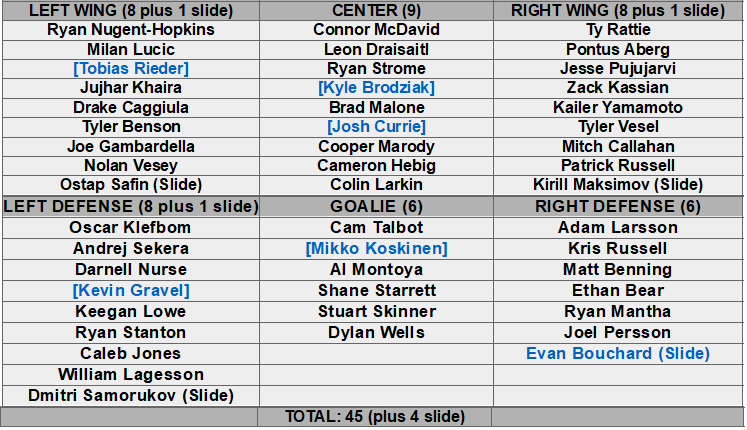 Edmonton has all kinds of room to add players, unless something has slipped past me in these last few weeks. The cap issue is real but the 50-man is tidy. I thought it might be an idea to update you on some of the entry kids (and others) who didn't get signed by the organization this summer.
Kyle Platzer signed an AHL deal with the Charlotte Checkers.
Laurent Brossoit signed an NHL deal with the Winnipeg Jets.
Joey Laleggia signed an NHL deal with the St. Louis Blues.
Dillon Simpson signed an NHL deal with the Columbus Blue Jackets.
Aidan Muir didn't sign with Edmonton before August 15, he is now a free agent.
Shortly: Physicality now ok. I order to achieve next step more speed,physicality +other small things inside the game needed. Feels no prsessure. Feels like home in Edm. Edm is a good team&playoffs possible. Last question: Do we see Jesse Puljujärvi in the 1st line: Answer: YES! https://t.co/9tDdNuEtCc

— pt (@Tusen_bitar) August 18, 2018
This young man could be Edmonton's ace in the hole. It's insane to bet on kids arriving exactly when you need them, but if JP can help Leon's line to push, all this madness may not mean too much sorrow.