Peter Chiarelli got back into the office before a few general managers and appears to be doing a fairly steady business two-thirds of the way through summer. After the Andrej Sekera news, he's added Scottie Upshall on a PTO and (yesterday) signed intriguing defenseman Jakub Jerabek. He is from Plzen, Czech Republic a mere 30 hours from Anton Slepyshev's hometown (Penza, Russia) so they probably know each other. Plzen is just five hours from Cologne, Leon Draisaitl's hometown, so Jerabek and Draisaitl may have been on the same school bus as kids.
THE ATHLETIC!
Give The Athletic as a gift or get it yourself and join the fun! Offer is here, less than $4 a month! I find myself reading both the hockey (Willis, Dellow, Pronman, et cetera) and the baseball coverage a lot, it's a pure pleasure to visit. We'll sell you the whole seat, but you'll only need the edge.
JAKUB JERABEK
In a 31-team league, it's impossible to know all the players the way Oilers fans know someone like (say) Brandon Davidson. A quick trip around the Al Gore last night fetched some interesting information on the newest Oiler.
Jonathan Willis:

  For my money the best fit is probably (Jakub) Jerabek, a 27-year-old whose mobility and skill with the puck are the nearest match out there for what a healthy Sekera could have done. (The Athletic)

Marc Dumont: 

Jerabek played relatively well during his limited ice time with the Canadiens, especially when it came to controlling the play during his shifts. (The Athletic)

Marc Dumont:

 Jerabek (55.8 per cent) once again only trails Weber and Mete in this very important category (expected goals). Furthermore Jerabek faces a stiffer quality of competition and a lower quality of teammates than almost all the other defenceman on the team. (Montreal Gazette)
The NHL numbers (AHL too, for that matter) simply don't give us enough to know anything for sure. He was in the Czech league since childhood (entered the league at 17, won the league's best defenseman award at 24) and made his way to the KHL in 2016-17 (age 25).
16-17 KHL 59gp, 5-29-34 21:47TOI, NHLE 38
Jerabek signed with Montreal during the 2017 offseason, spent some time in Laval (AHL), moved up to the Habs, then was dealt to Washington. Jerabek got into a couple of playoff games before being replaced by Christian Djoos.
What can we say about this signing? Looks like a solid bet from here, my guess is Jerabek is one of the seven best defensemen on the roster this morning. If nothing changes, he should be in Cologne in October.
NEW 50-MAN LIST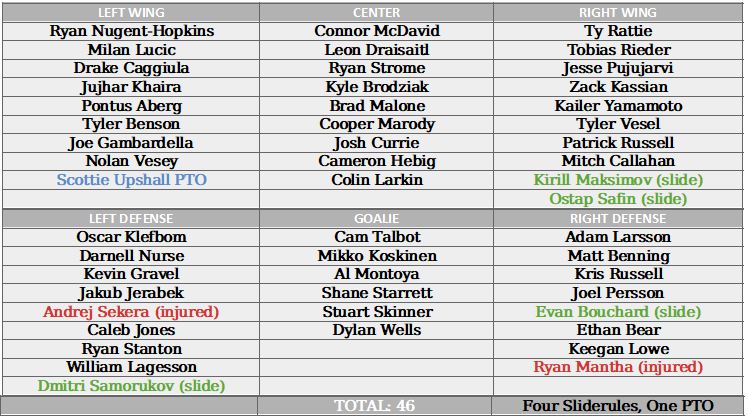 Praising Peter Chiarelli is met with the guns of Brixton in most parts but he has added some nice pieces on a shy budget all summer.
Tobias Rieder, Kyle Brodziak, Scottie Upshall and now Jakub Jerabek represent small and astute bets. Mikko Koskinen looks lavish in comparison, perhaps we'll feel differently about that contract this time next year.
Jerabek's presence squeezes everyone south of Klefbom-Larsson, Nurse-Benning and Russell. I think he might be the No. 6 defenseman with Andrej Sekera injured and Evan Bouchard not yet 20.
The Upshall signing makes everything more interesting.
TYLER BENSON'S PROGRESS
In writing my item for The Athletic prospect series I went back and looked at Benson's progress since draft day. I didn't have room in the article to post these two tables, thought I'd share them here (and please read the article, Benson is a fascinating prospect). Here are the forwards drafted between 31 and 39 in 2016, their 2016-17 scoring numbers and NHL equivalencies. This first table was posted in late summer 2017, and shows Alex DeBrincat is miles ahead of everyone else, with Adam Mascherin and Jordan Kyrou running second and third. Benson ranked No. 5 of seven players in NHLE:

DeBrincat continued to spike in year two, making the NHL and scoring 20+ goals for the Chicago Blackhawks. How did everyone else do in draft +2?

DeBrincat scored 52 points as an NHL rookie, so he's out of orbit compared to the rest of the group. In the words of Hawk Harrelson, he gone! Jordan Kyrou took a step forward while Adam Mascherin ran in place. Yegor Korshkov and Benson also plateaued, while centers Asplund and Laberge look shy offensively in both seasons. I address Benson's future in the article at The Athletic, interested to know if you agree with my findings.
DRAFT CHAT
Some great debate in yesterday's thread about the draft. Thought I'd chime in here because by the time I get back to it we'll be talking about arthritis or Natalie Wood. In my time looking at the draft (basically since 1973), there are things that we can say are universally true:
Impact or generational talents are gone by No. 3 overall.
Defensemen can fool you.
Goalies are impossible difficult to project but outstanding talents do show themselves early. It's just that not all of the outstanding ones turn out and European leagues have such a wide range of quality you can miss someone easily.
When assessing a single draft, always feature offense prominently. Cheat for offense and then cheat again for offense, while also knowing that defensemen who get lots of power-play time may not receive any once they reach the NHL.
There is a randomness about draft success after about No. 15 overall that I've come to believe is luck. Some teams put themselves into position for good luck by drafting offense, but there's a great deal of luck involved.
Teams are punishing players they perceive as being small and average in foot speed, possibly to their detriment. Mathew Barzal's speed caused some teams to fade him and he punished them with extreme prejudice. I think Alex DeBrincat had that issue, too.
Someday a team is going to draft 7 DeBrincat/Barzal/Kailer Yamamoto's, be called fools, and win a Stanley Cup five years later on the back of those talented youngsters.
If your team is drafting a CHL forward in the top 60 whose offense is well below a point-per-game, disregard the draft and hope the general manager can trade his way to success.
Drafting players from secondary leagues (BCHL, AJHL) is reasonable by the middle of the second round, but the CHL high-end kids should be taken before a team ranges outside the big talent pools.
The USHL has a lot of mystery about it, teams who don't scout heavily/have contacts/bird dogs are at a huge disadvantage.
LOWDOWN WITH LOWETIDE
A busy, fun morning beginning at 10, TSN1260. Scheduled to appear:
Marc Dumont, TSN690 Montreal and The Athletic. Edmonton's new defensemen, how good is he, and is it Jacob or Yacob?

Michael Rothstein, ESPN reporter on the Detroit Lions

. Is this the season the Lions win 12 games?

Scott Cullen, TSN

. CFL getting interesting, NHL waking up from summer in the sun.
10-1260 text, @Lowetide on twitter. Talk soon!