NHL players are showing up at rinks and talking to people with microphones. Most of the verbal is routine but there's a gem here and there. Steve Ewen is a fine writer for the Vancouver Province and he posts quality all winter long. A quote from a recent article via Milan Lucic: "I feel good. I felt great last year. Being in shape was not an issue for me last year. If you talk to Peter (Chiarelli, the Oilers' general manager), he said in his year-end press conference that skating was not an issue for me last year and it wasn't. It was just things didn't go well."
What I noticed? Lucic was always a fine passer and could take a pass well, but he was caught in between so many times a year ago. Was it vision? Did he train incorrectly/become top heavy ala the Ethan Moreau "Mandelbaum" era? I don't know and that's a fact. I can say that I've watched Lucic his whole NHL career, and he was not making those excellent passes we saw in the past. The only thing, aside from erosion, I can think of is ML changed his training routine a year ago. People are predicting he'll score 40-50 points in a recovery year, but what I'm looking for is his passing acumen to return. It's a big part of what separated him from other enforcers in the game.
THE ATHLETIC!
Give The Athletic as a gift or get it yourself and join the fun! Offer is here, less than $4 a month! I find myself reading both the hockey (Willis, Dellow, Pronman, et cetera) and the baseball coverage a lot, it's a pure pleasure to visit. We'll sell you the whole seat, but you'll only need the edge.
JESSE PULJUJARVI'S COMPARABLES, DRAFT +3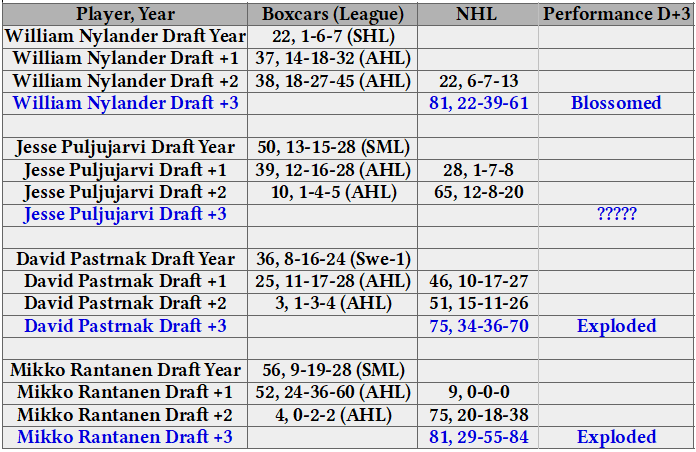 Lots of talk in the last few days online about Jesse Puljujarvi and his role on the Oilers this coming season. JP's comps (above) all took giant leaps forward in their draft +3 seasons and there's no reason to believe it'll be any different for Puljujarvi. The organization can do things to aid the process, including a training camp stapling to one of the high-end skill centers (97 or 29) but I can't tell you that is going to happen. Either way, he should get power-play time. One thing I have read here and there is that Puljujarvi isn't pushing enough to be inside the top-six. If you look at his goals per 60, there's no real argument available: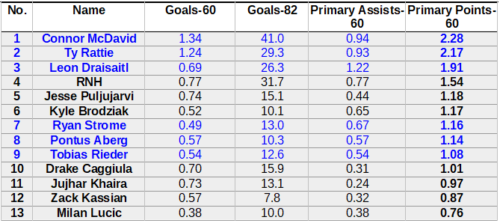 The big Finn ranks No. 4 in goals per 60 (5-on-5, this is all NaturalStatTrick) and No. 5 in primary points per 60. It's true there's a gap between Nuge and JP, but the kid was also the one who was handled differently among that group during this past season. Tobias Rieder, Pontus Aberg, maybe they eat his lunch, but my feeling is Peter Chiarelli has made it fairly difficult for the coach to find alternatives. Perhaps it is happening just this way.
Maple Leafs have hired Hayley Wickenheiser. She'll be the club's assistant director of player development.

— John Matisz (@MatiszJohn) August 23, 2018
About damned time. Men haven't cornered the market on intelligence or good ideas, and this kind of hiring should eventually end the centuries of mansplaining women have endured (I do it, too, but have at least become aware of it. Some of us males are not yet aware). The NHL has employed women in the past on the hockey side, but not much progress past Laura Stamm saving slow boat Bob Nystrom's career and aiding New York City in winning four straight Stanley's. This is long overdue. Damnable Leafs keep doing smart things.
https://twitter.com/FriedgeHNIC/status/1032296716014219264
I don't think the Oilers would be in on Karlson but never say never. If would certainly blow the 'summer of keeping your powder dry' right out of the water. If the Habs are dealing Patches, I can see Edmonton making a long distance call on him for sure.
LOWDOWN WITH LOWETIDE
A busy morning and a fluid guest list. We'll get going at 10, TSN1260, with the CFL, NFL front and center. I'll have Rob Vollman on to talk about the two new Oilers hires this week and we'll chat about projecting final standings in August. 10-1260 text, @Lowetide on twitter. See you on the radio!