The Edmonton Oilers are just three weeks away from training camp, so it's a good time to place our bets and try to reach top dead reasonable. The defense is still fluid, so I'm slow-playing blue, but the forwards are coming into view and I think we can make some educated guesses about the Oilers 18-19.
THE ATHLETIC!
Give The Athletic as a gift or get it yourself and join the fun! Offer is here, less than $4 a month! I find myself reading both the hockey (Willis, Dellow, Pronman, et cetera) and the baseball coverage a lot, it's a pure pleasure to visit. We'll sell you the whole seat, but you'll only need the edge.
RE 18-19: ESTIMATED TIME ON ICE (FORWARDS)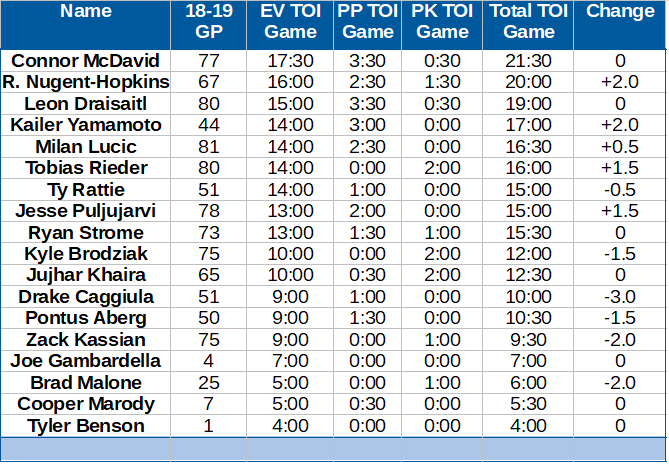 Connor McDavid's

ice time remains the same, I increased his 5-on-4 time and reduced the penalty killing TOI. My theory is he can have more impact pushing the results and with the puck on his stick. We've talked about this since early summer (although "some sweet day" won't be this season) so it should come as no surprise I'm nicking 97 in this discipline.

Ryan Nugent-Hopkins

gets a healthy increase in playing time, reflected in his moving up to the No. 1 line. I kept him on the 4-on-5, so the 5-on-4 time comes in fourth among forwards.

Kailer Yamamoto

gets the push once he is recalled, playing both on the McDavid line (winning the job from

Ty Rattie

) and on the power play. I have him finishing with 29 points in 44 games (will publish everything before the season starts).

Milan Lucic

appears to be here for the winter and the recipient of a massive push, as reflected in my numbers. It could be a pump and dump, but if things go well perhaps player and team will re-commit. If things falter, options are limited and painful.

Tobias Rieder

will play more than he did a year ago with two teams, Oilers fans will notice him mostly on the penalty kill and in games where he's playing a feature role on one of the skill lines (I have him playing a lot with the skill people).

Jesse Puljujarvi

plays a complete season in my model, getting over 60 percent of his 5-on-5 time with skill (mostly Leon). I have him scoring 38 points (again, publishing probably mid-September). One tidbit I can share: JP is the leading scorer among right wingers in my model.

Ryan Strome

and

Jujhar Khaira

play about the same amount as one year ago, I have Khaira stepping up on the PK (he showed well in the metrics I value 4-on-5).

Kyle Brodziak

takes on a big role (PK) but I don't have him in a feature role elsewhere. If he can make a difference 4-on-5, he'll earn his money double.

Drake Caggiula, Pontus Aberg

and

Zack Kassian

get the squeeze for multiple reasons. If you are a fan of these players, you should be warmed by the knowledge that I am incorrect often when gauging the future.

Joe Gambardella, Cooper Marody

and

Tyler Benson

all get cups of coffee.
I have Edmonton increasing power-play time and a slight decrease in PK minutes is also forecast.
Scottie Upshall may make the team, I chose not to include him here because he signed after I had completed the work.
The offense is driven once again by 97, and 29 and 93 post some wicked numbers. I haven't projected a surprise impact forward who pops 30 goals because that's kind of the opposite of reasonable.
You should not expect a major spike in my RE goals projections for this forward group. If I had to frame the results around an album title it would be "A Period of Transition" in 2018-19. You'll know more about this team, there will be fewer question marks, but it's still a watched pot.