I have completed my projections for the RE series (will publish before the season opens) and there are some interesting items. I'm projecting 51 power-play goals (up from 31), six on the penalty kill (down from 11) and a healthy increase (but nothing crazy) in even-strength goals. Surprisingly, with the increase in year over year goals, and several career highs among forwards, only one of the major players on defense—Matt Benning—projects to reach a career high in points. The big man among the blue, offensively and in time on ice, will be Oscar Klefbom (photo by Rob Ferguson).
THE ATHLETIC!
Give The Athletic as a gift or get it yourself and join the fun! Offer is here, less than $4 a month! I find myself reading both the hockey (Willis, Dellow, Pronman, et cetera) and the baseball coverage a lot, it's a pure pleasure to visit. We'll sell you the whole seat, but you'll only need the edge.
PROJECTED RE TOI, OILERS BLUE 2018-19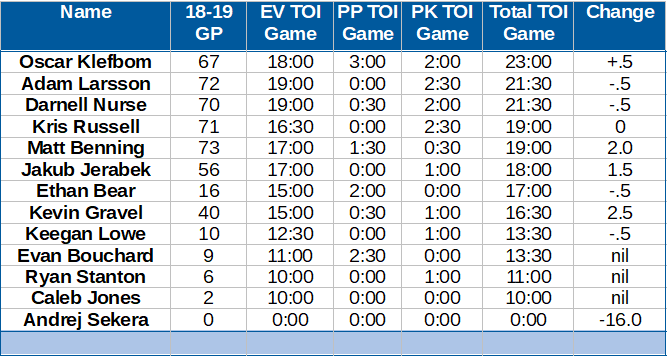 I have

Andrej Sekera's

season wiped out with the injury. It's a projection based on two severe injuries in such a short time and that cryptic comment from Peter Chiarelli a couple of weeks ago.
Projection has all of Edmonton's six primary defensemen missing some time during the campaign, ranging from nine games (

Benning

) to 82 games (

Sekera

).
My projections for the blue as a group have them coming in very close to last season's numbers (32 goals, 97 assists). Last year's power-play goal total by defensemen (2) climbs to eight, but the rest of the story is less impressive. I didn't plan it that way, perhaps the loss of Sekera curtails the offense enough to make the downturn logical.

Klefbom

and

Larsson

improve over last year's boxcars, but neither man approaches his career best.
I have

Klefbom, Larsson

and

Nurse

playing a lot, a ton at 5-on-5. It's reasonable to expect one of two developments: Someone on the roster emerges to replace

Sekera

, or a trade is made.
PROJECTED RE TOI, OILERS FORWARDS 2018-19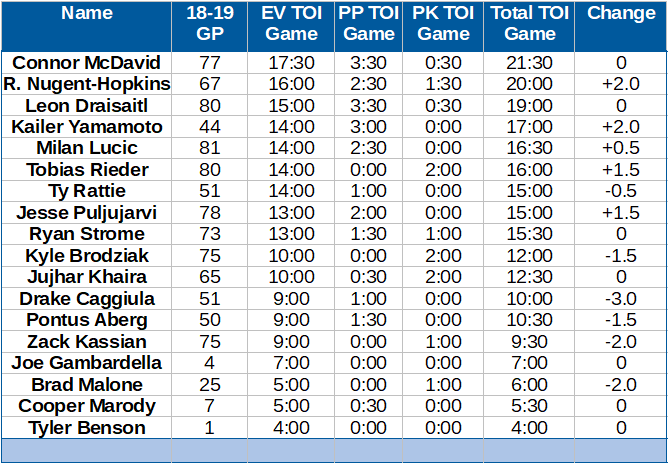 I have several forwards having career seasons, including

McDavid, Nuge, Puljujarvi

.
I am also projecting another top-heavy offensive season from the forwards.
A year ago,

McDavid (41), Leon (25) and Nuge (24)

delivered 39 percent of Edmonton's offense. The trio was followed by several players who couldn't manage 15 goals:

Patrick Maroon (14), Strome and Caggiula (13), Puljujarvi (12), Khaira (11) and Lucic (10)

.
My projections this season have

McDavid, Draisaitl and Nuge

 once again scoring 40 percent of the goals in 2018-19, and five forwards scoring between 10 and 19 goals. A fourth scoring forward has to emerge, but the projections I use have the group shy again. The good news is that the forwards who aren't hitting 20 goals are young and improving.
TYLER BENSON
Some great quotes in this article by Min Dhariwal of the CBC from Benson and Perry Pearn. A quality article.
FANDOM
I've been meaning to get to this but haven't had the chance until today. I wanted to pass along a quick message about fandom and why it is wise to disregard anyone telling you "how" to be a fan. The world is made up of several different types of people, one of which spends day and night telling other people what to think. This, combined with something nearing acidic aggression, means you are likely to encounter someone online who will try to bully you today.
Fan as you wish. Here are some wrinkles in my fandom across all kinds of interests:
Although I have been a fan of the Oilers since 1972, there were several periods where I didn't follow the team closely. In the period after I bought my first car and had walking around money, in the period after the team traded Mark Messier, when my kids were born, even the Pat Quinn season, I stepped away a little. No one, not one human taking in a breath of air today, can tell me I'm wrong unless allowed to by me. You have that choice. Screw 'em. If someone is trying to make you feel bad about being an Oilers fan, imagine how awful their life must be, and then move along to something more pleasant like demon liquor or the fairer sex.
I am a fan of the Stones from Beggar's Banquet through Exile on Main Street, but always stopped at Goats Head Soup. Recently, I have re-listened to that album and it has grown on me. A cool 45 years after it was released, it's beginning to find its way into my good books.
I try every summer to get back into baseball as an interest, partly because it is a connection to my Dad. I didn't really make an attempt this summer, might try if the Expos ever return. I've come to the conclusion that what made baseball special (Dad, Expos) is no longer here, so it's fine and true to let those things remain in the past. Baseball is no longer my game, it's for someone else and that's fine. Sail on, baseball, you do you.
I'm a Neil Young fan. His politics don't rhyme with many, so saying that out loud can get you in trouble with some people. I'm a fan of Young because of the guitar sound he found on Zuma, because he wrote so beautifully about Canada, because his voice speaks to me, and because Powderfinger is filthy good.
I'm noticing more people talk about politics in general now, that isn't bad in and of itself. I will say that there's a difference between speaking your mind and getting familiar with me about my opinions. I have not, at any time, expressed publicly my political leanings, although they probably match many of you. I will say this: If you support a party that in any way allows race, color, orientation or creed to divide, then you lost me in that instant.
My Dad taught me, when I was a child, that the number to remember is one. When one person has his or her rights compromised, then every single one of us is in danger. There is no middle ground here. None.