To my eye, the best players for Edmonton in the rookie game yesterday were (in order) Caleb Jones, Tyler Benson, Evan Bouchard and Ethan Bear. History tells us prospects don't develop in a straight line and Jones may recover all the way back to Bear and that's several miles. Warning: It was a rookie game, Jones is 21 and the real test comes in main camp. Still, a very nice beginning for all four men. The final score was not indicative of the overall game, certainly through the first 30 minutes.
RE SERIES BEGINS
My article this morning for The Athletic begins the RE series. It's in a different format this year (five or six posts instead of 25) and today I cover Connor McDavid, RNH, Ty Rattie and Kailer Yamamoto's boxcars. I will post the final numbers after the series is completed at The Athletic.
The Athletic made some big additions last week, including Daniel Nugent-Bowman joining the Edmonton staff. Daniel, Jonathan Willis, Minnia Feng, Pat McLean and me will deliver prose all winter long and there will be tons via the national desk from Tyler Dellow, Corey Pronman and Dom Luszczysyn. Special offer is here, less than $4 a month! Also, don't forget to join us later this month (September 24, The Rec Room south side) for a get together and general merriment. I'm thrilled to be part of this group, hope you join us.
COMMENTS ON YESTERDAY'S GAME
L Tyler Benson:

Edmonton's best forward in my opinion, he was physical and creative. He should have had at least two assists (he had one) on merit and Oilers fans are buzzing about him for the first time since he was drafted. His early pass to Vesel was expert, the one to Jones was filthy. Lost some teeth in an exchange with Parsons, he's had worse injuries and stuck it out, expect we'll see him again this week.

RD Ethan Bear:

He played extremely well early, headmanning the puck expertly and looking completely at ease with and without the puck. The coverage got the better of him in the second period, but he looks leaner and faster this year.

RD Evan Bouchard:

Considering age, experience and pressure (fans were watching closely), I thought he was quality. A wonderful passer, he's going to set free every forward with 10 fingers and toes on a breakaway in whatever league he plays in. I lost count of the great damned passes. He'll need to hurry up the decision making and coverage needs to tighten but these are all things people who lack experience must endure on the way to knowledge and experience.

RD Logan Day:

Like the entire team, he showed well early but faded from there. Got lost a little in the rotation when his partner (Wilson) was off for fighting, he was in chase mode too often during the game.

LC Luke Esposito:

I noticed him on the back check mostly, and on the penalty kill. I can't recall a moment where he looked either fabulous or poor. That's a good thing.

L Joe Gambardella:

He got stopped stone cold on a breakaway, won a fight against a giant and was moved off the top line mid-game. He was poor in one sequence early in the second period, fought the puck while being all by his lonesome and turned it over eventually. Fed Yamamoto on a turnover in the offensive zone for the former Spokane Chiefs winger's best chance.

L Cameron Hebig:

I noticed his aggressiveness on the forecheck early, he shot the puck from distance a couple of times but he'll need to do more in order to get noticed.

LD Caleb Jones:

What a difference a year makes! I know this is just the first game of rookie camp, but Jones was textbook for most of this game and you have to feel good for him after last year's struggles. He was fantastic, scored a stunningly beautiful goal.

LC Colin Larkin:

He had a massive chance early, winning the faceoff and then driving to the net to get a stick on Logan Day's shot. He was noticeable on the PK and had a nice look on a Maksimov dish later on.

R Kirill Maksimov:

I thought he played very well for a scorer on a checking line. His real opportunities were sparse (as you would imagine) but he showed good speed and shot the puck whenever the opportunity arose. I sincerely hope they play him with a skill center in the next game.

RC Cooper Marody:

He had a fine game, scoring a goal (and possibly tipping Bouchard's goal), drawing a power play and working the puck into promising offensive situations. We'll need to see it into the second week of full training camp but he delivered on some pretty high expectations going into the game.

LC Ryan McLeod:

An early game fly-by caught my eye and he didn't do a lot noticeable for some time in the game. Later on, especially during a power play, I saw his real skill shine through. He's a wonderful skater but needs to get involved more. On his best offensive chance he was from me to you on a two on one and smoked it high and wide. Won a faceoff clean for a Caleb Jones chance in the third period.

L Evan Polei:

He played a good game in my opinion, boots are still a little slow but he made skill plays when the chance emerged. I have always liked this player, hope he keeps working, he doesn't need to improve much to have a real chance imo.

LD Dmitri Samorukov:

I thought he was the weakest link among defenders, his errant pass leading directly to the first goal. After that he looked betwixt and between, and one wonders how long he'll hang around main camp. I remain strong on his possible future.

G Stuart Skinner:

He wasn't sharp, the big tell he appeared to lose the puck momentarily on the early second period wraparound goal against. It's the first game, he has a long way to go. It'll be interesting to see if he gets more playing time during the rookie camp.

R Tyler Vesel:

He was robbed early, middle and late. Part of that is because Vesel isn't a fabulous scorer but on the first and third chances he was a little unlucky. Although he's an older prospect, I think he helped himself with this game.

L Nolan Vesey:

He got into a fight and worked the mid-section, a fascinating ploy and something I don't recall seeing in observing 50 years of hockey. Made a nice squeeze play along the boards seconds before Marody's goal. We'll need to see more but he got noticed.

G Dylan Wells:

He was brought in to calm the waters but got beat from a bad angle on one goal (I think he was the victim of a tremendous tip on the first one). Nothing to pin on him the game was long gone before he arrived.

LD Jared Wilson:

He won the fight but lost the war. His decision making with the puck led to a goal against and he looked slow for this level. I wonder how much these guys worked on Saturday, seemed as though the air left the tires mid-game.

R Kailer Yamamoto:

Forechecked like a demon as always, had some great looks and got robbed point blank by Tyler Parsons. Made a deft pass to get the second assist on the Caleb Jones goal, and a nice drop pass to Marody for a chance. A good start to a massive training camp for this player.
DARNELL NURSE
He isn't signed. It's very late. I don't have an answer. I don't blame Nurse for not showing up without a contract, and we don't know the gap between ask and offer. We do know the depth chart without Nurse:
Oscar Klefbom—Adam Larsson
Kris Russell—Matt Benning
Jakub Jerabek—Ethan Bear/Evan Bouchard
Kevin Gravel/Jason Garrison
Nurse isn't going to win the Norris but he's an NHL defenseman who can play top 4 minutes. Puck IQ's binning shows Nurse played well against elites a year ago:

He's damned near 50 percent against elites, the goal share was 56 percent! Plus, he tied with Adam Larsson this past season in percentage of time on ice against elites. Here's what the same chart looked like in 2016-17 (this is all Puck IQ):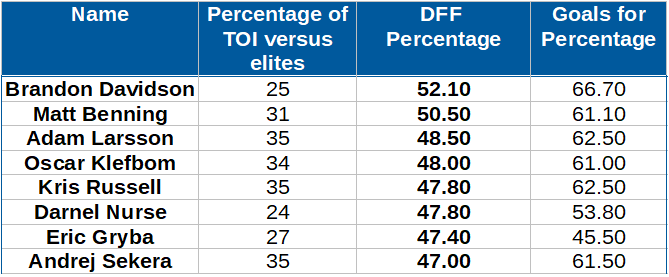 Nurse is up across the board year over year. Edmonton doesn't have a lot of wiggle room here, beyond closing the gap between ask and offer. This is a huge season for the team, distractions have to be kept at a minimum. As of this week, it's a distraction.
CERTAIN OILERS

The only way this list goes to 18 is a

Nurse

holdout (or another injury). I'm not going to remove him from this list because it makes no sense to do it. Nurse has very little control in this situation, if he holds out all year the two sides return with the same equation one year from now. I won't guarantee it gets done, or that a trade may be the final result, but this thing is miles from being a bridge too far.
UNCERTAIN OILERS
Nurse

unsigned brings a few names from this category into the mix.
I moved

Jason Garrison

up from the distant bells and all of

Gravel, Bouchard, Bear, Lowe

and even

Stanton

will have a better chance of making the team if Nurse isn't in training camp.
DISTANT BELLS
Two players on this list (Benson, Jones) played very well yesterday and sometimes that means a real step forward. We'll see. Both players impacted the game enough for us to say they'll be in the mix for NHL preseason games and we'll see from there.
KEEP YOUR POWDER DRY
The Pacioretty deal will be the subject of much discussion today, for the Oilers it is one more mountain to climb. I'm onside with management's summer of keeping their powder dry and this is part of the plan. The Oilers improvement is going to come from names like Jesse Puljujarvi, Kailer Yamamoto and others. Edmonton isn't as close to winning Stanley as Vegas, that's a reality.
LOWDOWN WITH LOWETIDE
A full boat today as we reach a major week in the sports calendar. At 10 this morning, TSN1260, scheduled to appear:
Andy McNamara, TSN4Downs.

The Cleveland Browns are undefeated!

Frank Seravalli, TSN.

Pacioretty trade, Nurse situation.

Jason Gregor, TSN1260.

Eskimos win a big game, Nurse contract.

Jason Rogers, Japers Rink.

The Capitals and the Metro.
10-1260 text, @Lowetide on twitter. See you on the radio!