The Edmonton Oilers dropped their training camp roster last night, 62 lines on a page and not one of them reads Darnell Nurse. Peter Chiarelli's history as a negotiator is likely at least partly responsible for his current situation and the Oilers are in a spot of bother because of it. A sticky wicket, as the English say.
THE ATHLETIC!
The Athletic made some big additions last week, including Daniel Nugent-Bowman joining the Edmonton staff. Daniel, Jonathan Willis, Minnia Feng, Pat McLean and me will deliver prose all winter long and there will be tons via the national desk from Tyler Dellow, Corey Pronman and Dom Luszczysyn. Special offer is here, less than $4 a month! Also, don't forget to join us later this month (September 24, The Rec Room south side) for a get together and general merriment. I'm thrilled to be part of this group, hope you join us.
ROOKIE CAMP 2018
Best Player:

Caleb Jones

. He played well last year at the same camp, but the step forward this time was something else again. You guarantee nothing out of training camp, he could fade and be optioned out long before cut-down day. It's important to note his apparent step forward as we begin the early chapters of this season.
Best Player entering pro hockey this season:

Tyler Benson.

He first rookie camp was a memorable one, Benson's cherry passes being cashed (and not cashed) all over the offensive zone. He impacts all of the plays he is involved in.
Best 2018 draft pick:

Evan Bouchard.

I love his passing and vision. He has calm feet, a wonderful asset (although he'll need to be aware of back pressure). His defending, while a lot about positioning as opposed to pursuit, is effective. It's also important to note that comparing Bouchard to Jones (drafted three years earlier) or Benson (two years) is wildly unfair to the younger man. Bouchard is easily the best prospect of the three.
Fastest train:

Ryan McLeod.

He got better as camp went along. If he learns how to doggedly forecheck, McLeod will become a favourite of this blog.
Best AHL contract:

Evan Polei.

I really like his game.
Biggest disappointment.

Kirill Maksimov.

I'm still a believer but you would have liked to have seen more from the impressive scorer.

Others who had good camps:

Kailer Yamamoto

didn't have a lot of finish but he played well and showed his usual determination on the forecheck.

Ethan Bear

didn't get as much time in the feature offensive role, but played well at evens and on the PK.

Biggest organizational worry:

None really, the goaltending wasn't strong but these are early days and the coverage was an issue in the two losses.
TRAINING CAMP ROSTER 2018
Darnell Nurse (unsigned) and Ryan Mantha (injury) are not attending camp, along with a long list of college and Euro players who aren't available to Edmonton this season. There are 62 names.
THE CERTAIN OILERS

Darnell Nurse's

absence from this list is a big damned deal. I cannot imagine the Oilers organization starting the season without him but this is happening and that means all kinds of things may come into play. I'm hopeful Oilers fans continue to support Nurse.

Peter Chiarelli

talked about waiver pickups a few weeks ago, the Nurse situation likely increases the chance of at least one player being plucked from the names heading to the minors.
The forward group looks mostly set, although many have suggested the PTO additions of

Scottie Upshall

and

Alex Chiasson

may mean deals that could involve

Jujhar Khaira

or

Zack Kassian

. There appears to be a lot in play.
UNCERTAIN OILERS

All kinds of names are in play now, this is going to be a fairly wide open camp. Nurse's name not on the list means there's an increased chance of eight defensemen in my opinion.
The names on this list are a strong training camp and preseason away from making the big team. If any of these players spike in the next two weeks, they'll be flying to Cologne.
THE DISTANT BELLS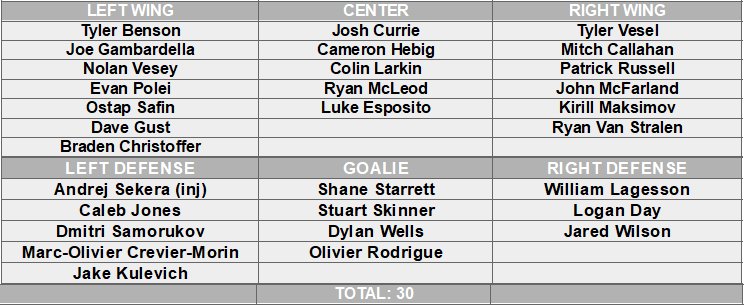 Lots of names on this list we didn't expect, Edmonton invited the NHL team, the AHL team and many who will play with the ECHL team.
Notable additions include

John McFarland

, who was once a highly regarded prospect.
Does the absence of Nurse project names like

Caleb Jones

and

William Lagesson

into the NHL conversation? Seems a stretch but the next two weeks will tell us everything.
PROJECTED OILERS ROSTER OPENING NIGHT 2018-19
Goalies:

Cam Talbot, Mikko Koskinen

Left Defense:

Oscar Klefbom, Darnell Nurse, Kris Russell, Jakub Jerabek

Right Defense:

Adam Larsson, Matt Benning, Evan Bouchard

Center:

Connor McDavid, Leon Draisaitl, Ryan Strome, Kyle Brodziak

Left Wing:

Ryan Nugent-Hopkins, Milan Lucic, Jujhar Khaira, Drake Caggiula, Scottie Upshall

Right Wing:

Ty Rattie, Tobias Rieder, Jesse Puljujarvi, Zack Kassian, Pontus Aberg

IR:

Andrej Sekera
I'm listing Nurse on the opening night roster because the alternative might signal the long train to nowhere for management and coaching. Surely their own sense of survival compels them to action. Is signing Nurse the only option? More in a minute.
PROJECTED CONDORS ROSTER OPENING NIGHT 2018-19
Goalies:

Al Montoya, Stuart Skinner, Dylan Wells

Left Defense:

Kevin Gravel, Keegan Lowe, Caleb Jones, Ryan Stanton

Right Defense:

Ethan Bear, Logan Day, William Lagesson, Jared Wilson 

Center:

Cooper Marody, Josh Currie, Brad Malone, Colin Larkin

Left Wing:

Tyler Benson, Joe Gambardella, Nolan Vesey, Dave Gust, Braden Christoffer, Evan Polei

Right Wing:

 

Kailer Yamamoto, Tyler Vesel, Mitch Callahan, Patrick Russell
No talks on the schedule between Darnell Nurse camp and Oilers today. On a two-year bridge deal, gap remains at an estimated $200-300 K per season. Almost 100% certain camp opens without Nurse in attendance.

— Mark Spector (@SportsnetSpec) September 13, 2018
WHAT'S NEXT FOR NURSE?
I think all options are likely to be in play eventually, including a trade. I'm surprised it has reached this point but there can be a quick resolution and all will be forgotten. My hope is that the fans (most of them) side with Nurse on this and that could happen (management is wildly unpopular). I do think Peter Chiarelli's survival instincts could kick in and a quick trade is possible. For me, this is the first indication that Nurse may not be perceived as part of the McDavid cluster. Speculative on my part but there are ways to get this contract done and the Oilers are digging in. You never know about relationships. My bet is this gets done by Monday but the fact it hasn't been completed is a tell.
LOWDOWN WITH LOWETIDE
At 10 this morning, TSN1260, we have a full boat and lots to talk about. Scheduled to appear:
Steve Lansky, BigMouthSports.

We moved him up a day, in time to chat about Humboldt, the Nurse contract and NHL training camps getting underway.

Sam Carchidi, Philadelphia Inquirer/Daily News.

We'll talk about the Flyers and the season to come.

Frank Seravalli, TSN.

Frank was part of the Humboldt story from the beginning, we'll chat about last night and a prairie community trying to heal.

Simon Boisvert, Prospect Insider.

Simon drops by to give us his opinion about the young Oilers hopefuls and who is poised to break out.
10-1260 text, @Lowetide on twitter. See you on the radio!