All of the writers of rhyme stayed at the baseball diamond, so hockey's wonderful poetry remains frozen on ice. We are in the debt of those who chronicled the game's history with the plodding care of a Pierre Berton tome, but there are times, like today, when we long for an inspired passage that might rise to something more, something great, something that would launch this moment into lore. There isn't a grand explanation about why tonight's game is so important, why grown adults are more animated today than they were yesterday, but it is there all the same. Welcome back, hockey. We missed you more than ever.
THE ATHLETIC!
One week from today! Next Monday, September 24 you are invited to a party at The Rec Room (south side). The Athletic Edmonton group would love to meet you, chat about the new Darnell Nurse contract (should be signed by then) and the team in general. You can register (we need to know how many are coming, just like your Mom at Christmas) in the link below.
The Athletic made some big additions last week, including Daniel Nugent-Bowman joining the Edmonton staff. Daniel, Jonathan Willis, Minnia Feng, Pat McLean and me will deliver prose all winter long and there will be tons via the national desk from Tyler Dellow, Corey Pronman and Dom Luszczysyn. Special offer is here, less than $4 a month!
New Lowetide:

Oilers sign Nurse to a two-year deal.

The Athletic

 Cross Canada Tour Will hit Edmonton!

New Lowetide:

 How do you replace a lost draft summer?
New Daniel Nugent-Bowman: Even with more goaltending depth the Oilers are counting on return to form from Cam Talbot.
Lowetide: 

RE 18-19:

 

Ryan Strome and the Oilers long journey to competent third and fourth lines
Lowetide: 

RE 18-19:

 Leon Draisaitl and the pursuit of a second outscoring line in '18-19
Lowetide: 

RE 18-19

 Can the McDavid line lead the 2018-19 Oilers to the playoffs?
Jonathan Willis: If the Oilers fail in 2018-19, it will probably be the same reason they failed in 2017-18.
Jonathan Willis: If the Oilers improve in '18-19, they'll do it on the back of special teams
Eric Duhatschek: Connor McDavid knows what ails the Oilers and how to improve it.
Daniel Nugent-Bowman: How Ethan Bear is providing inspiration for Indigenous youth through his hockey camp.
LINES
Tyler Benson—Ryan McLeod—Kailer Yamamoto

Patrick Russell—Brad Malone—Alex Chiasson

Joe Gambardella—Josh Currie—Pontus Aberg

Evan Polei

—Tyler Vesel—Cameron Hebig/Luke Esposito
It's basically an advanced rookie roster, designed to match with the very inexperienced group the Calgary Flames will be icing tonight. I'm especially interesting in seeing that top line tonight.
Kevin Gravel—Ethan Bear

Ryan Stanton—Evan Bouchard

William Lagesson—Logan Day
This is most of the group I wanted to see tonight, a little disappointed Caleb Jones isn't listed but that might be due to his having climbed up the depth chart. Lots to look forward to from this group.
AND NOW, THIS
It's maybe 1986. I'm the afternoon drive announcer at 126 CFRN (The Good Sports!) and a pretty good Top-40 broadcaster. Cynthia Charles (about 50 times the talent I was, and that's being kind to me) was my co-host and we had a good show. At 5:45pm, John Short would drop in to do a 'crossover promo' for his show, much like Dave Jamieson does now on the Lowdown each weekday.
As part of my job, I was the 'vocal talent' who had to be available for a few hours a day to read commercials for radio and television. One day, this would be have been during the NHL season, I was asked to read the tag for a "Shipley Photo" commercial. It was going to be fun, because the first 25 seconds were to be read by Oilers winger Jari Kurri, and I'd do the 'tag' (Shipley Photo and then the address, followed by "tell them Jari sent you").
Kurri had a difficult time reading his part of the commercial, even though he tried for an hour. It was in a language that wasn't his own and written to be read rapidly. We flipped the script eventually, me reading the heart of the spot and Kurri saying "tell them Jari sent you" because it was never going to work as written. Later that day, we drove over the writer with a Buick; it was the right thing to do.
THIS TIME LAST YEAR
Edmonton had a split-squad home and home for opening night to preseason a year ago, I'm going to re-publish all of my notes for you (available here) as a conversation starter.
GOALIES
No. 33 Cam Talbot. Stopped all 11 shots on a quiet night, although he did have one brilliant stanza in which the Oilers gave the puck away and he just kept stopping the damned thing from going in the net.
No. 1, Laurent Brossoit. Had a .923 save percentage and looked good.
No. 32 Eddie Pasquale. Stopped 12 of 14, he acquitted himself well overall.

No. 34, Nick Ellis.

 Had an .850 save percentage.
LEFT DEFENSE
No. 77, LD Oscar Klefbom. 0-1-1, +2, 27:02. Played a monster amount (this is crazy) and had a major impact. Three shots, three blocks, major special teams minutes. Absurd TOI. Klefbom looks a bit similar to Serge Savard with the puck on his stick, strong and mobile and winding his way up the ice. He's a confident veteran now.
No. 82, LD Caleb Jones. 0-1-1 +2, 21:19. Led all Edmonton game defenders in total ice time and played well all night. Four shot attempts, one takeaway and looked solid for the most part. Turned the puck over a couple of times and you have to expect that from young people.
No. 25 LD Darnell Nurse. 0-1-1, 18:10. He was the combination of skill and chaos we have come to expect. Skated well, didn't make enough good decisions with the puck to be projected into a two-way role. That said, he was the best Edmonton defenseman in the capital last night, despite some giveaways. Nurse can transport the puck with aplomb and defended pretty well, the major item being failure to clear the puck out during a marathon PK shift.
No. 79, LD Dillon Simpson. 0-0-0 -1, 18:04. Played the third most minutes among the Calgary group. Three minutes on the PK. Three shot attempts, delivered his usual quiet, effective game.

No. 47, LD Keegan Lowe. 0-0-0, 17:29.

 One hit, one block and over four minutes on the penalty kill. He was listed as third pair but played enough to rank second pair on the evening. I was curious about where he was slotted (third pair) and remain perplexed about why he didn't play more last night. You run the hell out of your top pairing and don't get a long look at your bubble men? This makes no sense to me.
No. 89 LD William Lagesson. 0-0-0 -1, 16:31. He didn't play a lot but was effective in limited usage. Lagesson got sent out after the game but showed well during camp. I had him No. 16 on my Winter Top 20last December, he is exactly the player type (defensive defender) who gets underrated without viewings. I like him.

No. 81, LD Yohann Auvitu, 1-0-1, -1, 15:54.

 He was noticeable in the time I saw him, very mobile and he's confident with the puck. I'm curious why he didn't play more. Injury? I think he has an excellent chance to make the opening night roster.
No. 92, LD Ziyat Paigin. 0-0-0, 11:48. His playing time was a surprise, I wonder if his early game performance dictated sheltering him the rest of the way. Paigin is going to take some time to figure out positioning on the smaller surface, he doesn't drive his mark to the outside very well.
RIGHT DEFENSE
No. 6, RD Adam Larsson. 0-1-1 +2, 26:28. Played an insane amount, over 10 minutes on special teams and that's crazy for preseason. Two shots, one block. He got beaten late by Dillon Dube but looked calm, cool and collected otherwise in the portion of the game I saw.
No. 74 RD Ethan Bear. 0-0-0 +2, 18:40. I was impressed by his  play. Three shot attempts, one blocked shot, he didn't have any mobility issues to my eye. He is a fine passer, didn't get a chance to use his shot at all but distributed the puck well.
No. 62 RD Eric Gryba. 0-0-0 16:46. He looked slow and chased at times, but also displayed veteran presence. Two takeaways, three blocked shots, I would say he helped his goal of becoming the 6D out of camp.

No. 5 RD Mark Fayne 0-0-0, -1 14:53.

 Three blocked shots, lots of PK time, I like his calm, veteran feet and look forward to seeing him shine in Bakersfield. Some rumblings among msm that he's in better shape and has a chance to make the big club but I don't think Todd McLellan trusts his boots.
CENTERS
No. 29, C Leon Draisaitl. 0-1-1 +2, 18:56. He was the best player in the Calgary game. One shot, three takeaways, he was strong on the puck and looked quick to me. He's a bull with skill, played with some real edge last night. Leon's a prick, I mean that as a compliment.
No. 93, C Ryan Nugent-Hopkins. 1-0-1, 17:54. His goal was a fluke but it counted. Over seven minutes on the power play, that unit wasn't as tight as you would like. He was 56 percent in the dot, skated miles and was on the good side of the puck often.

No. 55, C Mark Letestu. 2-0-2, 17:31.

 He scored twice by doing what he did all last season, hanging around in the good spots and offering a quality target. Letestu was 57 percent in the dot, had a takeaway and a blocked shot, and performed extremely well.
No. 97 C Connor McDavid. 0-2-2, 17:03. He was 60 percent in the faceoff circle, had several brilliant moments and defended well (he was down low all night in coverage). He's perfect.
No. 22, C Chris Kelly. 0-0-0 14:49. Two shots, one takeaway and five minutes on the penalty kill. I didn't see much of him. He was only 41 percent (nine of 22) on the dot.
No. 24, C Brad Malone. 0-0-0 12:51. One shot, 60 percent on the dot (three of five), one blocked shot and over three minutes on the PK. He seems destined for Bakersfield.
No. 28, C Grayson Downing. 0-0-0, 11:20. Had some good looks and covered pretty well, I'd like to see him get another game. Only 2-7 in the faceoff dot. He was one of his team's top forwards in even-strength ice time (the skill was on the power play), managing three shot attempts and a takeaway.
No. 45, C Joe Gambardella. 0-0-0, 10:31. One shot, one takeaway, he took two penalties on a night when looking at someone funny got you a trip to the box. He got limited time but had good moments. I would like him to be more involved in the game, he has enough speed to insert himself often. Probably just getting a lay of the land.
LEFT WINGERS
No. 84, L Joey Laleggia. 0-0-0, +1, 16:37. He skates well, didn't get a lot of good looks on the evening but should get a few more games. A solid night, two blocked shots. I hope he gets another game.
No. 19, L Patrick Maroon. 1-2-3, 16:10. Maroon has a sixth sense around the net, he scores a lot of what they used to call 'garbage' goals. They stopped calling them garbage goals around the time of Steve Shutt, and good that they did. Maroon was quality, as usual.
No. 27, L Milan Lucic. 0-1-1 +2, 16:00. He looked quicker and under control, although there were a couple of errant passes. Two shots, lots of 5×4 time. He was good.
No. 16, L Jujhar Khaira. 1-0-1 15:31. He scored a goal, had multiple chances and continues a strong run early in training camp that began on day one. Khaira is a bubble player who is waiver eligible, and helping his cause. Saw time on PP and PK.
No. 15, L Mitch Callahan. 0-0-0, -1 15:06. He played three minutes each on both special teams, showing his range. Uphill to make the big team, but showing an ability to help in multiple ways.
No. 46, L Ryan Hamilton. 0-0-0, 14:26. He was noticeable along the wall, played more than expected (probably because of the score).

No. 52, R Patrick Russell. 0-0-0, 12:26.

 I thought he had some good moments, he is a bigger winger and kept the puck heading in a good direction during 4line minutes. Led the team's forwards in EV ice time, 10:18.

No. 41, L Evan Polei. 0-0-0, 7:43

. It's a big compliment to him getting a game in, he had a shot on goal and played his gritty style. I think he could get an NHL contract in the next 12 months.
RIGHT WINGERS
No. 98 R Jesse Puljujarvi. 0-0-0, +1, 16:52. He had two shots, six shot attempts but what I noticed was his two takeaways and effective play without the puck. He had a couple of awkward shots on the power play, and looked frustrated and then less effective in the offensive area. I know he's going to be a fine player, just a matter of where he lands on the depth chart. I think he's a two-way winger, ladies.
No. 18, R Ryan Strome. 1-1-2, 16:06. Five shots on goal, that's exactly what the Oilers need from him. He had plenty of chances, I think you'd have to give him a passing grade on the evening. He did have a giveaway and you'd like to see more pressure 5×5 for his line but these are early days.

No. 56, R Kailer Yamamoto. 1-1-2, 15:45.

 He had two shots, one takeaway and a productive evening. Yamamoto has a lot of skill, something Edmonton needs at his position. He'll likely get another game. I have been saying since mid-summer the danger with this player is that he eclipses the other hopefuls because of superior skill. We have miles to go, but one of the things Peter Chiarelli has to be thinking about today is the gathering storm around JP and Yamamoto. How can he send the kid down when he shows this kind of skill? What does that do to Puljujarvi, who struggled? Bah.
No. 44, R Zack Kassian. 0-0-0, 15:40. He was up to his usual last night, skated well, had a mini-breakaway and got some special teams time. Led the team (along with Laleggia) with three hits and had one takeaway.
No. 91, R Drake Caggiula. 2-0-2, +1 15:18. He continued his positive march toward a role as an NHL regular on a skill line. Popped two goals and played a lot on both special teams. This is the game I hoped for Jesse Puljujarvi. If wishes were horses, beggars would ride. Needs to play a little more safe in the neutral zone.
No. 8, R Ty Rattie. 0-0-0, -1 13:05. He saw plenty of power-play time (everyone did, it seems) but couldn't cash. I didn't see a lot of the Calgary game, but he battled in the offensive zone along the way and kept the puck moving.

No. 26, R Iiro Pakarinen. 0-1-1, 13:04.

 He played a lot more than I thought he might, coach McLellan clearly likes what he brings. He played nine minutes at evens, more than most of the skill players.

No. 72, R Greg Chase. 0-0-0, 10:04.

 He was solid on the forecheck, took care of the puck for the most part and worked hard in the part of the game I saw him.
CERTAIN OILERS

Barring trade or injury, this group of 18 (plus

Darnell Nurse

) should be flying to Europe in a few weeks.
By Wednesday morning, we should be able to start talking about a far smaller group of hopefuls still in camp.
Vulnerable to trade?

Zack Kassian

is one, the presence of

Alex Chiasson

makes him expendable.
UNCERTAIN OILERS

Pontus Aberg

and

Alex Chiasson

have been receiving much of the early attention, Edmonton needs wingers.
The absence of Nurse brings all of the defenders into the mix, I'm very close to adding

Caleb Jones

to this list as well.
The chances of Edmonton starting the season with three goalies is strong. I believe Matty mentioned the league allows it for the Sweden game, but there's a chance the club runs three until they know exactly what they have in Koskinen.
THE DISTANT BELLS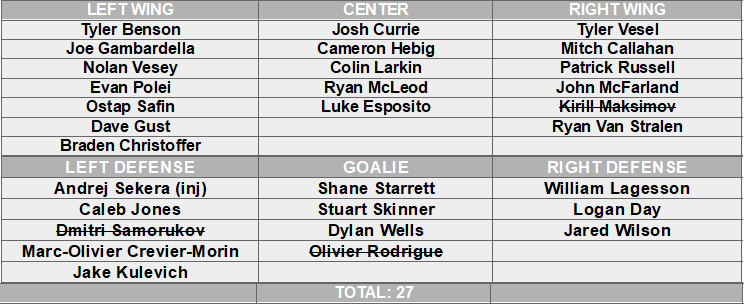 Three names sent on their way yesterday,

Olivier Rodrigue

 was a recent draft pick and no surprise.

Kirill Maksimov

had a disappointing camp, perhaps expectations for this player were too high. That said, reading too much into the last 10 days would be foolish. He remains a solid NHL prospect.

Dmitri Samorukov

is in the same position, he was a day late and a dollar short on many sorties and that's going to need some work. It shouldn't diminish your overall view of the player, we'll see him back here again next year.

Ryan McLeod

hanging around is a positive arrow for the speedster, Bob has mentioned he thinks the young center might get a couple of games in preseason. Music!

Tyler Benson

has shown well so far, his game tonight or tomorrow will be the first time the Oilers have had a look at him as a pro pushing for the NHL. I know they like him a lot, wonder if he survives the first cuts.
Most of these names are likely to be reassigned by Thursday.
LOWDOWN WITH LOWETIDE
We're back and this is the week where things get interesting. We'll watch the waiver wire and talk about the season to come. At 10 this morning, TSN1260, scheduled to appear:
James Mirtle, The Athletic. We begin our tour of the Atlantic Division with the Maple Leafs, a team poised to push for Stanley. Is this the best Toronto team since Pat Quinn's crew at the turn of the century? The Pat Burns Leafs? Or is this team the best since Roger Neilson's group?

Derek Taylor, TSN.

Mr. Details on the CFL drops by and talks about a fascinating CFL weekend. The Eskimos got a break, can they take advantage? And does Johnny Football get the start for Montreal against Winnipeg on Friday?

Jason Gregor, TSN1260's The Jason Gregor Show.

Camp surprises, Nurse deal, preview of tonight's preseason lid-lifter.
10-1260 text, @Lowetide on twitter. Talk soon!