Jesse Puljujarvi scored early and played well all night long. He showed power and finesse, combined with good boots and rugged play (even threw in some 'pushing and shoving' for good measure). A team can't count on all of its prospects to arrive right on time, but this one, the mannish boy, is more man than boy this time, perhaps for the first time. Hallelujah, amen. It is a big damned deal.
THE ATHLETIC!
It's almost here! Next Monday, September 24 you are invited to a party at The Rec Room (south side). The Athletic Edmonton group would love to meet you, chat about the new Darnell Nurse contract and the team in general. You can register (we need to know how many are coming, just like your Mom at Christmas) in the link below.
The Athletic Edmonton lineup will be there, including Daniel Nugent-Bowman and Jonathan Willis. Eric Duhatschek will attend! I'll be there to make sure everyone uses a coaster, and I'd love to see you there. If you haven't subscribed yet, now's your chance. Special offer is here, less than $4 a month!
LAST NIGHT GAME NOTES
Oilers lost the possession battle in the first and second period last night, but Cam Talbot was brilliant and right wingers were scoring at will. The overall 5-on-5 possession battle (24-36 Corsi, 40 percent) showed the Oilers were chasing more than they should have been, while 5-on-5 shots (20-19 Van) and high-danger chances (9-6 Van) were perhaps a better reflection than the overall flow of play. Some bad penalties were also part of the mix, but if you're looking for good arrows, the skill right wingers and goalie Talbot are the headlines.
GOALIES
Cam Talbot.

Stopped 22 of 23, .957 and 1.50. If you were hoping to see the No. 1 goalie announce his presence with authority, your wish came true last night. He made a memorable save late in the first period and looked calm elsewhere. Impressive preseason debut.

Al Montoya.

Stopped 13 of 14, .929 and 3.00. Looked calm, he had significant work for 20 minutes of icetime. Debut this season solid, plenty of work to do.
DEFENSE
Garrison-Benning

went 5-5 Corsi in 10:28, 2-0 in GF and 5-4 in shots. I thought Benning was the team's best defenceman on the night. Went 1-2 in 4:13 against Eriksson-Horvat-Dahlen, 2-4 in 3:34 against Baertschi-Pettersson-Goldobin.

Lowe-Jerabek

went 7-9 in 10:54, 0-0 in GF and 3-3 in shots. Jerabek showed some good moments, but his partner (Lowe) had a poor night (hitch in his giddyup several times). Impossible to get a read on Jerabek from last night's game imo, as Lowe was unable to make plays. Pair went 3-8 in 5:00 against Leipsic-Gagner-Virtanen.

Jones-Russell

went 7-13 Corsi 5-on-5 in 14:07, making them the No. 1 pairing in terms of even-strength time on ice. That's a big step up for Jones and he had some good things going. Scored a goal, pairing was 7-7 in SF (Russell is the one defenceman who ends up looking better in straight shots for-against than in Corsi). Went 3-8 Corsi for 5-on-5 in 5:48 against Schaller-Granlund-Motte, I believe the Horvat line was No. 1 and Vancouver ran that trio against Russell-Jones the most (1-3), including a miserable sortie defended by Jones on the Horvat goal. That's what learning looks like. I like Jones a lot and he did some good things last night. Suspect he'll see the NHL at some point this season.
NHL.com and NaturalStatTrick.
FORWARDS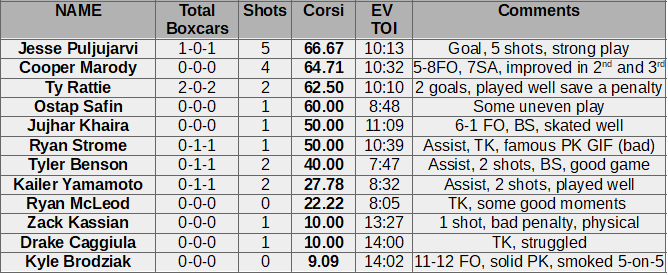 Khaira-Strome-Puljujarvi

went 8-5 in 8:37 and looked solid as a unit. They were 8-2 in shots, 2-0 in goals and the Finn was the best player on the line. Strome was schooled by Pettersson on a fabulous play, suspect the GIF will run for years on the coast. JP's goal was a little soft, but the power move to get clean air for the shot was big league. He was physical, consistent and the best thing to come out of last night's game. Khaira gives the line a rugged winger who can win faceoffs, win battles and move the puck smartly. Line went 5-2 in five minutes against Hutton-Tanev, the Canucks top pairing.

Safin-Marody-Rattie

went 10-5 in 8:55 (Rattie and Marody), 5-4 in 7:34 (Safin and Marody) and 4-1 (Benson-Marody-Puljujarvi) on a strong night for several youngsters. Safin was pedestrian but the possession number is good, Marody emerged in the final 40 minutes and looked quite good, and Rattie was splendid save for a third-period penalty 500 miles away from home. This was a good night for all three men, although Safin was sent out postgame.

Benson-McLeod-Yamamoto

went 4-13 in 7:43, 2-6 in shots for. Most of the damage came during one shift against Gagner, I counted five Corsi's and there might have been more. All that said, I thought all three youngsters did something the coach would like. Benson got caught a little early, but he simplified his game and was more effective second half. McLeod is a revelation, he won battles, sent the puck to safe places and even had a takeaway. Yamamoto, who played a lot of hockey in 30 hours, showed gumption, skill and speed again. Good arrows despite the math. I don't think any of the three make the big club out of camp, but a fine showing in the last two games.

Caggiula-Brodziak-Kassian

went 1-10 in 12:22, it was not a good night for a veteran line. Trio was 1-6 in shots, 0-4 in scoring chances. A mess. Caggiula played more than any forward 5-on-5 and a bunch of both special teams but I didn't see a lot accomplished. Brodziak was good in the faceoff circle, worked hard on the PK. Kassian took a bad penalty and didn't spend a lot of time with the puck beyond off the boards and out. All three men need to be better. Brodziak was 0-0 Corsi against the Horvat line, that's a positive. Went 0-4 against Gagner's group, 0-4 against Granlund and 0-2 against Pettersson. Quite a night. If I'm Caggiula, I hear footsteps.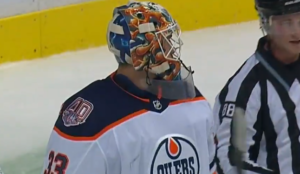 CERTAIN OILERS
The depth chart looks far better with

Darnell Nurse

on left side blue.

Jujhar Khaira

appears to have the early edge on

Drake Caggiula

for No. 3 left wing, an encouraging sign. I'm not certain we thought that to be true a month ago.

Jesse Puljujarvi

and

Ty Rattie

helped themselves in a big way last night. It's early, but not that early, in this year's training camp.

Jakub Jerabek

played last night but I didn't get a feel for his game. I hope he plays again on Thursday.

Cam Talbot

was fabulous.
UNCERTAIN OILERS
Kailer Yamamoto

helped his cause with some fine play last night, including penalty killing work. He spent 3:49 on the 4-on-5, an interesting wrinkle.

Cooper Marody

showed well, he has some nice things. I imagine he'll get at least one more game before heading the Condors camp.

Keegan Lowe

and

Jason Garrison

struggled last night, but should get at least one more game before being optioned out (and released in Garrison's case).

Al Montoya

had a good night, his star is on the rise. Edmonton will take three goalies across the pond, and as Jon Willis said on the Lowdown yesterday, we might see Koskinen optioned to Bakersfield if the organization feels he needs to get his feet planted in North America.
THE DISTANT BELLS
A giant pile of players were optioned out last night,

Ostap Safin

heading back to junior. His injury reduced playing time early and probably sealed his fate. Hopefully he gets traded to a stronger QMJHL team in the coming days.

Logan Day

impressed the hell out of me.

Ryan McLeod

is the lead story here, he and Evan Bouchard junior players still hanging around. McLeod's presence on the roster as we prepare for fall is impressive.

Caleb Jones

would be my top choice to move up to 'uncertain' from this list. He has accomplished a lot in this training camp.
LOWDOWN WITH LOWETIDE
A lot of chatter today, beginning at 10 on TSN1260. Don't forget the waiver wire, scheduled to appear:
Bruce McCurdy, Cult of Hockey

. Last night's game, and some emerging stories (McLeod, Puljujarvi, Rattie, etc).

Matt Sammon, Dir. of broadcasting for Tampa Bay Lightning

. Is this the year for the Lightning to win it all?

Keegan Matheson, Baseball Toronto

. The Jays are getting some good things from a train wreck season.
10-1260 text, @Lowetide on twitter. This is the good stuff!