After six games, the Edmonton Oilers are 5-1-0, are 19-10 in 5-on-5 goals and are tearing up the highway like a big old Cadillac. Even wayward goalie Mikko Koskinen got into the act, stopping 22 of 23 (.957) at 5-0n-5. There are 82 games that matter and we're several days from the regular season. The balance photo is safely packed away but there are some answers that look like they might just fit. It's been a good training camp.
THE ATHLETIC!
The Athletic Edmonton is going to bring it all season long. Proud to be part of a lineup that is ready to cover the coming year. Outstanding coverage from a large group, including Daniel Nugent-Bowman and Jonathan Willis, Lowetide, Minnia Feng and Pat McLean. If you haven't subscribed yet, now's your chance. Special offer is here, less than $4 a month!
Ethan Bear starting OT with McDavid and Draisaitl indicates what McLellan thought of his night. Very good performance. He's showing he's ready for a full time job. Might take a bit while they sort out Bouchard, but Bear is very close IMO

— Ryan Rishaug (@TSNRyanRishaug) September 28, 2018
DEFENSE, LAST NIGHT
Garrison-Bear went 11-9 Corsi for 5-on-5 in 13:13, 8-7 shots, 1-0 goals and 2-2-5 in offensive-neutral-defensive zone starts. I'm beginning to wonder if the Oilers are going to sign Garrison and keep both Bear and Bouchard (keeping eight blue). Bear rang a post, they were 4-5 in high-dangers, 3-4 in 4:57 against Panik-Stepan-Fischer. Bear is also much better at battles along the wall. He isn't winning them, but also doesn't get beaten quickly, suspect 'man-strength' is arriving for him. I'm encouraged by his progress.

Nurse-Benning

went 9-18 in 19:01, 3-7 in shots and 0-1 in goals (the weak item, no blame for either blue). Went 8-6-9 in zone starts, 5-6 in 7:31 against Perlini-Keller-Hinostroza. They were 3-1 in high dangers, I am increasingly convinced this is 'best available' for the second pairing. Nurse drives down that right hand side like Steve McQueen in Bullitt—it's an adrenalin rush for everyone.

Klefbom-Larsson

were 4-8 in 14:10 together, 3-7 shots, 0-0 goals and 3-2-5 in zone faceoffs. Were 3-2 in 5:18 against the Keller line. Larsson was effective defending, even after making an insanely dangerous pass to Klefbom that was intercepted for what would have been a sure goal if not for Koskinen (and Larsson, who cleared the puck away). Klefbom displayed his rocket launcher on the power play, but went walkabout in overtime and reminding me of some spaz moments from a year ago.

Koskinen

stopped 25 of 27, .926. He played well and he needed to, suspect the panic at the disco has passed for now. He made several outstanding saves in front of his teammates, suspect goalie (and coach) got their first good night's sleep of training camp.
NHL.com and NaturalStatTrick.
FORWARDS, LAST NIGHT
Nuge-McDavid-Rattie

went 12-10 in 14:43. The trio was quiet early, very loud late and a sonic boom in overtime. They were 11-5 in shots, 6-1 in high dangers. Were 2-6 in six minutes against OEL-Demers. McDavid is from the future, he's a human cheat code. There was a play last night (Oesterle?) where McDavid took two strides from a standstill and left his opponent in the dust. A shocking, shocking player.

Caggiula-Brodziak-Aberg

were 6-8 in 12:09, both wingers played better than they have in recent days (Caggiula has a medical reason). Trio was 2-2 in HDSC's, Aberg grabbed a post late in the game with the result in the balance. Is it enough? He was average during this preseason but Aberg didn't play anything close to a feature role throughout the piece. Caggiula shouldn't make the roster based on performance.

Rieder-Strome-Puljujarvi

were 5-9 in 10:39, 2-5 shots, 0-0 goals, 0-2 HDSC and 2-5-5 in faceoffs. Were the de facto No. 4 line in terms of usage, for the first time JP was the quiet man in the trio. Rieder's goal was a nice one, big goal in the game too, Strome's pass was nice but he needs to do more, has to be less vanilla.

Lucic-Draisaitl-Yamamoto

were 5-9 in 13:37, 4-6 in shots, 0-1 in goals, 1-4 in HDSC and 2-2-4 faceoffs-zone starts. Lucic-Draisaitl had real chem early, Leon-Yamamoto some late. I would like to see Leon with Jesse Puljujarvi.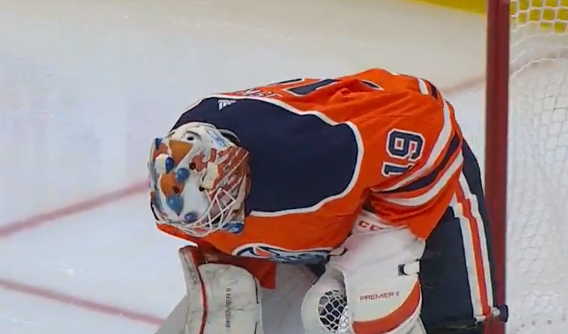 INDIVIDUAL SCORING, FORWARDS
Ty Rattie 4, 7-4-11

Connor McDavid 3, 3-6-9

Kailer Yamamoto 5, 4-3-7

Ryan Nugent-Hopkins 3, 2-2-4

Jesse Puljujarvi 5, 4-0-4

Ryan Strome 3, 0-3-3

Alex Chiasson 3, 0-2-2

Jujhar Khaira 4, 0-2-2

Milan Lucic 3, 1-1-2

Pontus Aberg 4, 1-0-1

Drake Caggiula 3, 0-1-1

Leon Draisaitl 3, 0-1-1
Some of these men delivered fabulous preseason performances and in the cases of the three primary RW's (Rattie, Yamamoto, Puljujarvi) it's an especially powerful wallop. The outsiders (Aberg, Caggiula, Chiasson) never had a chance.
INDIVIDUAL SCORING, DEFENSE
Evan Bouchard 3, 1-2-3

Ethan Bear 4, 2-1-3

Matt Benning 3, 0-3-3

Oscar Klefbom 3, 1-1-2

Adam Larsson 4, 0-1-1

Darnell Nurse 4, 0-1-1
I have been mostly impressed with youngsters Bouchard and Bear, suspect we'll see (as we did one year ago) the junior player emerge with the NHL job for nine games. Bear has taken a step though, and that's a very good thing.
INDIVIDUAL STATS, GOALIES
Cam Talbot 3, 1.50 .951

Mikko Koskinen 3, 3.68 .855

Al Montoya 1, 3.00 .929
A nice recovery from Koskinen, and with one game left I imagine we'll see Cam Talbot in the final game before heading to Europe. The beginning of this season is unusual, hopefully the Oilers can stay the course and build momentum.
JESSE PULJUJARVI
Bob McKenzie:

 "Puljujarvi scored a couple last night, and he's looking much, much better. He's continued to take steps. He continually developed last year, but he looks to me like he's going to have a big year. He's really shooting the puck again the way he did when I saw him as a 16 & 17-year-old elite prospect at the world junior championship. This guy was just shooting the puck from everywhere & scoring a lot of goals. I think maybe he's going to try to get back to that." Source
I estimated Puljujarvi at 18 goals this season, that's reasonable. If he scores 20, that's in the range of reasonable. If JP hits 25, we are looking at something beyond what we could reasonably expect. He has averaged 14.69 shots per 60 at 5-on-5 this preseason (1.57/60 a year ago). This has the look of a giant leap, but let's not get ahead of ourselves (as I absolutely get ahead of myself).
LOWDOWN WITH LOWETIDE
At 10 this morning, TSN1260, we're heading for the weekend and the final Saturday without regular season NHL hockey this fall. Scheduled to appear:
Steve Lansky, BigMouthSports

. Bob Cole's final turn.

Jeff Paulus, FC Edmonton head coach.

Eddies season tickets are available soon, and a big match (AlClassico versus Calgary's CalvaryFC) goes tomorrow.

Matthew Iwanyk, TSN1260.

Eskimos massive game tomorrow, we welcome Matt back from his vacation.
10-1260 text, @Lowetide on twitter. Talk soon!