Blame it on Larry Mavety. I believe he was in the hockey preview magazines every fall, as an NHL hopeful for one team or another. In modern times, you'd get quite a bit of information on a depth defenseman like Mavety ("prospect-stats.com has him No. 5 in the AHL in even-strength points and No. 2 in power-play points among blue") but back then it was something like "Larry Mavety is also available" and that's all she wrote.
I love watching prospects find their way to the NHL, especially the opening night roster. Evan Bouchard, Kailer Yamamoto and Ethan Bear will all sail far beyond Larry Mavety (who didn't make the NHL but emerged as a solid player in the WHA) and their journey begins now. It's hockey's annual renewal, young men arriving and finding their place. It is a wonderful circle of life.
THE ATHLETIC!
The Athletic Edmonton is going to bring it all season long. Proud to be part of a lineup that is ready to cover the coming year. Outstanding coverage from a large group, including Daniel Nugent-Bowman and Jonathan Willis, Lowetide, Minnia Feng and Pat McLean. If you haven't subscribed yet, now's your chance. Special offer is here, less than $4 a month!
New Lowetide: Is this the year an Edmonton Oilers player wins the Calder Trophy?
New Daniel Nugent-Bowman: Evan Bouchard enlists former figure skater to help improve a weakness in his game.
New Jonathan Willis: Mikko Koskinen temporarily triumphs over Al Montoya, but the real battle for the backup role has just started
New Eric Duhatschek: Milan Lucic has made changes to try and get his swagger, and scoring touch, back.
Jonathan Willis: What does the preseason performance of Jesse Puljujarvi and Kailer Yamamoto mean for the Oilers?
Lowetide: Impressive Cooper Marody preseason could lead to NHL recall.
Lowetide: Oilers farm system beginning to resemble the real thing
New Lowetide: RE 18-19: Cam Talbot is key to Oilers success in 2018-19
Lowetide: RE 18-19: A case for the defence.
Lowetide: RE 18-19: Ryan Strome and the Oilers long journey to competent third and fourth lines
Lowetide: RE 18-19: Leon Draisaitl and the pursuit of a second outscoring line in '18-19
Lowetide: RE 18-19: Can the McDavid line lead the 2018-19 Oilers to the playoffs?
STILL OILERS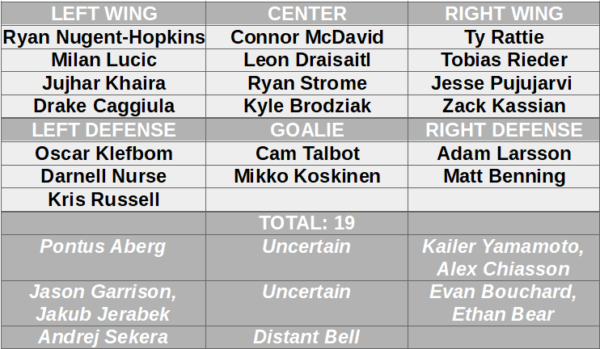 The roster is mostly set but there are some questions entering the final North American game of preseason (this afternoon's contest). Jakub Jerabek was on the Certain list, partly because of his contract, but he hasn't been good enough and that may mean Jason Garrison gets a contract. It's also possible the team carries eight blue, and that Kailer Yamamoto heads to Bakersfield. Don't forget about waivers. One thing I believe we can put into the 99.9% sure category:
"If we were to decide the team today, he would make the team for his 9-game test period." Chiarelli on Bouchard #Oilers

— Jason Gregor (@JasonGregor) September 28, 2018
I think that gives Bouchard the edge over Bear, and that makes sense because the 9-game run for Bouchard would give Bear a chance to gain a little more experience in the AHL. I have been surprised by Bear's solid defensive play (the offense is assumed) and there's a sliver of a chance they keep both, but in this moment it's important to remember seasons past when we weren't having this conversation due to lack of depth. These are better days.
WAIVERS
G Zane McIntyre, Boston Bruins

. I doubt it happens, but Chiarelli drafted him for the Bruins in 2010. Posted a .914 save percentage in the AHL last season, he was 2, 2.38 .894 during preseason.

L Nicolas Kerdiles, Anaheim Ducks

. Has 22 goals in his last 76 games (over two seasons) and his scouting report contains some power forward elements.

L Dennis Everberg, Winnipeg Jets

. Big winger who has decent speed (and like Kerdiles) some power-forward bullet points. Don't know if he can score but he fits the Chiarelli template.

LC Brendan Gaunce, Vancouver Canucks

. Former first-round selection, has size and two-way ability. Skating is an issue.

LC Peter Holland, New York Rangers

. He's found a way to hang around the NHL since 2011-12, and one suspects he'll spend time in the league again this season. Has a nice range of skills, Edmonton could use him I believe as an extra forward.
CURRENT CONDORS

Rookie pro players to watch are Tyler Benson, Cooper Marody, William Lagesson, Stuart Skinner. That's your future in terms of new arrivals.
Recall options include Caleb Jones, Kevin Gravel, Keegan Lowe, Al Montoya, Josh Currie, Brad Malone, Joe Gambardella and Patrick Russell.
https://twitter.com/SteveBurtch/status/1045890640532299776
This is a player I would love to see Edmonton acquire in the coming days. Inexpensive contract, solid offensive ability, plug and play. I imagine Toronto will find a way to keep him, they always do, but Leivo is a good hockey player who needs 500 at-bats. Edmonton has the opportunity.
KOSKINEN NMC
Jason Gregor broke news on his show yesterday, Peter Chiarelli telling him Mikko Koskinen has a no movement along with $2.5 million on his one-year deal. I don't really care about a NMC on a one-year deal, and the money is dear but the general manager was in search of a potential replacement for Cam Talbot beginning 2019-20 (Talbot may price himself out of Edmonton's market, much like Curtis Joseph 20 years ago).
As an idea, I have no quarrel, but do wonder about the ability of this team to assess talent at the pro level. Is Mikko Koskinen (.937 save percentage last season) a better NHL goalie than Anders Nilsson (.936 in the same league the year before he played for Edmonton)?
I think offering a $2.5 million, one-year, no movement contract to a future No. 1 goalie is a fine idea, but the Oilers own past makes me wonder if they made the right choice. They got it right 2006 deadline with Dwayne Roloson, Mathieu Garon had a solid year, Nikolai Khabibulin couldn't stay healthy. Ben Scrivens had his moments, Anders Nilsson okay, Jonas Gistavsson a misstep, Al Montoya not good enough.
The problem is you develop a past. We owe Mikko Koskinen his 500 at-bats and we are about to see about him.