The Edmonton Oilers ran their preseason record to 6-1-0 Sunday afternoon, winning over a strong group of Calgary Flames after a laggardly start. Based on performances, I'd say Kailer Yamamoto made the team, Evan Bouchard too. The rest? Too soon to know.
THE ATHLETIC!
The Athletic Edmonton is going to bring it all season long. Proud to be part of a lineup that is ready to cover the coming year. Outstanding coverage from a large group, including Daniel Nugent-Bowman and Jonathan Willis, Lowetide, Minnia Feng and Pat McLean. If you haven't subscribed yet, now's your chance. Special offer is here, less than $4 a month!
DEFENSE, LAST NIGHT
Jerabek-Bouchard

went 6-8 in 7:19, 3-6 shots and 1-0 goals.

Klefbom-Bouchard

went 5-1 in 5:49, 3-1 shots and no goals. I thought

Bouchard

played a strong game, he marked his man defensively very well, and moved the puck expertly too. Had one moment where McDavid came around the net and drove in for a great shot when 97 sent him the puck. He's learning on the job, will it be enough? I suspect he gets at least nine games.

Jerabek

 had a better game, and spent four minutes on the 4-on-5 PK without a goal going into the net. Is it enough? We'll find out.

Klefbom-Larsson

went 2-6 in 4:10, 0-3 in shots, no goals. Larsson struggled before he left, one wonders if he was comfortable.

Klefbom-Bouchard

(stats above) was a surprisingly successful tandem considering Bouchard's lack of experience.

Klefbom-Benning

went 2-3 in 4:37, 2-1 shots. I liked Klefbom's game, didn't get to see Larsson much.

Nurse-Benning

went 4-15 in 11:31, 3-10 in shots and 0-2 in goals. Part of the problem was time spent with Draisaitl (more later) but both men lost their marks and were exposed at times during the game. I'm still onboard with the pairing but they need to tighten up (and not lose the high forward). Nurse also went 3-9 with Jerabek.

Cam Talbot

stopped 40 of 43, .930. He was splendid, stone cold in the third period off (I believe) Dube.
NaturalStarTrick and NHL.com.
FORWARDS, LAST NIGHT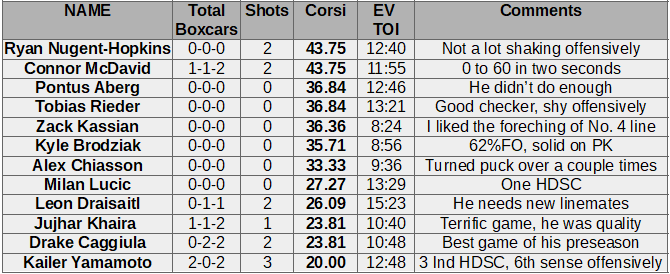 Nuge-McDavid-Rieder

went 7-9 in 11:16, 5-4 shots and 0-1 goals. Most of 97's offense came on the power play but he did have a HDSC at 5-on-5. Nuge has been quiet offensively for a few games, wonder if Todd McLellan is thinking of pulling a switch the game before opening night. The line didn't play much, notice the totals of each trio.

Chiasson-Brodziak-Kassian

went 5-8 in 8:10, 1-6 shots and no goals. I liked this group on the forecheck, wonder if Chiasson would be able to make more plays on his natural side. These three spent over seven minutes (combined totals) on the penalty kill.

Caggiula-Khaira-Aberg

were 5-14 in 8:54, 4-8 in shots and 1-0 in goals (Yamamoto onboard, Aberg had shuffled up). Despite the possession numbers, I thought Caggiula and Khaira had their best games. The goal involving McDavid helped but for me they seemed to be involved in more plays and pushing into the offensive zone. Aberg was, to my eye, not a major factor.

Lucic-Draisaitl-Yamamoto

were 6-16 in 12:03, 3-8 shots 0-1 goals (Lucic) and 3-10, 1-4 shots and no goals (Yamamoto). Leon had zero 5-on-5 points and just two individual high danger scoring chances in over 50 minutes of preseason.
REMAINING QUESTIONS
I have several, beginning with the No. 2 line. I understand the idea of being patient with Leon Draisaitl this fall, but the organization also has a responsibility to give him the best chance to succeed. I'd be very tempted to move Jesse Puljujarvi up, or grab Josh Leivo today, via trade, and run Rieder-Draisaitl-Leivo on the second line.
I'm also wondering about the defense, including Adam Larsson, the Nurse-Benning pair and what Russell-Bouchard might do against Taylor Hall in the opener.
The Oilers got plenty of good answers this fall, including a rocking goalie performance from Cam Talbot, a No. 1 line that scorched all comers, and three unproven right wingers focused on proving themselves early and often.
Good arrows. Still questions. This is the life of a building team. I am still convinced the team made the right call in keeping No. 10 overall, Oscar and the Nuge.
PROJECTED OPENING NIGHT ROSTER
Ryan Nugent-Hopkins—Connor McDavid—Ty Rattie

Milan Lucic—Leon Draisaitl—Kailer Yamamoto

Jujhar Khaira—Ryan Strome—Jesse Puljujarvi

Tobias Rieder—Kyle Brodziak—Zack Kassian

Drake Caggiula—Alex Chiasson

Oscar Klefbom—Adam Larsson

Darnell Nurse—Matt Benning

Kris Russell—Evan Bouchard

Jason Garrison

Cam Talbot (Mikko Koskinen)