This is an important day in the NHL calendar. All teams must submit to mandatory cap compliance on opening day rosters which are due at 3pm Edmonton time. As things stand this morning, the Oilers are at 25, with Andrej Sekera headed for the LTIR. There's a possibility the two PTO's get signed in the hours after compliance, with Sekera safely landed on the injured reserve. It's also possible we see a trade today in an effort to achieve greater roster balance.
THE ATHLETIC!
The Athletic Edmonton is going to bring it all season long. Proud to be part of a lineup that is ready to cover the coming year. Outstanding coverage from a large group, including Daniel Nugent-Bowman and Jonathan Willis, Lowetide, Minnia Feng and Pat McLean. If you haven't subscribed yet, now's your chance. Special offer is here, less than $4 a month!
WAIVERS
G Curtis McElhinney, Toronto Maple Leafs

. My belief is that McElhinney is superior to Edmonton's backup and the organization should grab this player off waivers. It won't happen (there are $2.5 million reasons why) but that's the play here, grab this goalie. In 18 games with Toronto one year ago, McElhinney's save percentage was .934. He is 35 and a short-term option.

G Calvin Pickard, Toronto Maple Leafs

. His resume is a little uneven but Pickard would be a good bet for a solid backup goalie. Posted a .918SP in the AHL a year ago.

RD Ryan Murphy, Minnesota Wild

. Fleet offensive defender who posts good offense (11-41-52 in his last 80 AHL games) while also bringing chaos defensively. He would be a player worth considering for the Oilers, but one suspects the organization is pleased with Bouchard and convinced Bear is a solid backup position. Or at least it appears so at this time.

RC Rocco Grimaldi, Nashville Predators

. He's small, smaller, smallest and is 25 now, but man I love his skill. Over his last three AHL seasons, he is averaging 29 goals per 82 games. I would love to see him get a full NHL shot.

R Sam Gagner, Vancouver Canucks

. He makes $3.150 million for the next two years, so there's zero chance Edmonton would grab him. He was part of an electric power play in Columbus but never had the speed one associates with successful smaller high-skill forwards. Has now played 770 NHL games.

L Dmitrij Jaskin, St. Louis Blues

. He makes $1.1 million so the Oilers could afford him. A fine utility option, he can play all three forward positions and is has always been on the right side of possession (one negative rel in his entire career).
COMPLETE RE (FORWARDS) 2018-19
As promised, here is my work, will pass along defense and goaltending tomorrow. I have time on ice by discipline as well, although can't imagine anyone would want to see that wall of numbers. I am projecting Connor McDavid to break on through to the other side, Nuge and Leon to pop 25+ and project five men to score between 10 and 18 goals. Last season, the top nine forwards delivered 163 goals, I'm projecting 182 for this group.
As an aside, my projections are already dead in the water. Pontus Aberg, who I was hoping to see on this team in 2018-19, is gone to Anaheim. So, it's an exercise in futility but I enjoy doing it enormously. Hope you enjoy poring over these numbers.
CURRENT ROSTER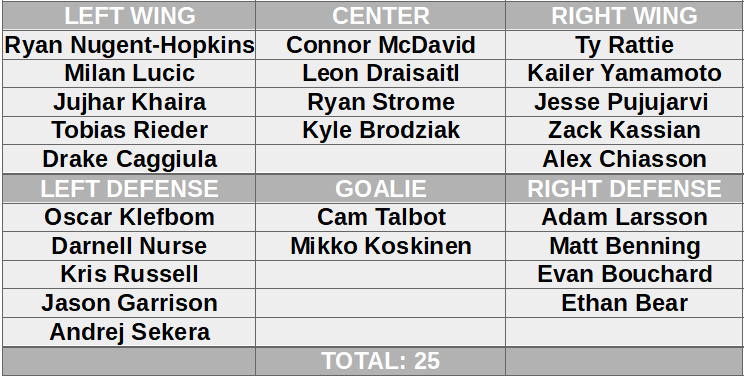 Edmonton doesn't have to move a muscle to get compliant today, the roster sits at 23 (PTO's haven't signed yet and Peter Chiarelli has $589,668 (via CapFriendly). After they are confirmed compliant, the Oilers:
Will place

Andrej Sekera

on IR in the instant after declaring.
Will send

Ethan Bear

to Bakersfield.
Will sign

Jason Garrison

and

Alex Chiasson

.
The question I have, and we should know soon, involves another transaction. Should the general manager make a deal for Alex Petrovic? He's $1.95 million this season and then hits free agency. If Garrison and Chiasson come in at $1.6 combined, that's over $3.5 million spent, three million dollars covered by Sekera's LTIR. Is it worth it? Perhaps Garrison isn't signed if Petrovic (or similar) are acquired. We're going to find out right away. I still worry about a trade that mortgages the future, a 'the call is coming from inside the house' moment just before the season begins. Probably nothing. Probably.
BAKERSFIELD CONDORS 2018-19
The AHL site has Bakersfield's roster, Stuart Skinner isn't on it and Luke Esposito was signed to an AHL deal. Here's the group:
Tyler Benson—Cooper Marody—Tyler Vesel

Joe Gambardella—Josh Currie—Patrick Russell

Dave Gust—Brad Malone—Mitch Callahan

Nolan Vesey—Cameron Hebig—Evan Polei

Braden Christoffer—Luke Esposito—John McFarland

Kevin Gravel—William Lagesson

Ryan Stanton—Caleb Jones

Keegan Lowe—Logan Day

Jake Kulevich—Jeremy Beaudry

Al Montoya (Dylan Wells)
Stuart Skinner and Colin Larkin do not appear on the roster, along with Shane Starrett and Ethan Bear who are in Germany with the NHL team.
TRANSACTIONS
Oilers dealt Jakub Jerabek yesterday, people went crazy for all kinds of reasons. If you want the truth, it goes like this: Peter Chiarelli, having learned about the Andrej Sekera injury, made an astute bet on the strongest (or near) option available. Jerabek didn't have a good training camp, the organization felt a need to move on, and PC grabbed a late draft pick in 2020. It was a reasonable set of business decisions by the general manager, worthy of no monuments but we can acknowledge it as being solid work. The one area I might be critical? Jerabek may well have been a good option, exhibition games are exactly that, and Edmonton may regret making a decision on such a small sample. However, that's nitpicking in my opinion.
The Oilers also lost Pontus Aberg on waivers to the Anaheim Ducks. I mentioned in my piece for The Athletic late Sunday it was curious the young winger didn't get any time with Leon Draisaitl during preseason. He had played well there. I believe that's a bigger item today than Jerabek but the general manager's job is to provide the coach with players he can use. Todd McLellan didn't see a way to use Aberg, we'll see how he shines in California.
LOWDOWN WITH LOWETIDE
At 10 this morning, we hit the airwaves like a full force gale. TSN1260, waiver i nformation and possibly a trade today, likely one or two signings and certainly a transaction. Scheduled to appear:
Jonathan Willis, The Athletic. Oilers cut down to 23, how much impact will the rookies have?

Scott Cullen, TSN

. MLB playoffs, CFL crazy time, NHL rosters final.
10-1260 text, @Lowetide on twitter. Talk soon!