Cologne is the fourth largest city in Germany, with a metro population of 3.5 million Schweinsteigers. Although Berlin, Hamburg and Munich are larger (and more famous) there is much to admire about Cologne. The city's history is stunning, you could get lost in it and never find your way back to the 20th century, let alone this one. The Rhine floods routinely, soccer rules the day and beer runs freely from dawn to dusk and beyond. City council boasts two members from "The Good Ones" which sounds adorable and I'm not going to pursue knowledge because it'll just ruin it when they aren't an old married couple who ride bikes and sing 99 Luftballons. Cologne is lovely, and the home of Leon Draisaitl, Edmonton's brilliant young schwenken. The Oilers play the town team today, Leon plays his Dad's club in the town he's known since a boy. It's a nice story, one we'll remember fondly if the Oilers can escape without a defenseman getting hurt.
THE ATHLETIC!
The Athletic Edmonton is going to bring it all season long. Proud to be part of a lineup that is ready to cover the coming year. Outstanding coverage from a large group, including Daniel Nugent-Bowman and Jonathan Willis, Lowetide, Minnia Feng and Pat McLean. If you haven't subscribed yet, now's your chance. Special offer is here, less than $4 a month!
New Lowetide: A transaction flurry as Oilers finalize 2018-19 roster
New Daniel Nugent-Bowman: Leon's time to shine. This is an amazing piece, exceptional.
Lowetide: Oilers waive Aberg, release Jerabek and stand at 25.
Lowetide: Oilers prospects Berglund, Maksimov off to fine starts
Lowetide: Is this the year an Edmonton Oilers player wins the Calder Trophy?
Daniel Nugent-Bowman: Evan Bouchard enlists former figure skater to help improve a weakness in his game.
Jonathan Willis: Mikko Koskinen temporarily triumphs over Al Montoya, but the real battle for the backup role has just started
Eric Duhatschek: Milan Lucic has made changes to try and get his swagger, and scoring touch, back.
Jonathan Willis: What does the preseason performance of Jesse Puljujarvi and Kailer Yamamoto mean for the Oilers?
Lowetide: Impressive Cooper Marody preseason could lead to NHL recall.
Lowetide: Oilers farm system beginning to resemble the real thing
New Lowetide: RE 18-19: Cam Talbot is key to Oilers success in 2018-19
Lowetide: RE 18-19: A case for the defence.
Lowetide: RE 18-19: Ryan Strome and the Oilers long journey to competent third and fourth lines
Lowetide: RE 18-19: Leon Draisaitl and the pursuit of a second outscoring line in '18-19
Lowetide: RE 18-19: Can the McDavid line lead the 2018-19 Oilers to the playoffs?
COMPLETE RE (DEFENSE) 2018-19
I published the forwards yesterday, here are the defensemen. I didn't project anyone to play 82 games, looks like that was a wise plan based on early results. The power-play points go to Klefbom and a few for Benning. Combined with the forwards, I'm projecting 249 goals for Edmonton. That's an increase of 20 goals year over year.
COMPLETE RE (GOALIES) 2018-19
I have Talbot correcting and Koskinen doing an Anders Nilsson impersonation. The Oilers, based on my projections, are about to improve in goals against by 33. I'm projecting a goal differential of +20 for the year to come. Godspeed.
OPENING NIGHT LINEUP CONFIRMED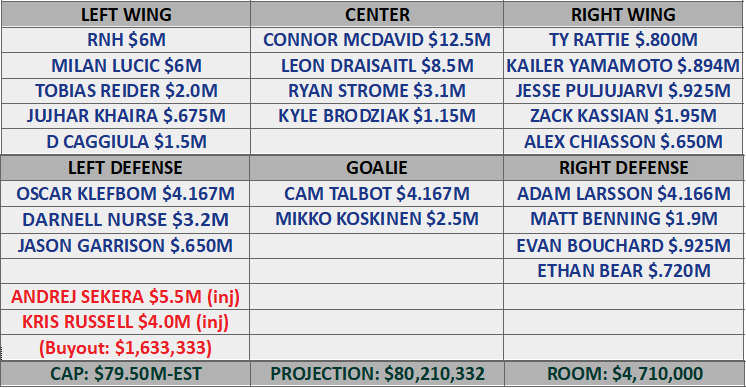 That defense being down two veterans must be a sphincter tightener for all involved, I'll bet a 2-4 Peter Chiarelli is shopping down every aisle as we speak. He did get a nice piece of the LTIR to spend, poor Original Pouzar is going to be up nights worrying about it all winter. I don't love the team but I love the fact they kept their powder dry. Almost the entire current active defense could be around for some time and right wing might be transformed a year from now (although going three for three is unlikely). I'm projecting this team to finish between 90 and 94 points, don't know if it'll be a playoff team but it should be a far more enjoyable ride in 2018-19.
TODAY'S LINEUP
Ryan Nugent-Hopkins—Connor McDavid—Ty Rattie

Milan Lucic—Leon Draisaitl—Kailer Yamamoto

Tobias Rieder—Ryan Strome—Jesse Puljujarvi

Zack Kassian—Kyle Brodziak—Drake Caggiula

Jason Garrison—Ethan Bear

Oscar Klefbom—Evan Bouchard

Darnell Nurse—Matt Benning

Mikko Koskinen (Cam Talbot)
Good information via Mark Ciampa is here, Ryan Jones and Corey Power Potterplay are Sharks and will play this morning. My first thought when looking at the defense? Oh, those Oilers.
LOWDOWN WITH LOWETIDE
We'll be live at 10 this morning, TSN1260 with a strong group of guests. Scheduled to appear:
Jeff Krushell, Krush Performance

. Baseball's playoffs can bring a city to agony and ecstasy, sometimes in the same inning. We'll set the stage with Jeff.

Kent Wilson, Flames Nation

. The Calgary Flames made a lot of changes in the offseason, determined to make the playoffs. How much better are they?

Bruce McCurdy, Cult of Hockey at the Edmonton Journal.

Our friend is in Newfoundland, we'll chat about his homecoming and the Oilers game against Cologne.
10-1260 text, @Lowetide on twitter. It's hockey day!