I mentioned yesterday there were no expectations heading into last night's game, and maybe that's why I came away with good vibrations from the loss in Boston. Edmonton won the 5-on-5 high danger scoring chances 7-4 (Natural Stat Trick), Cam Talbot stopped 26 of 27 at 5-on-5, McDavid hammered the sliver of a chance given for a goal, plus the Oilers had some great looks. That last item is the problem, ladies and men. Edmonton needs goals like Mars needs women. We're on to Manhattan.
THE ATHLETIC!
The Athletic Edmonton is going to bring it all season long. Proud to be part of a lineup that is ready to cover the coming year. Outstanding coverage from a large group, including Daniel Nugent-Bowman and Jonathan Willis, Lowetide, Minnia Feng and Pat McLean. If you haven't subscribed yet, now's your chance. Special offer is here, less than $3 a month!
DEFENSE, LAST NIGHT
Nurse-Benning

were 5-4 Corsi for 5-on-5 in 9:39, 1-0 goals, 4-1 scoring chances. Nurse was also 2-1 in 3:10 with Evan Bouchard and 4-3 in 2:25 with Adam Larsson, as Benning was the incredible shrinking man in terms of ice time at 5-on-5. Pairing was 4-3 Corsi in 3:46 against Bergeron's line (Marchand, Pastrnak). Matt Benning can't go fishing like he did against Pastrnak, that kind of thing is going to get him a night in the pressbox. Seriously.

Klefbom-Larsson

went 10-17 in 15:19, 0-1 goals and 4-10 shots. Larsson went 4-3 in 2:25 with Nurse, 5-4 in 4:04 with Kris Russell. Klefbom's best moment was intercepting a pass from the corner to the slot that was a sure goal. Larsson played the Nordstrom goal strangely, thought there might be an interference penalty but it played out. Klefbom was 4-7 in 5:39 against the Bergeron trio, Larsson was 5-10 in 7:10 against the big unit. I'm not sure if that was luck, happenstance, or McLellan just telling Larsson to jump on whenever that group entered the game, but it's an interesting wrinkle to answer.

Russell-Bouchard

finished 4-8 in 8:04 together, 0-2 in high danger. Bouchard has a giant brain, it's wonder he can carry that thing around all day. Honestly, he's impressive. Great passing, improves positioning shift by shift. Very nice. I don't think he plays past nine games but he's the best rookie on the team. Went 0-2 in 57 seconds against Bergeron, another wrinkle in head to head matchups. Is someone matching the defense to forwards? Bouchard needed to shoot the puck at the end of the second period on the power play with just seconds left, instead he sent an errant pass and that's all she wrote. I love his decision making though, he seems to know all available options as the puck arrives.

Cam Talbot

stopped 26 of 27, .963, at 5-on-5.
NaturalStatTrick and NHL.com.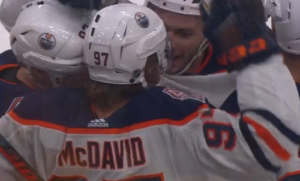 FORWARDS, LAST NIGHT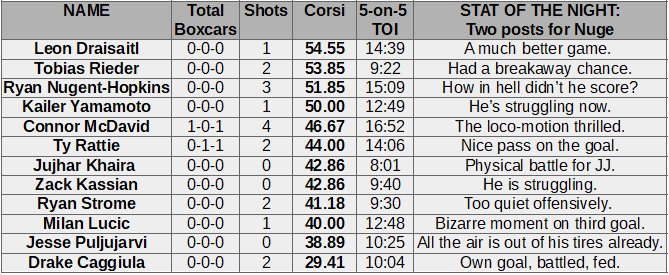 Lucic-Draisaitl-Yamamoto

were 6-9 (Lucic) and 6-6 (Yamamoto) all three on the ice for the GA. Draisaitl and Lucic both had one high danger chance, for me Leon turned it on from the second period on and played closer to expectations. I'll tell you there's some concern in this corner of the Al Gore over Yamamoto, he doesn't get to the puck much and that's his game. Quick, tight passes, give and go. Not seeing it much. Line went 4-2 in 2:22 against Chara-McAvoy. 1-0 high danger. I would like to see Rieder on RW Saturday.

Nuge-McDavid-Rattie

got the goal, nifty little pass from Rattie and the rest was 97. Were 11-12 in 14:18, 1-0GF, 1-1 high danger. Went 11-12 against Chara, that pairing marked McDavid 13:43, so all but three minutes. That was the matchup Boston pursued. McDavid made Chara look foolish a few times but the Bruins won the game. I wonder if we see a similar matchup back in Edmonton.

Rieder-Khaira-Kassian

went 3-4 in 7:10, Khaira missed quite a bit of time serving a fighting major. Rieder got some time with Draisaitl (good chance with 29) and McDavid at different points, also got a clean breakaway. 0-1 high danger. Khaira took a penalty after getting hammered earlier, you could call it selfish but for me it was barely a penalty and could easily have been a non-call.

Caggiula-Strome-Puljujarvi

were 4-10 in 8:28, 2-2 in high dangers. Caggiula did a lot to get noticed, he hit a lot of people and made some noise, including a high danger chance. There's a 100 percent chance the organization liked Caggiula's game over Pulju's. Strome was quiet offensively, Puljujarvi took another penalty that led to a goal. I don't think the coaching staff sees JP as a dynamic player. If I'm Carolina, I'd make an offer for the big Finn this morning. You never know.

High Danger Chances:

Rattie (2), Lucic (2), McDavid (1), Caggiula (1), Yamamoto (1), Draisaitl (1), Nuge (1).
OILERS IN OCTOBER
Oilers in October 2015: 0-2-0, goal differential -4
Oilers in October 2016: 2-0-0, goal differential +5
Oilers in October 2017: 1-1-0, goal differential +2
Oilers in October 2018:

 

0-2-0, goal differential -6
This is the worst start of the McLellan/Chiarelli era, but it's two games and we knew the start of the season was going to be difficult. Edmonton is finding out about its roster and what might be needed, and that has value. Talbot's 5-on-5 performance, McDavid in flight, and I did think young Evan Bouchard showed another night of improving before our eyes.
WHAT TO EXPECT FROM OCTOBER
On the road to:

 Sweden to play NJD (Expected: 0-0-1) 

(Actual: 0-1-0)

On the road to:

 Boston, NYR, Winnipeg (Expected 1-2-0) 

(Actual 0-1-0)

At home to:

 Boston, Nashville, Pittsburgh, Washington (Expected 1-3-0) (Actual 0-0-0)

On the road to: 

Nashville, Chicago (Expected 1-1-0) (Actual 0-0-0)

At home to: 

Minnesota (Expected 0-0-1) (Actual 0-0-0)

Overall expected result:

 3-6-2, 8 points in 11 games 

Current results:

0-2-0, 0 points after two games
Edmonton lost twice to superior teams, the game last night on the road. I do these looks at the monthly schedule because it gives us a road map for expectations. You should expect the first win of the season on Saturday. If Edmonton can't win there, I expect the whispers about Todd McLellan become audible murmurs. This schedule is basically the path chosen by the Donner party. Gordon Lightfoot's a wreck. Holy hell boys I might have to use Van Morrison lyrics before Halloween.
LOWDOWN WITH LOWETIDE
A fun Friday on the show, of course we'll talk Oilers and Eskimos. At 10 this morning, scheduled to appear:
Steve Lansky, BigMouthSports. Oilers slow start, Matthews mania.
Andrew Peard, Oil Kings PBP. The team is still playing well but the results aren't coming since the quick start.

Matt Iwanyk, TSN1260

. Eskimos can still make the playoffs in the west, but the room for error is gone.
10-1260 text, @Lowetide on twitter. Talk soon!