The Edmonton Oilers are a young team and they are not close to being balanced. Because of it, errors of youth, inexperience and lack of depth in some important areas cost them points during the season. Last night was such an example.
The special teams were poor a night ago, but the young club was beaten by a veteran group who played a disciplined game, allowed very little open ice and were demons on retrieval. If this Edmonton team is allowed to wheel, as will be the case against Chicago on Thursday, it allows them to dictate the pace and exchange chances. That's a good place for this team to be, but it's important the Oilers learn to win more than one way. Discipline, attention to detail and letting the puck do the work are lessons Minnesota taught last night.
THE ATHLETIC!
The Athletic Edmonton is going to bring it all season long. Proud to be part of a lineup that is ready to cover the coming year. Outstanding coverage from a large group, including Daniel Nugent-Bowman and Jonathan Willis, Lowetide, Minnia Feng and Pat McLean. If you haven't subscribed yet, now's your chance. Special offer is here, less than $3.50 a month!
New Lowetide: Zack Kassian market value.
Lowetide: Everything's coming up Oilers as young AHL hopefuls in Bakersfield hammer Flames' farmhands.
Lowetide: Jesse Puljujarvi gets scratched, so what's next for Edmonton's lottery winger?
Jonathan Willis: Connor McDavid finds another gear, but Oilers still lack scoring on the wing.
Lowetide: Todd McLellan finds a suitable spot in the order for Milan Lucic.
Jonathan Willis: Four reasons why the Oilers should return Evan Bouchard to junior.
Lowetide: Drake Caggiula might be hearing footsteps as the Oilers look for offence to replace injured Ty Rattie.
Lowetide: Peter Chiarelli's race against time.
Daniel Nugent-Hopkins: Asking McDavid to take on Bergeron line at home shows what Oilers are missing.
DEFENSE, LAST NIGHT
Klefbom-Larsson

had an enormously successful night (playing 15:52 together) in possession. Were 24-9 Corsi for 5-on-5, 11-5 shots and 1-0 goals. Were 6-5 in HDSC and spent 7:34 (14-4) with McDavid, meaning the pair was 10-5 without him. That's very good. Were 6-2 against Parise-Koivu-Granlund in 5:22. I'm really enjoying this duo.

Nurse-Russell

were 15-18 in 16:22, once again they played a lot and defended too much. They were 7-5 shots, no goals, 6-4 in HDSC. Russell's passing is better than a year ago, Nurse is seeing a green light too often and this pairing needs to clean that up. Both men need to hit the net with their shots. I also think they're playing too much and that brings us to the third pairing. Went 5-4 in 5:45 against Greenway-Staal-Coyle, 6-5 in 5:31 against Parise-Koivu-Granlund.

Garrison-Benning

were 7-10 in 8:46, 4-8 shots, 1-0 goals and 1-2 HDSC. I actually don't mind the pairing but Garrison's foot speed is an issue and it costs his partner time. They have to get Gravel back and we could see that sooner than later.

Cam Talbot

stopped 24 of 28, .857. At 5-on-5, he stopped 20 of 21, .952. The penalty kill cost the Oilers last night, Talbot is part of that group.
NaturalStatTrick and NHL.com.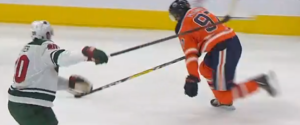 FORWARDS, LAST NIGHT
Nuge-McDavid-Yamamoto

went 20-7 in 11:55 (Nuge), 15-5 in 7:55 (Yamamoto) and 3-5 in 4:13 (Caggiula). It was 8-3 HDSC with Nuge and Yamamoto's numbers with the other two were miles better than Caggiula's time. I am not one to call out the coach for in-game decisions (he has a limited spice rack) but the flip on right-wing in the third period looked bad from the start and got worse when Caggiula took the penalty that set up the winning goal. The coach has to own that after the switch out. McDavid went 19-6 against Brodin-Spurgeon and made Suter look like Moose Vasko chasing Yvan Cournoyer in 1969.

Rieder-Draisaitl-Chiasson

were 16-9 in 10:40, 8-2 shots and 1-0 goals, 6-1 in HDSC. Folks, that's a fabulous set of numbers for a No. 2 line. This trio scored two of the three goals for the team, although Leon's goal came right after the end of a power play. Went 14-12 in 8:40 against Suter-Dumba, I'd be critical about McLellan being satisfied with this matchup but the line did well.

Khaira-Brodziak-Kassian

were 7-6 in 10:01, 1-2 shots and 0-1 HDSC. They were mostly low event (good) but you would have liked more offense from the group (just one scoring chance for the line). Went 5-4 against Suter-Dumba/Seeler. Brodziak's last shift came midway through the third period so, yeah.

Lucic-Strome-Caggiula

went 8-11 in 9:01, 2-9 shots (!!) 0-1 goals and 1-3 in HDSC. This line simply has to help out offensively. Went 6-9 against Seeler-Pateryn, 4-2 against Suter-Dumba. Yamamoto went 2-1 (1-1 shots) with Strome after he was moved down to this line, not enough to make any sweeping statements but thought you'd like to know.
OILERS IN OCTOBER
Oilers in October 2015:

 

4-7-0, eight points; goal differential -6

Oilers in October 2016:

 7-3-1, 15 points; goal differential +7

Oilers in October 2017:

 3-7-1, seven points; goal differential -12

Oilers in October 2018:

 6-4-1, 13 points; goal differential -2
It's difficult to be anything but pleased with this October effort, despite last night's game. One thing we need to be honest about: October might be the best month of the year. It's possible. Considering the tremendous difficulty of the schedule (Minnesota is a good team, but just one of many Edmonton faced during the month) the 6-4-1 record is a fantastic result. If this record held true over an entire season, the Oilers would finish something like 82, 45-30-7, 97 points. That's a quality season for this roster.
WHAT TO EXPECT IN OCTOBER
On the road to: Sweden to play NJD

 (Expected: 0-0-1) (Actual: 0-1-0)

On the road to: Boston, NYR, Winnipeg

 

(Expected 1-2-0) (Actual 2-1-0)

At home to: Boston, Nashville, Pittsburgh, Washington

 

(Expected 1-3-0)

 (Actual 2-1-1)

On the road to: Nashville, Chicago

 (Expected 1-1-0) (Actual 2-0-0)

At home to: Minnesota 

(Expected 0-0-1) (Actual 0-0-0)

Overall expected result: 3-6-2, 8 points in 11 games 
Current results: 6-4-1, 13 points after 11 games
In terms of predicting the Oilers in October, this is an epic failure. I thought at the outer marker 11 points might be possible if the team got lucky or one of the kid wingers went off (well he did, but Alex Chiasson is no kid). Nothing like this. No sir. My Dad always told me you have to man up and admit when you're wrong and this is an error. A big one.
LOWDOWN WITH LOWETIDE
At 10 this morning, TSN1260. Scheduled  to appear:
Bruce McCurdy, Cult of Hockey

. We'll talk about last night's game and the flip of Caggiula/Yamamoto.

Jon Campbell, Oddshark

. We'll look at the big college games, the Oilers chances of making the playoffs after the first month, and what the NFL trade deadline did to the Super Bowl odds.

Lorna Schultz Nicholson, author of Grit and Glory

. An impressive new book for Oilers fans, just in time for Christmas.
10-1260 text, @Lowetide on twitter. Talk soon!