I knew we were in for something special Tuesday night when, earlier in the day, reports had Connor McDavid lingering on the ice after an optional practice to "work on things" in preparation for last night's game. When the world's best hockey player sets his jaw and gets that determined look, batten down the hatches, hasten down the wind. Connor McDavid blew the doors off the Montreal Canadiens, celebrating his reunion with Leon Draisaitl by setting up his winger once for each Stanley the opposition owns over a lifetime. It happened just this way.
THE ATHLETIC!
The Athletic Edmonton is going to bring it all season long. Proud to be part of a lineup that is ready to cover the coming year. Outstanding coverage from a large group, including Daniel Nugent-Bowman and Jonathan Willis, Lowetide, Minnia Feng and Pat McLean. If you haven't subscribed yet, now's your chance. Best available offer is here!
OILERS AFTER 18
Oilers in October 2015:

 

6-12-0, 12 points; goal differential -11

Oilers in October 2016: 

9-8-1, 19 points; goal differential -1

Oilers in October 2017: 

7-9-2, 16 points; goal differential -7

Oilers in October 2018:

9-8-1, 19 points; goal differential -4
The 2018 team finally caught the 2016 playoff edition, and the goal differential corrected in a quick hurry as well. The issues that were exposed during the four game losing streak are still there, but the goaltending, second pair and secondary scoring showed up against the Habs. Quality of competition needs to be mentioned, despite its record the Canadiens had some issues maintaining the blue line last night. Then again, the Oilers were flying.
OILERS IN NOVEMBER
Oilers in November 2015: 2-4-1, five points; goal differential -5
Oilers in November 2016: 2-4-1, five points; goal differential -6
Oilers in November 2017: 

3-3-1, seven points; goal differential -2

Oilers in November 2018: 3-4-0, six points; goal differential -2
Another nice correction, the win last night coming just in time. November under Todd McLellan has been nervous norvous the entire damned time. I'm not going to predict the rest of this month, but will say the turnaround in performance game over game by this Edmonton team Sunday to Tuesday was impressive.
WHAT TO EXPECT FROM NOVEMBER?
At home to: Chicago

 

(Expected 1-0-0) Actual (1-0-0)

On the road to: Detroit, Washington, Tampa Bay, Florida 

 

(Expected 2-2-0) (Actual 1-3-0)

At home to: Colorado, Montreal

 

(Expected 1-1-0)

 (Actual 1-1-0)

On the road to: 

Calgary (Expected 0-1-0) (Actual 0-0-0)

At home to:

 Vegas (Expected 1-0-0) (Actual 0-0-0)

On the road to:

 San Jose, Anaheim, Los Angeles (Expected 2-1-0) (Actual 0-0-0)

At home to:

 Dallas, Los Angeles  (Expected 1-0-1) (Actual 0-0-0)
Overall expected result: 8-5-1, 17 points in 14 games 
Current results: 3-4-0, 6 points in 7 games
I had the first seven games going 4-3-0, so we're just a little off but a win against the Flames gets things back to do (doe). I think this period, beginning against Colorado and then through Montreal, Calgary and Vegas, will define November. Could go either way.
DEFENSE, LAST NIGHT
Nurse-Benning

had a fine evening, going 21-13 in 13:01, 14-9 shots, 3-1 goals and 5-4 HDSC. They were 12-6 in 6:04 with McDavid, meaning 9-7 without (and that's good). Both men scored goals. Went 8-7 in 7:10 against Tatar-Danault-Gallagher, it was the best night by a second pairing in some time. A key key area, if Nurse-Benning can deliver as a second pair Edmonton has a much improved chance at making the playoffs. Encouraging, miles to go.

Gravel-Russell

were 18-12 in 11:28, 8-4 shots, 2-0 goals and 2-1 HDSC. Went 1-0 with McDavid (13 seconds) so 17-12 without (!!) and that's an impressive total for a third pairing. Went 8-6 in 5:37 against Deslauriers-Hudon-Peca, looks like Julien and McLellan agreed not to get too crazy on the line matches.

Klefbom-Larsson

went 21-14 in 18:27, 10-9 shots 0-0 and 4-2 HDSC. Were 10-9 in 10:37 with McDavid, so 11-5 in 7:50 without, these are good numbers and have been (mostly) all season. Went 8-7 against Drouin-Domi-Shaw, 2-4 shots, 0-1 goals and 2-1 HDSC.

Mikko Koskinen

stopped 27 of 29, .931. There is no goalie controversy. There is no goalie controversy. There is no goalie controversy. There is no goalie controversy. There is no goalie controversy. There is no goalie controversy. There is no goalie controversy. There is no goalie controversy. Right?
NaturalStatTrick and NHL.com.
FORWARDS, LAST NIGHT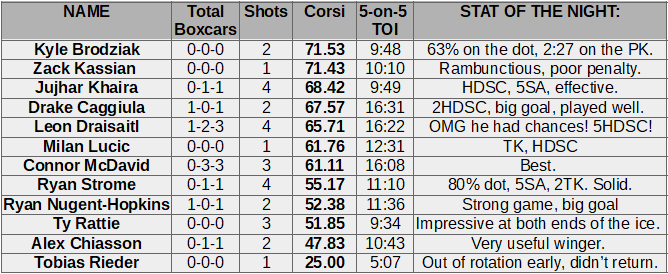 Khaira-Brodziak-Kassian

were 15-6 in 9:34, 7-3 shots, 1-1 goals and 1-1 HDSC. The only glaring item I saw was Khaira not anticipating the Hab coming out of the penalty box and a moment later Domi sniped the first Montreal goal. Kind of a fluke play. On the other hand, the entire line (plus Gravel and Russell) touched the puck on the Russell goal late in the game. It was nice to see, although Khaira was the only forward who got a point.

Caggiula-McDavid-Draisaitl

went 22-12 in 15:07, 14-8 shots, 3-1 goals,  7-4 HDSC. McDavid was setting up Leon all night using everything but the score clock. Honestly, it was kind of insane how many chances didn't go in the net. Could Leon have scored five? Yes. Yes he could have. Went 12-6 in 10:31 against Schlemko (poor guy, 97 slipped him like the pickpocket in Oceans Eleven) and Petry. Supreme night.

Rieder (3-6)/Lucic (4-2)-Nuge-Chiasson

went 10-9 in 9:12, 3-7 shots, 1-0 goals and 2-2 in HDSC. Line settled down nicely with Lucic on it, were more effective that way in my opinion. Went 6-5 in 6:07 against Reilly-Juulsen. No report after the game on Rieder, beyond the fact not returning is in indication we might be looking at something substantial (via Todd McLellan).

Lucic-Strome-Rattie

went 16-10 in 9:49, 10-4 shots, 1-0 goals and 2-0 HDSC. I liked the line, good things happening and they worked hard to keep things going in the right direction.Went 8-3 against Benn-Mete. Strome is starting to gather points here and there now has a goal and an assist in recent games.
STATS
Connor McDavid

has moved up to No. 1 in the overall scoring race.

Leon Draisaitl

is No. 7 in NHL goal-scoring.

Ryan Nugent-Hopkins

is tied for No. 36 in NHL points.

Oscar Klefbom

is tied for No. 37 in points by a defenseman.

Mikko Koskinen

is No. 20 in SP by starters (five or more games), Cam Talbot is No. 41.

Cam Talbot

is No. 28 in EV SP,

Mikko Koskinen

No. 30.
LOWDOWN WITH LOWETIDE
A fun show this morning, TSN1260, beginning at 10. Scheduled to appear:
Craig Button, TSN Opinionista, TSN Analyst & TSN Scout

. We'll talk about NHL teams and the best 'Core 4 Under 24' in the league.

Bruce McCurdy, Cult of Hockey at the Edmonton Journal

. I get to talk to Bruce after a win! That's like a holiday!
Jon Campbell, Oddshark. We'll talk Patriots Super Bowl odds, who gets Le'Veon Bell in the offseason and reporting injuries by league.
10-1260 text, @Lowetide on twitter.