I'm enjoying the "Ken Hitchcock: Mall Walker Set Free" coaching return despite the 1-1-1 record, and can't wait for episode four. There's a lot of back story this evening, we might hear the coach mention some old timey Dallas players in the pre or post ("I think Jujhar Khaira could be Mike Keane"). I'm hopeful he'll go humble verbal about the Stars in the morning, kick their asses to Texarkana during the game, frustrating Stars fans to the point of no sleep, and then go all Hitchcock of the walk postgame. Honestly, that would be sweet.
THE ATHLETIC!
The Athletic Edmonton is going to bring it all season long. Proud to be part of a lineup that is ready to cover the coming year. Outstanding coverage from a large group, including Daniel Nugent-Bowman and Jonathan Willis, Lowetide, Minnia Feng and Pat McLean. If you haven't subscribed yet, now's your chance. Outstanding offer is here.
OILERS AFTER 24
Oilers in 2015: 

8-14-2, 18 points; goal differential -13

Oilers in 2016: 

12-10-2, 26 points; goal differential +7

Oilers in 2017:

 9-13-2, 20 points; goal differential -14

Oilers in 2018: 

10-11-2, 22 points; goal differential -12
Pending tonight's results, the 2018 team has more in common with the wildly disappointing 2017 team than the 2016 playoff group. Lots of EN goals for sure, but this team has an unmistakable inconsistency we've come to expect from the modern Oilers.
OILERS IN NOVEMBER
Oilers in November 2015: 4-7-2, 10 points; goal differential -9
Oilers in November 2016: 5-6-2, 12 points; goal differential 0
Oilers in November 2017: 

5-7-1, 11 points; goal differential -3

Oilers in November 2018: 4-7-1, nine points; goal differential -10
Two games left, we could see anywhere from nine to 13 points out of the month, both disappointing totals. At the end of this season, no matter what happens, November will be remembered for costing the coach his job and at least two trades in an effort to turn the rig around. That October surprise is a distant bell.
WHAT TO EXPECT FROM NOVEMBER
At home to: Chicago

 

(Expected 1-0-0) Actual (1-0-0)

On the road to: Detroit, Washington, Tampa Bay, Florida

  (Expected 2-2-0) (Actual 1-3-0)

At home to: Colorado, Montreal

 

(Expected 1-1-0)

 (Actual 1-1-0)

On the road to: Calgary 

(Expected 0-1-0) (Actual 0-1-0)

At home to: Vegas

 

(Expected 1-0-0) (Actual 0-1-0)

On the road to: San Jose, Anaheim, Los Angeles

 

(Expected 2-1-0) (Actual 1-1-1)

At home to: Dallas,

Los Angeles  (Expected 1-0-1) (Actual 0-0-0)
Overall expected result: 8-5-1, 17 points in 14 games 
Current results: 4-7-1, 9 points in 12 games
No idea what tonight brings, the team is off the grid and at this point the only thing I'm prepared to state with authority is they won't give up 10 goals, but Tyler Pitlick will score. Dallas is a better team (12-10-2, +2 GD) but have struggled recently (4-5-1 in the last 10).
OILERS FORWARDS AFTER 23 GAMES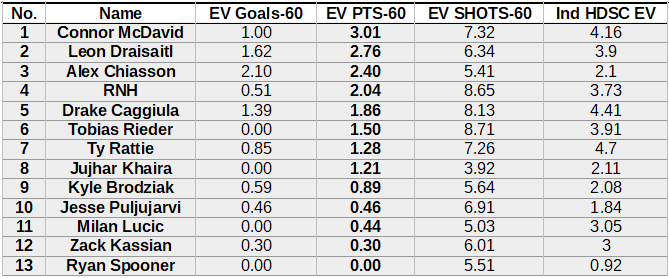 This is even-strength points, not 5-on-5, I'm using this measure in 2018-19 because McDavid and Leon do so much work at 4-on-4 and it's a big part of Edmonton's offense. There are 93 first-line forwards (over 150 minutes) in the NHL, each team should have three. There are 93 second-line forwards (over 150 minutes) in the NHL, each team should have three more. So, using my giant math brain, Edmonton should have six men inside the top 186 forwards at even-strength points-per-60:
No. 30—Connor McDavid

No. 43—Leon Draisaitl

No. 76—Alex Chiasson

No. 131—Ryan Nugent-Hopkins

No. 161—Drake Caggiula

No. 224—Tobias Rieder
Edmonton has five of six, need another legit top-six forward. As I wrote in this morning's item for The Athletic, that could come internally or externally, but Hitch is going to be pushing for a shooter. Edmonton is at 97.9 PDO, that implies a correction may come (shooting or saving) but it's really all about McDavid, and we know he won't be No. 30 at the end of the year. That's the market correction we should be looking for, along with a few more calls by the stripes on interference against the best player on the planet.
OILERS DEFENSE AFTER 23 GAMES

None of the cool kids does Corsi Rel anymore but old man Lowetide still loves looking at the league via Rel to see how the locals shine. There are 62 top pairing blue, 124 men who are safely inside the top-four defensemen definition. How many do the Oilers have?
No. 24—Adam Larsson

No. 25—Oscar Klefbom

No. 57—Chris Wideman (including both Ottawa and Edmonton)

No. 146—Darnell Nurse

No. 149—Kris Russell

No. 153—Matt Benning
The top pair (Klefbom and Larsson) look good here, as they are in fact inside the top 62 and play against the other team's best. Nurse,, Russell and Benning aren't inside the top-four, reflecting the difficulties we've seen on that second pairing. Wideman is included mostly because I was surprised at where he landed.
What does that mean? Well, the top metric for me is Dangerous Fenwick, and last season was a difficult one for the team but the club had some good performances:

This season has been more of a challenge for that second pair, but I'd be careful about casting away Matt Benning. A position can be a weak spot for the team while also being the best fix available. Terry Harper was despised by Montreal Canadiens fans, but he could defend and was miserable to play against back in the day. I hope the organization retains him. I think the organization probably lines up like this next fall:
Oscar Klefbom—Adam Larsson

Darnell Nurse—Matt Benning

Andrej Sekera—Evan Bouchard
The Oilers will continue to have growing pains on defense, but there's going to be a point, maybe next season, where these young Condors will begin pushing out veteran blue. It's a shame Bear's injury/performance means it won't happen this year.
LOWDOWN WITH LOWETIDE
We're heavy on Oilers hockey this morning, beginning at 10 on TSN1260. Scheduled to appear:
Jonathan Willis, The Athletic. Hitchcock's first week, are there more trades to come?
Scott Cullen, The Athletic. We'll drill down on both Strome deals.

Taylor Baird, Defending Big D

. We'll chat about the Stars, and Hitchcock's return.
10-1260 text, @Lowetide on twitter. See you on the radio!