Oilers fans worked themselves into a gigantic lather on Thursday night, with rat fink Dustin Brown and his band of demons breaking all the rules and never getting caught. It was a combination of the old west, Dirty Harry and three blind mice in stripes at Rogers—and the fans were beside themselves with fury. Profanity, booze, spittle and God knows what else. Welcome back, hockey that matters. Missed you. One thing the Oilers have added that I very much appreciate: World class post game avails.
THE ATHLETIC!
The Athletic Edmonton is going to bring it all season long. Proud to be part of a lineup that is ready to cover the coming year. Outstanding coverage from a large group, including Daniel Nugent-Bowman and Jonathan Willis, Lowetide, Minnia Feng and Pat McLean. If you haven't subscribed yet, now's your chance. Outstanding offer is here.
OILERS AFTER 25
Oilers in 2015:

 

8-15-2, 18 points; goal differential -14

Oilers in 2016: 

13-10-2, 28 points; goal differential +7

Oilers in 2017:

 10-13-2, 22 points; goal differential -13

Oilers in 2018:

 12-11-2, 26 points; goal differential -5
The team is 3-1-1 under Ken Hitchcock and suddenly things are looking a little better. Not out of the woods, but absolutely on the right track. The team's record now against the Pacific (2-3-1) isn't a complete disaster. Note: After consulting with Daniel Schloss, I have taken the empty net goals out of the equation. I didn't do it for the Novembers but will have that straightened out for December (we'll be there on Saturday). The new goal differential season over season places this year's team well clear of the failures while also chasing the good times.
OILERS IN NOVEMBER
Oilers in November 2015: 4-7-2, 10 points; goal differential -9
Oilers in November 2016: 5-6-3, 13 points; goal differential 0
Oilers in November 2017: 

5-8-1, 11 points; goal differential -6

Oilers in November 2018: 6-7-1, 13 points; goal differential -8
A nice recovery for this year's group, the Hitchcock recovery (3-1-1) absolutely saved the McLellan start (3-6-0). Would Edmonton have been able to deliver without the change in coach? We'll never know. What we can say this morning is that this team has a chance.
WHAT TO EXPECT IN NOVEMBER
At home to: Chicago

 (Expected 1-0-0) Actual (1-0-0)

On the road to: Detroit, Washington, Tampa Bay, Florida 

 

(Expected 2-2-0) (Actual 1-3-0)

At home to: Colorado, Montreal 

(Expected 1-1-0)

 (Actual 1-1-0)

On the road to: Calgary

 (Expected 0-1-0) (Actual 0-1-0)

At home to: Vegas 

(Expected 1-0-0) (Actual 0-1-0)

On the road to: San Jose, Anaheim, Los Angeles 

(Expected 2-1-0) (Actual 1-1-1)

At home to: Dallas, Los Angeles

 

(Expected 1-0-1) (Actual 2-0-0)

Overall expected result: 8-5-1, 17 points in 14 games 
Current results: 6-7-1, 13 points in 14 games
Considering how dire things looked 10 days ago, this is a pretty nice moment for the team. There are some personnel items we can enjoy too (more in a moment) but after the Vegas home loss Edmonton beat San Jose on the road, got a point against Anaheim, beat Dallas and got revenge on the Kings. That's a nice 3-1-1.
DEFENSE, LAST NIGHT
Gravel-Benning

were 15-6 in 11:22, 6-2 shots and 1-0 goals, 5-0 HDSC. Pairing went 8-4 with 97, 7-2 without and that's a clear win for the two men. Were 7-2 in 5:15 against Kovalchuk-Kempe-Luff, 12-6 against Muzzin-Martinez. Good night for the third pairing, reflected in the increased playing time.

Nurse-Russell

went 21-18 in 15:58, 9-7 shots, 0-1 goals, 4-1 HDSC. Were 12-6 with the captain, all of the HD's came with him on the ice. Were 11-9 against Iafollo-Kopitar-Brown, the goal against was from range not certain why it found the net but it wasn't a HDSC in my opinion. Koskinen was screened on the play, defense has to clear people away (Nurse was high man, Russell down low, neither man helped). Nurse shot the puck out of play with a second on the clock, whereas just leaving it would have meant end of game. His decision making this season has been baffling. Russell looks confident with the puck but his passing isn't concise.

Klefbom-Larsson

were 19-24 in 18:27, 9-14 shots, no goals and 2-5 HDSC. With McDavid they were 12-7, 7-17 without, pairing bent but did not break. Klefbom had a big offensive night, he is now 2-11-13 after 25 games. Pairing was 8-11 in 10:01 against Iafollo-Kopitar-Brown. They need to move the puck more effectively, but this is a fine duo. Oscar Klefbom, with the puck on his stick and winding a serpentine path up the ice, is a stunning double for Serge Savard visually. I'm astonished at how similar they look. Larsson is a hammer. I love his play, even in a season where the length of specific plays are at times a challenge.

Mikko Koskinen

stopped 30 of 32, .938 save percentage. His stop on Toffoli after the third Oilers goal was a monster moment. The second goal was a wobbler, those are tough. I think the Oilers may consider running Talbot on Saturday, I would stick with the tall Finn.
NaturalStatTrick and NHL.com.
FORWARDS, LAST NIGHT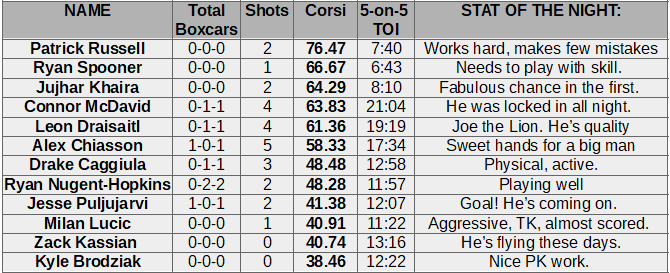 Khaira-Spooner-Russell

went 8-4 in 6:34, 4-4 shots and mostly low event. Khaira had a fantastic chance in the first period, Spooner got a little more room than in previous games but didn't do much with it. Russell isn't fast but he doesn't make many mistakes. Went 4-1 against Phaneuf-Ladue in three minutes. Khaira took a penalty against Doughty but did appear to get his money's worth.

Draisaitl-McDavid-Chiasson

were 27-16 in 18:52, 12-9 shots and 3-3 HDSC. Chiasson had four HDSC and scored the first goal of the game, Leon had three HDSC. Line went 10-13 in 12:10 against Forbort-Doughty and 9-11 against the Kopitar line. Both coaches appeared comfortable with the hard match, McDavid did get a little over a minute with Caggiula-Puljujarvi and around a minute with Russell and Kassian. Several have reached out to me in a worry over 97, I think he's being played hard every shift and that has impacted 5-on-5 scoring. It happens, but his November overall is a little shy (14, 4-12-16) owing partly to a 9.1 shooting percentage and reduced minutes (23:36 in October, 21:48 in November).

Caggiula-Nuge-Puljujarvi

went 12-15 in 10:46, 5-4 shots and 1-1 goals, 3-1 HDSC. This line is a dandy, went 7-3 in 5:07, 1-0 goals against Martinez-Muzzin. Puljujarvi is looking at the video screen on the scoreboard as the goal goes in (cover photo), everyone else on the bench is watching the play live. You know what? JP had the better view. Caggiula had three HDSC and was physical all night, his assist was key to the Puljujarvi goal and hopefully we see it more often. World class centermen elevate wingers, but at 5-on-5 Nuge has had a difficult time with that specific chore over the years. The two men currently assigned to him appear to be developing chem, hope this group stays together. Puljujarvi is showing well under Hitch, prepare the monument!

Lucic-Brodziak-Kassian

were 10-14 in 11:52, 4-7 shots and 3-3 HDSC. Went 5-5 against Phaneuf-Ladue, I thought they were rock solid. Lucic damn near scored in the third period, the house would have come down. He had two HDSC. Brodziak had a solid game, Kassian is skating like the wind and I hope he scores soon.
LOWDOWN WITH LOWETIDE
A fun Friday show to cap the week, I expect the texts will be fully of wit, humor and jocularity. Scheduled to appear, beginning at 10 this morning on TSN1260:
Steve Lansky, BigMouthSports

. Changing coaches mid-season and what teams hope to gain, the Nylander situation and will Canada separate if the Leafs win the Stanley?

Jonah Birenbaum, The Score

. Baseball's winter is heating up!

Matt Iwanyk, TSN1260

. Do the Oilers need to add scoring, how much does Matt remember from Grey Cup weekend, and what kind of winter should we expect from the Eskimos?
10-1260 text, @Lowetide twitter.