To borrow the spirit of an old country song, if drinking don't kill me, the Oilers will. The first period of last night's game resembled the first five minutes of an episode of Law and Order. Assault? Murder? Whatever, it wasn't looking good. The Oilers pushed back in the second and tied it up late on an Oscar missile that found the range. The power play drowned five times, but in the end Edmonton grabbed two points in the shadows of the Gateway Arch and are heading back home with the playoffs in reach.
THE ATHLETIC!
The Athletic Edmonton is going to bring it all season long. Proud to be part of a lineup that is ready to cover the coming year. Outstanding coverage from a large group, including Daniel Nugent-Bowman and Jonathan Willis, Lowetide, Minnia Feng and Pat McLean. If you haven't subscribed yet, now's your chance. Outstanding offer is here.
OILERS AFTER 28 GAMES
Oilers in 2015: 

11-15-2, 24 points; goal differential -11

Oilers in 2016:

 14-10-4, 32 points; goal differential +6

Oilers in 2017: 

11-15-2, 24 points; goal differential -14

Oilers in 2018: 

14-12-2, 30 points; goal differential -6
This year's team has benefitted from the Hitchcock bounce (now 5-2-1) and is within reach of the 2016 playoff edition of the McDavid Oilers. They're going to need more goals, but project to 82, 41-35-6, 88 points. It would represent a 10-point improvement year over year, still a little shy of the playoffs.
OILERS IN DECEMBER
Oilers in December 2015: 3-0-0, six points; goal differential +3
Oilers in December 2016: 2-0-1, five points; goal differential +3
Oilers in December 2017: 

2-1-0, four points; goal differential +4

Oilers in December 2018: 2-1-0, four points; goal differential -1
December is working out well, as it has each year since McDavid arrived in town. No explanation, especially considering November has been such a downer every damned year. Maybe there's some psychology or a curse some damned former Oiler placed on the team (Jimmy Carson?).
WHAT TO EXPECT IN DECEMBER
At home to: Vegas

 

(Expected 0-1-0) Actual (1-0-0)

On the road to: Dallas, St. Louis

 (Expected 1-1-0) (Actual 1-1-0)

At home to: Minnesota, Calgary (Expected 1-1-0) (Actual 0-0-0)
On the road to: Colorado, Winnipeg (Expected 1-1-0) (Actual 0-0-0)
At home to: Philadelphia (Expected 1-0-0) (Actual 0-0-0)
On the road to: Vancouver (Expected 1-0-0) (Actual 0-0-0)
At home to: St. Louis, Tampa Bay, Vancouver, San Jose, Winnipeg (Expected 2-2-1) (Actual 0-0-0)
Overall expected result: 7-6-1, 15 points in 14 games 
Current results: 2-1-0, four points in three games
The month is proceeding as predicted, thank goodness, it helps the aged with digestion and sleep patterns. Edmonton had a very uneven game overall but found a way. There have been many times in recent years when the club didn't have that gear. Last night, things worked out.
DEFENSE, LAST NIGHT
Nurse-Russell

were beyond ghastly in the first period but settled in as the game went on. Overall, they were 22-10 in 15:22, 13-8 shots, 1-2 goals and 3-6 HDSC. They were 6-4 with 97, 16-6 without. The first two goals against saw both men in bad spots, I wonder if they're having a zone/man-to-man adjustment issue. I think Nurse would have checked down both times if they were zone, but he pursued his closest man on both occasions—it looked poor. Duo went 13-4 in 6:55 against Perron-Schenn-Kyrou.

Klefbom-Larsson

went 14-9 in 16:19, 6-4 shots, no goals and 0-2 HDSC. The goal by Klefbom continues a trend where the young defenseman scores goals of massive importance. Larsson was solid as usual. Went 10-8 in 9:37 against Sanford-O'Reilly-Tarasenko, I thought this pairing was quality during the game. Klefbom received a lot of love online after the game, it's good to see. For some reason, recognition of his impressive ability has been slow.

Gravel-Benning

went 10-9 in 8:46, 5-4 shots, no goals and 3-3 HDSC. Went 6-6 in 4:57 against Maroon-Bozak-Thomas. I think this pairing is providing some calm minutes.

Cam Talbot

stopped 28 of 30, .933. He played very well in my opinion, and at this point has earned another game. Sometime this weekend? He has a .917SP under Hitchcock, who was once again complimentary about his play postgame.
NaturalStatTrick and NHL.com.
FORWARDS, LAST NIGHT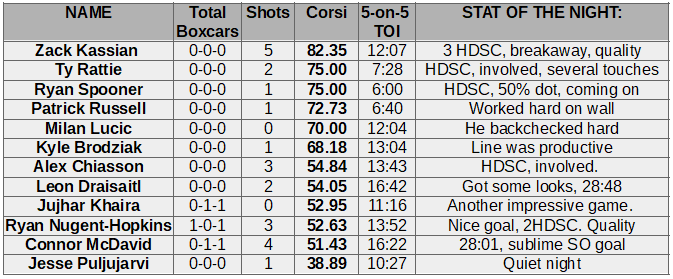 Lucic-Brodziak-Kassian

went 14-3 in 11:33, a strong game from a line that was fading a little recently. Went 7-2 shots, 0-1 goals and 2-1 HDSC. I can't identify the coverage issue on the second goal against, so won't point at Brodziak as the culprit. He was in the right spot, a bit of bad luck on the rebound off the back wall. Were 9-3 against Bouwmeester-Butler. I liked the line's effort, Lucic was skating well and Kassian had some fantastic chances. If they keep doing this, no one has a right to complain (dollars aside).

P. Russell-Spooner-Rattie

were also effective, going 8-3 in 5:39, 5-3 shots, no goals and 2-1 HDSC on the night. You'd like to see this trio get more time, but Caggiula being out might have impacted usage. Went 6-0 against Bowmeester-Dunn.

Khaira-Nuge-Puljujarvi

went 9-7 in 10:27, 5-3 shots, 1-0 goals and 1-2 HDSC. Nuge was brilliant to my eye, Khaira got the assist on the tying goal and was part of the first one. Puljujarvi's efforts were less central to the game story but he's surviving on a feature line and that has value. Sometimes, a young player will plod along at this level for a time and then start pushing. JP is getting used to the lay of the land, that has value.

Chiasson-McDavid-Draisaitl

were 19-17 in 15:25, that's a lot of 5-on-5 time. They were 9-11 shots, 0-1 goal, 2-6 HDSC (!!!) on the evening. The opening goal had a coverage gaffe, not sure if Nurse or McDavid was the culprit but it was an easy chance for St. Louis. Settled in afterward and McDavid impacted the game (assist on the tying goal, ridiculous shootout snipe). I wonder if we're going to see a shuffle with 29 coming off the 97 line, they look stale 5-on-5 and power play right now. Both men are playing a ton and McDavid is back from illness.
SUGGESTED LINES
If there is another line shuffle by Ken Hitchcock, and I'm not sure that's going to happen, I would like to see the coach try something like this:
Ryan Spooner—Connor McDavid—Alex Chiasson

Jujhar Khaira—Ryan Nugent-Hopkins—Jesse Puljujarvi

Drake Caggiula—Leon Draisaitl—Valentin Zykov

Milan Lucic—Kyle Brodziak—Zack Kassian
I know it won't happen, but would like to see it. Edmonton should be able to get one of Nuge or Leon some clean air at home using this template. It would be asking McDavid to score without an elite linemate but would also allow the team to have three lines with scoring potential.
LOWDOWN WITH LOWETIDE
A busy Thursday and we're bringing out the heavy artillery. At 10 this morning, TSN1260, scheduled to appear:
Jeff Krushell, Krush Performance.

Jeff will be speaking at the MLB meetings in Vegas Saturday, we'll get a preview.

Frank Seravalli, TSN.

Seattle expansion, Oilers 5-2-1 under Hitchcock, Leafs full boat starting tonight.

Andy McNamara, TSN4Downs.

The NFL weekend to come.
10-1260 text, @Lowetide on twitter. Talk soon!