It was one of those nights for the Edmonton Oilers, everything clicks and let the good times roll. It's been skin tight for 28 games, so a laugher came as a welcome bonus for team and fans (and it was closer than the score indicates through two, and beyond). McDavid had four points, Leon had a couple of goals—and the badly needed secondary offense came via Alex Chiasson, Jujhar Khaira and Zack Kassian. The Flames will be here Sunday. Ken Hitchcock is 6-2-1 as Oilers coach. Dream baby, dream baby dream.  

THE ATHLETIC
The Athletic Edmonton is going to bring it all season long. Proud to be part of a lineup that is ready to cover the coming year. Outstanding coverage from a large group, including Daniel Nugent-Bowman and Jonathan Willis, Lowetide, Minnia Feng and Pat McLean. If you haven't subscribed yet, now's your chance. Outstanding offer is here.
OILERS AFTER 29 GAMES
Oilers in 2015: 12-15-2, 26 points; goal differential -10
Oilers in 2016: 14-11-4, 32 points; goal differential +5
Oilers in 2017: 12-15-2, 26 points; goal differential -10
Oilers in 2018: 15-12-2, 32 points; goal differential -1
What's that old Dinah Washington song? What a difference a day makes? The 2018 crew finally catches the 2016 playoff McDavids (Hallelujah!) and sliced through that goal differential issue in one fell swoop. Music!
OILERS IN DECEMBER
Oilers in December 2015: 4-0-0, eight points; goal differential +4
Oilers in December 2016: 2-0-2, six points; goal differential +2
Oilers in December 2017: 2-2-0, four points; goal differential +3
Oilers in December 2018: 3-1-0, six points; goal differential +4
Edmonton is enjoying a run now, especially at home. If they can put together a winning streak here (and that will involve staying healthy) we could see a Merry Christmas in our town.
WHAT TO EXPECT FROM DECEMBER
At home to: Vegas (Expected 0-1-0) Actual (1-0-0)
On the road to: Dallas, St. Louis (Expected 1-1-0) (Actual 1-1-0)
At home to: Minnesota, Calgary (Expected 1-1-0) (Actual 1-0-0)
On the road to: Colorado, Winnipeg (Expected 1-1-0) (Actual 0-0-0)
At home to: Philadelphia (Expected 1-0-0) (Actual 0-0-0)
On the road to: Vancouver (Expected 1-0-0) (Actual 0-0-0)
At home to: St. Louis, Tampa Bay, Vancouver, San Jose, Winnipeg (Expected 2-2-1) (Actual 0-0-0)
Overall expected result: 7-6-1, 15 points in 14 games
Current results: 3-1-0, six points in four games
This month is going according to Hoyle, and the team is now on pace for something resembling a playoff record (82, 42-34-6, 90 points). Keep on truckin'.
DEFENSE, LAST NIGHT

Gravel-Benning were 10-10 Corsi for in 9:55, 3-5 shots, 2-0 goals and 2-1 HDSC. Gravel has calm feet, the Kings were foolish to let him go. I'm not sure about the future but for this season he's going to keep a lot of kids on the farm. Benning had a solid game, although he played a smaller role than any other blue. Were 7-5 in 4:40 against Niederreiter-Staal-Zucker. 
Klefbom-Larsson went 21-19 in 18:06, 10-9 shots, 2-0 goals and 7-6 HDSC. That's some unusual connection between shots and HDSC, don't see that often (or ever?). Oscar spent some time with others when Larsson went for concussion protocol, notably 3-0 with Benning. The Swedish duo went 10-9 in 5:16 against Niederreiter-Staal-Zucker.
Nurse-Russell were 13-24 in 17:43, 7-14 shots and 1-1 HDSC, 1-5 HDSC. I would love to know what metrics the Oilers are using to evaluate this pairing. Nurse went 1-1-2, he is now behind only Oscar in points this year. Were 9-8 in 7:07 against Parise-Coyle-Granlund, 1-8 against the Staal line. Nurse is struggling, I wonder if we see Gravel take some of his minutes in the coming days. 
Cam Talbot stopped 31 of 33, .939. He played well. The first goal was a tough one, but he hung in there are delivered. Talbot's SP under Ken Hitchcock is .925.  
NaturalStatTrick and NHL.com. 
FORWARDS, LAST NIGHT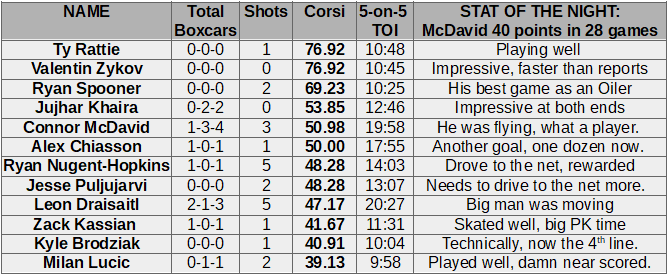 Zykov-Spooner-Rattie played so well they passed the Brodziak line in usage. No goals but 2 HDSC. Spooner line was 9-3 in 9:52, 3-0 shots and 3-0 HDSC. Went 5-1 against Suter-Dumba. 
Chiasson-McDavid-Draisaitl were pure fire, going 25-25 in 19:37, 13-15 shots, 4-0 goals and 4-3 HDSC. Just incredibly skilled, awesome to see them in action. Went 12-13 against Suter-Dumba but 3-0 goals, all three goals a Rembrandt. 
Khaira-Nuge-Puljujarvi went 13-15 in 12:49, 8-6 shots, 1-1 goals and 3-5 HDSC. In a world where fans are begging Pulju to take charge it's Khaira who is showing the skill. Nuge is scoring more often now, Khaira has a scoring streak, time to get the Finn to show some flare. Were 7-6 in 5:52 against Suter-Dumba. 
Lucic-Brodziak-Kassian were 9-13 in 9:25, 4-9 shots, 1-1 goals and 2-4 HDSC. Kassian scored, Lucic damn near scored (shock, awe). Were 5-6 against Seeler-Pataryn. This line was the No. 4 unit in terms of usage, as it should be. 
THE HITCHCOCK EFFECT
Books will be written on the impact of Ken Hitchcock in Edmonton, this season is already unique and headed in a promising direction. There are some nice player trends, he has both goalies in a good place and Kevin Gravel is helping to settle down the blue. Hitch is riding Oscar Klefbom heavily and having success doing it. 
Up front, he's running McDavid, Leon and Nuge hot and heavy, using everything at his disposal (coming back from television timeouts with his top line, et cetera). 
The next step is to figure out the wingers, and last night Hitch's usage may have reflected the future. Khaira looks like he may have popped (2.82 5-on-5 points-per-60 under the new coach), at least in the short term. Here are the 5-on-5 numbers for last night's wingers:
Leon Draisaitl 20:27, 2 goals, 5 shots, 2 HDSC.
Alex Chiasson 17:55, 1 goal, 1 shot, 1 HDSC.
Jesse Puljujarvi 13:07, 2 shots.
Jujhar Khaira 12:46, 2 assists, 1 HDSC.
Zack Kassian 11:31, 1 goal, 1 shot.
Ty Rattie 10:48, 1 shot, 1 HDSC.
Valentin Zykov 10:45
Milan Lucic 9:58, 1 assist, 2 shots, 1 HDSC.
In order to stay in the lineup, a player has to be productive. There was a play last night that shows Puljujarvi still has some learning to do. Nuge received a lovely pass and drove down the left side looking for JP in the slot—and I swear he was headed there. Somehow, by the time 93 sent the puck to the slot, Puljujarvi hadn't made it, and a Minnesota player got between the puck and the Finn. Puljujarvi needs to drive to the net with authority there. If he does, he'll score, sure as hell.