The Edmonton Oilers are 7-2-1 under Ken Hitchcock and playing a most disciplined style. Last night at Rogers, the club ignored the agitating Calgary Flames, who were less skilled than they could have been due to injury, suspension and curious personnel decisions. Instead of slashing and punching, the Oilers worked hard and smart (mostly), winning the game and passing an important test. I wrote yesterday that if the home side won last night, we could move from describing them an "upstart" to calling them a real pain in the ass for the Pacific Division. Ass, meet pain. 
THE ATHLETIC
The Athletic Edmonton is going to bring it all season long. Proud to be part of a lineup that is ready to cover the coming year. Outstanding coverage from a large group, including Daniel Nugent-Bowman and Jonathan Willis, Lowetide, Minnia Feng and Pat McLean. If you haven't subscribed yet, now's your chance. Outstanding offer is here.
OILERS AFTER 30
Oilers in 2015: 13-15-2, 28 points; goal differential -8
Oilers in 2016: 14-11-5, 33 points; goal differential +5
Oilers in 2017: 12-16-2, 26 points; goal differential -11
Oilers in 2018: 16-12-2, 34 points; goal differential 0
Edmonton is 7-2-1 with Hitch, after starting the year 9-10-1 under Todd McLellan. The personnel changes have been mostly minor, so you have to give the coach a lot of credit for this turnaround. Plenty of work to do but this is pretty damned fine. The Oilers are on pace to finish 44-33-5, 93 points. That's almost paradise. 
OILERS IN DECEMBER
Oilers in December 2015: 5-0-0, 10 points; goal differential +6

Oilers in December 2016: 2-1-2, six points; goal differential +1

Oilers in December 2017: 3-2-0, six points; goal differential +8

Oilers in December 2018: 4-1-0, eight points; goal differential +5
I think this organization should put "Long December" on an endless loop and pretend it's always almost Christmas. My goodness the McDavids enjoy the twelfth month, going 14-4-2 in his four seasons. Exceptional.
WHAT TO EXPECT FROM DECEMBER
At home to: Vegas (Expected 0-1-0) Actual (1-0-0)

On the road to: Dallas, St. Louis (Expected 1-1-0) (Actual 1-1-0)

At home to: Minnesota, Calgary (Expected 1-1-0) (Actual 2-0-0)

On the road to: Colorado, Winnipeg (Expected 1-1-0) (Actual 0-0-0)

At home to: Philadelphia (Expected 1-0-0) (Actual 0-0-0)

On the road to: Vancouver (Expected 1-0-0) (Actual 0-0-0)

At home to: St. Louis, Tampa Bay, Vancouver, San Jose, Winnipeg
(Expected 2-2-1) (Actual 0-0-0)

Overall expected result: 7-6-1, 15 points in 14 games

Current results: 4-1-0, eight points in five games
Edmonton is now well clear of my expectations for the month (I had them 2-3-0 at this point) and last night was a clear indication Hitchcock's magic words are having an impact. What in hell is going on here?
DEFENSE, LAST NIGHT

Gravel-Benning went 11-4 in 7:51, 4-1 shots no goals and 3-1 HDSC. Terrific evening for this pair, I find myself wondering why they aren't playing more 5-on-5. Went 8-3 in 4:49 against Neal-Jankowski-Mangiapane line, effective night from third pair. Gravel got drilled in the second period sending the puck deep.
Nurse-Russell were 15-13 in 14:34, 10-4 shots, 1-0 goals and 0-3 HDSC. What a weird night. Nurse defended a two-on-one in the second brilliantly (no idea where Russell was) and then got walked by Sam Bennett on what was the only good play the forward made (to my eye) all damned night. Went 6-9 against Tkachuk-Ryan-Bennett, the trio had three 10-bell chances to none for Edmonton when they deployed Nurse-Russell. I'm certain Hitchcock is seeing this, somewhat flummoxed he isn't addressing it.
Klefbom-Larsson went 10-15 in 15:34, 4-9 shots, 1-0 goals and 2-1 HDSC. The high dangers came with the Brodziak line, this duo did too much defending (and it's rare). Larsson was in his element, ran over Gaudreau in one of the more pleasing events for the home crowd. Oscar's shooting a lot on the power play but I don't know that he's the issue. Teams are crowding McDavid and no one is moving his feet. That isn't on 77. Went 7-15 in 11:18 against Monahan-Lindholm-Gaudreau, that's a tough assignment.
Mikko Koskinen stopped all 24 shots, he has a save percentage of .929, trailing only Rinne and Halak among regulars. Good gosh almighty.
NaturalStatTrick and NHL.com.
FORWARDS, LAST NIGHT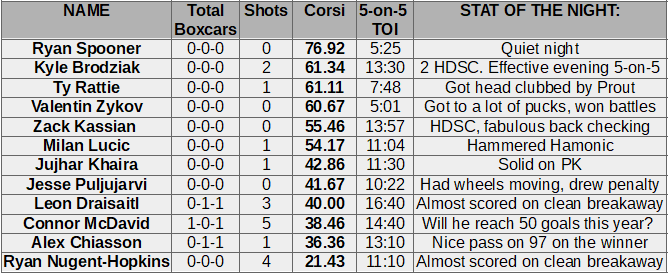 Zykov-Spooner-Rattie were 10-3 in 5:25, 2-0 shots, no goals and no HDSC. The best player on the line to my eye was Zykov, who won a lot of battles and got things headed in a good direction. Line didn't play a lot maybe they couldn't get untracked. Were 7-1 in 2:49 against Prout, who took a late penalty for trying to maim Ty Rattie.
Lucic-Brodziak-Kassian had a fine evening, going 15-10 in 12:45, 6-3 shots and 5-3 HDSC. This line is becoming epic, winning all kinds of battles and earning goals that never come. Hitchcock's preachings are in this line, they're miles from danger most every shift. Went 9-7 against Prout-Kylington in 6:54. If Lucic ever scores at home, there's going to be an earthquake. He drilled Hamonic.
Chiasson-McDavid-Draisaitl got the goal, while going 10-15 in 14:31, 6-6 shots, 0-2 HDSC. Leon damn near scored on a breakaway, Chiasson made a great pass and McDavid was dangerous all night. The 5-on-4 needs to be better, if Calgary had tied it late I was going to write 10,000 words on it, but other than that this line shines. There are 43 goals on this line. Lordy.
Khaira-Nuge-Puljujarvi went 3-6 in 8:49, 3-3 shots, 0-1 HDSC. Nuge had a brilliant breakaway chance, Puljujarvi was moving all night and drew a penalty, Khaira impressed on the PK. Went 0-5 against Hanifin-Hamonic.
PACIFIC DIVISION BY POINTS PERCENTAGE
Calgary 31, 19-10-2, 40 points (.645)
Anaheim 32, 16-11-5, 37 points (.578)
Edmonton 30, 16-12-2, 34 points (.567)
San Jose 31, 15-11-5, 35 points (.565)
Vegas 32, 17-14-1, 35 points (.547)
Arizona 28, 13-13-2, 28 points (.500)
Vancouver 32, 13-16-3, 29 points (.453)
Los Angeles 30, 11-18-1, 23 points (.383)
Edmonton's games in hand are reflected in this look at the Pacific, they are a playoff team based on points-per-game percentage. The 9-4-1 record at home is manna from heaven. 
DON SWEENEY, LIVE AT ROGERS
Bob placed Don Sweeney at Rogers last night, and I've seen comments suggesting Milan Lucic, Ryan Spooner and Jesse Puljujarvi might be the targets. Based on the Bruins injury list, I'd say defense may also be in play, although not sure the Oilers have a square to spare. 
If it's Lucic, then David Backes is probably the return, contract for contract. Torey Krug is also possible, but both men have NMC's. I don't think it's Lucic. 
Spooner is interesting due to his Bruins back story, but I'm not sure he moves the needle enough offensively. 
Matt Benning makes the most sense to me, although as mentioned not sure the Oilers have enough depth there to pull the trigger. If there's something up, I think Edmonton would be looking for a scoring forward. 
My opinion? Sweeney was watching the Flames. 
LOWDOWN WITH LOWETIDE
We're back baby, and rolling at 10 this morning on TSN1260. Scheduled to appear:
Kristen Anderson, Post Media Flames reporter. We'll chat about the first place Flames and what has been a fantastic first 30 games. 
Jason Gregor, TSN1260. Hitchcock for emperor, Oilers pushing playoffs, why was Sweeney at Rogers?
10-1260 text, @Lowetide on twitter. Talk soon!