Things got a little crazy in the third period, and the MASH unit was busy mending blue all night long, but the Oilers won again and are now 8-2-1 under Ken Hitchcock. Music! We're on to Winnipeg. Oscar is on to Edmonton, gone for weeks. Sad trombone.
THE ATHLETIC!
The Athletic Edmonton is going to bring it all season long. Proud to be part of a lineup that is ready to cover the coming year. Outstanding coverage from a large group, including Daniel Nugent-Bowman and Jonathan Willis, Lowetide, Minnia Feng and Pat McLean. If you haven't subscribed yet, now's your chance. Outstanding offer is here.
OILERS AFTER 31
Oilers in 2015: 14-15-2, 30 points; goal differential -7
Oilers in 2016: 15-11-5, 35 points; goal differential +6
Oilers in 2017: 13-16-2, 28 points; goal differential -6
Oilers in 2018: 17-12-2, 36 points; goal differential +2
This Oilers team is the best of the McDavid era, based on points. Built on strong goaltending, structure, shot suppression and the three big guns up front. It's working! Currently on track for 45-32-5, 95 points. One worry: Depth, and that will be tested with Oscar on the shelf. 
OILERS IN DECEMBER
Oilers in December 2015: 6-0-0, 12 points; goal differential +7

Oilers in December 2016: 2-1-3, seven points; goal differential +1

Oilers in December 2017: 3-3-0, six points; goal differential +4

Oilers in December 2018: 5-1-0, 10 points; goal differential +7
Nothing to criticize this December, the record is outstanding. Hitchcock is pulling out all of the stops (he ran with 10 forwards and 5 defensemen last night, that's 1971-style) and still won the two points. He'll need to get some goals from the Spooner line, lord knows what it'll be called on the day they click. 
WHAT TO EXPECT FROM DECEMBER
At home to: Vegas (Expected 0-1-0) Actual (1-0-0)

On the road to: Dallas, St. Louis (Expected 1-1-0) (Actual 1-1-0)

At home to: Minnesota, Calgary(Expected 1-1-0) (Actual 2-0-0)

On the road to: Colorado, Winnipeg (Expected 1-1-0) (Actual 1-0-0)

At home to: Philadelphia (Expected 1-0-0) (Actual 0-0-0)

On the road to: Vancouver (Expected 1-0-0) (Actual 0-0-0)

At home to: St. Louis, Tampa Bay, Vancouver, San Jose, Winnipeg (Expected 2-2-1) (Actual 0-0-0)

Overall expected result: 7-6-1, 15 points in 14 games

Current results: 5-1-0, 10 points in six games
Well, my prediction ability this season is completely off the rails. Honestly, an absolute abomination. I had them going 2-4-0 in the first six, they are 5-1-0. This follows up my fantastic October (predicted 3-6-2, they went 6-4-1) and scintillating November (predicted 8-5-1, they went 6-7-1). Riddle wrapped in a mystery solved by Hitchcock!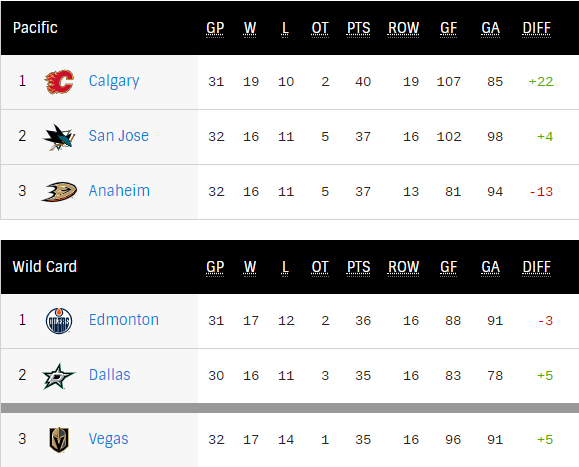 DEFENSE, LAST NIGHT

Klefbom-Larsson went 5-6 in 6:57, 2-3 shots, no goals and 1-1 HDSC. I hope you enjoyed that pairing, they won't be around for some time. 
Nurse-Larsson went 10-12 in 8:43, 7-6 shots, 2-0 goals and 4-4 HDSC. This is extremely likely to be the top pairing until further notice, the duo has performed well in the past in this role. 
Nurse-Russell were 5-17 in 11:12, 1-7 shots, no goals and 0-3 HDSC. Honestly I'm tired of writing these crazy Corsi numbers, it'll be a relief to see this pairing split. 
Gravel-Benning went 7-4 in 5:37, 5-3 shots, 1-0 goals and 3-0 HDSC. Gravel went 3-7 with Larsson in 5:43, Benning went 3-7 in 2:58 with Nurse. 
What a mess.
Nathan MacKinnon went 13-7 against Larsson (2-1 goals); 15-9 against Nurse (0-1 goals); 8-2 against Russell (no goals); 4-1 against Gravel (2-1 goals); 2-2 against Klefbom (no goals); 0-3 against Benning (0-1 goals). Players listed by TOI against MacKinnon. 
Mikko Koskinen stopped  39 of 43, .907. Damned shame those late goals went in, he was exceptional. 
NaturalStatTrick and NHL.com. 
FORWARDS, LAST NIGHT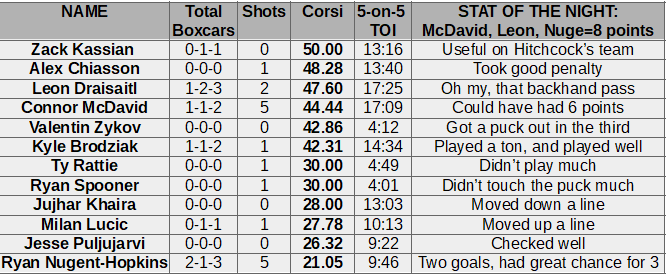 Chiasson-McDavid-Draisaitl went 16-20 in 15:54, 7-11 shots 1-1 goals and 3-4 HDSC. It was a wild night at both ends, looked like the Star Wars bar scene at times. McDavid and Leon are so damned good together, I swear Leon's backhand beauty was as fine I've ever seen. McDavid's goal on the play just added to the fun. Went 10-13 against Girard-Johnson, McDavid going 6-14, 0-1 against MacKinnon. Would love to see this as a playoff series. 
Khaira-Brodziak-Kassian went 11-11 in 12:34 (Kassian) and 7-10 in 9:40 (Khaira). It was the No. 2 line on the night in terms of time on ice, Khaira being placed with the checkers I'm not sure why. One possible reason was the matchup of Brodziak v. MacKinnon, a total run time of 6:13, Edmonton winning the Corsi's 5-6 and goals 1-0. Hitch relied on Brodziak a lot last night, might explain Khaira moving to this trio. Does that mean he moved up to the Brodziak line from the Nuge group? This needs some examination! Line was 2-0 (Kassian) and 1-0 (Khaira), this might have been Brodziak's best game this year. Went 6-7 against Zadorov. 
Zykov-Spooner-Rattie were 3-7 in 4:01, 2-4 shots. Barely played. Oilers are going to need more from this line.
Lucic-Nuge-Puljujarvi went 3-14 in 8:09 (Puljujarvi) and 4-10 in 6:27 (Lucic). Went 2-9 against Cole-Barrie, that's a strong pairing for the Avalanche, Barrie looks comfortable there. Nuge was fire last night, his goals enormous moments in the game. The line was not effective in possession. Some of that is due to game state (Avs spent a lot of time pushing) but I thought it was fascinating that Hitchcock went with Brodziak as the checking option. Learning opportunity for all Oilers fans, in my opinion. 
At 5-on-5, MacKinnon faced McDavid line 9:00 (6-14 Corgi for 97, 0-1 goals), Brodziak trio 6:14 (5-6 Brodziak, 1-0 goals), Nuge line 2:43 (1-3 for Nuge, 1-1 goals), Spooner line zero minutes. Hitch can coach. 
WHY DID IT HAVE TO BE OSCAR?
The hockey Gods, realizing that Hitchcock may tip the balance too much in Edmonton's favor, struck down the dreamy Oscar last night. "Weeks" is what the organization is looking at, that's not good. Impossible to conceive of an outside replacement playing at that level (so very many minutes), suspect we'll see this in Winnipeg:
Nurse—Larsson
Gravel—Benning
Garrison—Russell
Wideman
If there is a recall, it could be any of Caleb Jones, Ethan Bear and William Lagesson, even Keegan Lowe or Ryan Stanton is possible. Here are the 5-on5 goal differentials by player so far this season:
Ethan Bear 12-7 [+5]
Caleb Jones 16-12 [+4]
Ryan Stanton 13-10 [+3]
Keegan Lowe 15-15 [0]
William Lagesson 14-14 [0]
Logan Day 9-15 [-6]
FORWARDS SCORING, 5-ON-5
Edmonton has three men who are delivering in the discipline at a first-line rate (Nuge is close to 2.00/60), followed by a couple who are on the fringe. After that, it's an elevator shaft. Hitchcock mentioned last night they needed more players going offensively, something that becomes obvious when looking at this list. 
Connor McDavid 2.69
Leon Draisaitl 2.69
Ryan Nugent-Hopkins 1.91 
Alex Chiasson 1.74
Jujhar Khaira 1.70
Drake Caggiula 1.59
Tobias Rieder 1.53
Kyle Brodziak 1.00
Ty Rattie 0.94
Milan Lucic 0.67
Zack Kassian 0.60
Jesse Puljujarvi 0.54
Ryan Spooner 0.54
Valentin Zykov 0.00
Cooper Marody 0.00
LOWDOWN WITH LOWETIDE
It'll be a fun morning as we discuss the victory in Denver last night, there are some items coming out today for Edmonton sports fans and we'll cover them as well. Begins at 10, TSN1260:
Bruce McCurdy, Cult of Hockey. Bruce had his keen eye on the game last night, we'll talk about what he saw, and options to replace Klefbom. 
Jon Campbell, OddsShark. Patriots Super Bowl chances, who are the favourites, NBA's strongest teams and good bets (Celtics coming on), plus Oilers and their goal suppression helping the under
Laura Armstrong, Blue Jays beat for the Toronto Star. Lots of baseball news yesterday, we'll chat about the big items including sail on, Tulowitzki.